California Superior Court Rules for Mesothelioma Victims of Second Hand Asbestos Exposure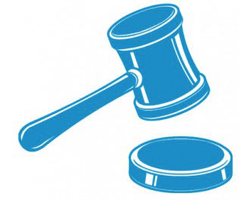 Two families whose loved ones died of mesothelioma as a result of second-hand asbestos exposure were victorious in the Superior Court of Alameda County in California when judges agreed that employers owe a duty of care to prevent secondary exposure to asbestos. Though the asbestos companies offered a number of reasons for why they should not be held responsible, the court disagreed with each. The justices indicated that in both of cases that they heard the exposure was foreseeable, and that the same would be true for household members of other employers or premises owners where asbestos is or was present.
The first case involved Johnny Blaine Kesner, Jr., who was exposed as a child to asbestos from his uncle George's clothing. The second involved Lynne Haver, whose children filed a wrongful death and survival action following exposure to her husband Mike, who carried asbestos fibers home on his body and clothing from his work at the Atchison, Topeka and Santa Fe Railway.  Both died of malignant mesothelioma, a rare and always fatal form of cancer that is caused by exposure to asbestos. Though mesothelioma lawsuits were filed against the asbestos companies responsible for their deaths, both asbestos companies defended themselves by saying that they had "no duty to protect family members of workers on its premises from secondary exposure to asbestos", and that the imposition of such a liability would lead to extraordinary costs in the future.
In their ruling, the Superior Court of Alameda County held that "the duty of employers and premises owners to exercise ordinary care in their use of asbestos includes preventing exposure to asbestos carried by the bodies and clothing of on-site workers. Where it is reasonably foreseeable that workers, their clothing, or personal effects will act as vectors carrying asbestos from the premises to household members, employers have a duty to take reasonable care to prevent this means of transmission." With reference to the question of future litigation, the court restricted the liability to members of households, stating, "We are mindful that recognizing a duty to all persons who experienced secondary exposure could invite a mass of litigation that imposes uncertain and potentially massive and uninsurable burdens on defendants, the courts, and society. But this concern does not clearly justify a categorical exemption from liability for take-home exposure."
This ruling is a clear victory for the victims of second-hand asbestos exposure. Whether you are the spouse, siblings, children, or other household member of a person who has worked with asbestos, if you have been diagnosed with mesothelioma then you may be eligible to receive compensation for your medical expenses and other damages. For more information, contact Danziger & De Llano Legal Advocates today at 1-800-692-8608, or visit our website, https://mesothelioma.net/mesothelioma-attorneys/.
Get Your FREE Resources Sent Overnight
New treatment options
Veterans benefits & claims
$30 Billion asbestos trust fund information
For over 15 years, we've provided the best FREE resources to mesothelioma patients and loved ones. Our resources include information on the leading treatment options and best doctors in your area; lessons learned from survivors; claims and benefits specifically for Veterans; and how to access your share of billions of dollars in trust fund money.
Get Your FREE Resources Sent Overnight
New Treatment Options
Veteran's Benefits & Claims
$30 Billion Asbestos Trust Fund Information
If you've been diagnosed with asbestos-related cancer, contact us at 1-800-692-8608 to find out if you are eligible to receive compensation. You can also fill out the form above to receive FREE information.