New Breathalyzer Technology May Speed Mesothelioma Diagnosis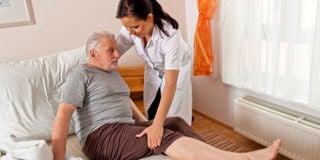 A study published in the scientific journal ACS Nano has revealed the development of a new breathalyzer that may help physicians quickly and easily diagnose seventeen different diseases, including lung cancers like mesothelioma. The technology behind the state-of-the-art tool relies upon the existence of microscopic compounds called volatile organic compounds – or VOCs – that are unique to each condition, and which the breathalyzer quickly analyzes. In early tests that included 1,400 patients, the breathalyzer was able to identify 17 specific diseases with 86 percent accuracy.
This is not the first time that volatile organic compounds have been used to diagnose illnesses, but it is the first time that a technology has been able to distinguish between cancers like mesothelioma vs a disease of the liver or intestines so inexpensively and quickly. VOCs are created within the body by biological processes such as inflammation and stress, as well as by microorganisms. They are then excreted into the blood, and then diffuse into the lungs. This is why they are detectable in the breath.  It is because each organ has its own specific VOCs that it produces when under stress or undergoing inflammation that the new breathalyzer is able to identify the different illnesses or organs that are involved.  As each disease's unique breath print is identified, there is the possibility that the device's uses will expand.
According to the researchers, every exhaled breath contains hundreds of VOCs, and with only 13 programmed into the breathalyzer they were able to distinguish between seventeen different conditions. They then tested it by using it on 813 people who had been diagnosed with one of the 17 diseases that had been programmed. They also tested the machine of 591 more people who had not been diagnosed with a disease, and who were considered controls. The test subjects were from five different countries – Israel, France, China, Latvia, and the United States. After each participant's breath was recorded it was analyzed using artificial intelligence, then their breath print was compared to a database of VOC concentration patterns in order to deliver the diagnosis.
Though the equipment is not yet ready for market, there is great hope that it will be able to facilitate faster and less expensive diagnosis of difficult to diagnoses conditions – and perhaps in the case of mesothelioma, could diagnose the condition before it starts to manifest symptoms, thus making treatments more effective. If you or someone you love has been diagnosed with mesothelioma and you would like more information about your legal options, contact Danziger & De Llano Legal Advocates today at 1-800-692-8608–https://mesothelioma.net/mesothelioma-attorneys/
Get Your FREE Resources Sent Overnight
New treatment options
Veterans benefits & claims
$30 Billion asbestos trust fund information
For over 15 years, we've provided the best FREE resources to mesothelioma patients and loved ones. Our resources include information on the leading treatment options and best doctors in your area; lessons learned from survivors; claims and benefits specifically for Veterans; and how to access your share of billions of dollars in trust fund money.
Get Your FREE Resources Sent Overnight
New Treatment Options
Veteran's Benefits & Claims
$30 Billion Asbestos Trust Fund Information
If you've been diagnosed with asbestos-related cancer, contact us at 1-800-692-8608 to find out if you are eligible to receive compensation. You can also fill out the form above to receive FREE information.