New Haven, Connecticut Business Accused of Numerous Asbestos Violations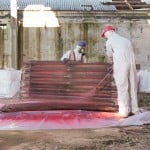 The tragedy of mesothelioma victims being negligently and callously exposed to asbestos despite the fact that their employers were aware of its dangers seems like a story from the distant past. It's been almost fifty years since the American public was made aware that asbestos is carcinogenic. Still, if you think that this type of disregard for workers' health and well being has been eliminated you'd be wrong. If you think the existence of OSHA regulations and EPA asbestos regulations and billions of dollars paid out in settlements and lawsuits to those sickened by asbestos has meant that all employers now protect their employees against the dangers of asbestos, then you need to think again. Because even in 2016, companies in the United States are being caught failing to protect their workers from asbestos. They're being fined for blatantly exposing employees to the deadly carcinogen, and they continue to defend themselves against the charges. It happened again this week in New Haven, Connecticut.
The story of a construction site in New Haven began last November, when an employee filed a complaint with the city of New Haven about a property located at 206 Wallace Street. The building was under renovation, and was previously an automotive warehouse. Today it is owned by Rakaj Companies. When the city's senior sanitarian Brian Wnek visited the property via the front door of the building on November 20, 2015, those who were working inside quickly left out the back door and did not return. Wnek called federal authorities, including the U.S. Environmental Protection Agency, the state Department of Health Asbestos Program, and OSHA, and , after inspecting the property, the agencies shut the renovation operations down. The company was charged with 17 violations of asbestos laws on May 9th of this year with a demand that the issue be abated by May 13. Rather than acting, company owner Rakaj contested the violations, and the $65,000 fine that went along with them, on June 8. The matter is now in court.
When people are exposed to asbestos dust such as was apparently present in Rakaj's property and they are not provided proper protections or training for handling the material, they are at risk for mesothelioma, asbestosis, asbestos-related lung cancer, and many other serious and deadly diseases. If you or someone you love has been a victim of this type of negligence or disregard for your health and you have been diagnosed with an asbestos-related disease, contact Danziger & De Llano today. Put our experience and compassion to work for you and get the compensation that you deserve.
Get Your FREE Resources Sent Overnight
New treatment options
Veterans benefits & claims
$30 Billion asbestos trust fund information
For over 15 years, we've provided the best FREE resources to mesothelioma patients and loved ones. Our resources include information on the leading treatment options and best doctors in your area; lessons learned from survivors; claims and benefits specifically for Veterans; and how to access your share of billions of dollars in trust fund money.
Get Your FREE Resources Sent Overnight
New Treatment Options
Veteran's Benefits & Claims
$30 Billion Asbestos Trust Fund Information
If you've been diagnosed with asbestos-related cancer, contact us at 1-800-692-8608 to find out if you are eligible to receive compensation. You can also fill out the form above to receive FREE information.