Preparing for the Loss of a Loved One Who Has Mesothelioma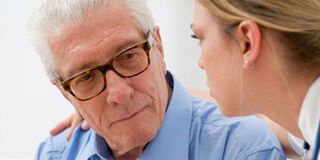 No matter how well a mesothelioma patient responds to treatment or how optimistic and upbeat their family remains in the face of the disease, at some point in time realism will set in and loved ones will have to face the fact that the condition is terminal and that in a short period of time they will likely lose their loved one. Though there are a few anecdotal stories of people surviving long term, these are largely unconfirmed – only five to ten percent of those diagnosed with mesothelioma are still alive five years later, and the average life span with the disease is between twelve and twenty-one months depending upon how advanced it was at the time it was diagnosed. The incredibly short amount of time left to those with mesothelioma makes it one of the most challenging of cancers, but there are ways to cope with grief that can help you work through the the pain.
One of the first things that those who are dealing with mesothelioma – whether patient or loved one – needs to do is accept the situation. Denial is a natural part of grief, and is one of the ways that our brain is programmed to deal with hard news. It gives the chance to stop and take a breath, and is generally a temporary and brief stage. Once people get past arguing against reality, they often allow themselves to feel anger. Though this is natural, it is unhelpful – particularly in situations where there is little time left.  Anger sustains and prolongs pain, and experts suggest that you work hard to get past it in order to be able to enjoy the time that is left.
Depression and fear are other emotions that are frequently experienced by those living with mesothelioma. These can lead to a sense of isolation, a lack of sleep, and general emotional overload. Grief counselors and therapists can help with all of these emotions, helping you to see that it's okay for you to feel pain and giving you permission to step away from being strong. Other coping mechanisms that are important include taking care of yourself – eating healthy meals, staying hydrated, getting some exercise both to keep your body healthy and to help clear your mind.
The most important thing you need to keep top of mind is that you need to take care of yourself and all of your needs. That includes addressing your finances, from being able to pay for your hefty medical bills to providing for after your loved one is gone. The attorneys at Danziger & De Llano are skilled lawyers who can represent those who have been victimized by the asbestos companies. For information on how we can help you get compensation for the damage that you've suffered, contact us today.
Get Your FREE Resources Sent Overnight
New treatment options
Veterans benefits & claims
$30 Billion asbestos trust fund information
For over 20 years, we've provided the best FREE resources to mesothelioma patients and loved ones. Our resources include information on the leading treatment options and best doctors in your area; lessons learned from survivors; claims and benefits specifically for Veterans; and how to access your share of billions of dollars in trust fund money.
Get Your FREE Resources Sent Overnight
New Treatment Options
Veteran's Benefits & Claims
$30 Billion Asbestos Trust Fund Information
If you've been diagnosed with asbestos-related cancer, contact us at 1-800-692-8608 to find out if you are eligible to receive compensation. You can also fill out the form above to receive FREE information.