Researchers Discover Drug That Prevents Deadly Mesothelioma Side Effect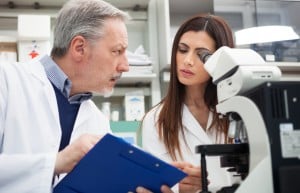 Patients who have been diagnosed with malignant mesothelioma face many challenges. The disease, which is caused by exposure to asbestos, is both rare and fatal. Modern science has struggled to find effective treatment protocols, and most patients die within a year or two of being diagnosed. There are two different forms of mesothelioma that are commonly seen – pleural mesothelioma and peritoneal mesothelioma, with the pleural form occurring in the lungs and peritoneal in the abdomen. Patients diagnosed with pleural mesothelioma face the additional complication of pleural effusions, an accumulation of liquid that makes it difficult to breathe. A recent study may have provided an answer to this problem: scientists have determined that a drug given to laboratory animals with mesothelioma eliminated the volume of liquid accumulating in their lungs.
Pleural effusion takes place when cancer cells impact the structure of the cells that line the lungs. They break down the ability of blood vessels to keep liquid in, and the fluid ends up seeping out and accumulating in the lungs themselves. When patients with mesothelioma also have to struggle with pleural effusion, their survival time is further reduced and their quality of life diminishes.
Until recently, the treatment for pleural effusion has been to drain the liquid through an uncomfortable, invasive procedure. In some cases, a powdery substance has been injected into the lungs to absorb some of the liquid, but none of these solutions represent more than a temporary fix. The new discovery may represent a sea change. The drug, known as cysmethynil, blocks the effect that the cancer cells have on the structure of the cells that they are expanding into. It stops them from changing the permeability of the blood vessels, which is what allows the liquid to leak into the lungs.
The discovery was made by researchers from the National and Kapodistrian University of Athens, Greece and was published in the journal Oncotarget. Though the study was only done on mice, the researchers hope to explore it as a helpful therapy to relieve some of the suffering that mesothelioma patients endure.
Malignant mesothelioma is a tragic and painful disease. Scientists are working hard to find more effective treatment protocols to ease the suffering of patients. At the same time, patient advocates are fighting to ease the injustice and financial burdens caused by the disease. The attorneys at Danziger & De Llano are advocates for mesothelioma patients. We fight the asbestos companies to make sure that they provide compensation to those who they have harmed. For information on how we can fight for you, contact our office today.
Get Your FREE Resources Sent Overnight
New treatment options
Veterans benefits & claims
$30 Billion asbestos trust fund information
For over 15 years, we've provided the best FREE resources to mesothelioma patients and loved ones. Our resources include information on the leading treatment options and best doctors in your area; lessons learned from survivors; claims and benefits specifically for Veterans; and how to access your share of billions of dollars in trust fund money.
Get Your FREE Resources Sent Overnight
New Treatment Options
Veteran's Benefits & Claims
$30 Billion Asbestos Trust Fund Information
If you've been diagnosed with asbestos-related cancer, contact us at 1-800-692-8608 to find out if you are eligible to receive compensation. You can also fill out the form above to receive FREE information.