Understanding the Costs of Mesothelioma Treatment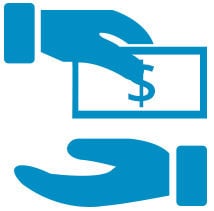 No matter what the diagnosis, when a person hears that they or a loved has a life-threatening disease like mesothelioma, the first response is to ask what can be done, and when. Cost rarely crosses the mind: the focus is simply on fixing the situation as quickly as possible. But once the appointments with specialists begin to fill the calendar and diagnostic tests begin to be ordered, the reality of the expense sets in. Lab and MRI center receptionists ask for your insurance card and I.D., then tell you that you have a copay or coinsurance of hundreds of dollars. Prescriptions for pain medications are inhumanely costly, and that doesn't begin to address the issue of what surgery, radiation therapy, chemotherapy and hospital stays will cost. Many patients find themselves wondering whether it is even worth it to fight a battle against a disease that they have already been told they can't win.
There are many factors that contribute to the high cost of treating mesothelioma. Part of the problem is that health costs are rising in general, no matter what the diagnosis. Add to that the specifics of this rare and deadly form of cancer and there is the fact that developing mesothelioma drugs is an expensive proposition that requires years of research into a treatment that will be used on only a few thousand patients a year. Manufacturers need to recoup their expense.
The average cost of a cancer related surgery is inclusive of everything from the payment to your physician and the other health professionals present in the operating room to the costs of your care in recovery, the costs of inpatient care if you spend the night, the costs of your medications and food, and more. One overnight with an operation can easily cost $50,000, and even the best health insurance policy is going to leave a patient with thousands of dollars that they owe as their share. Add to that the fact that you may need to travel to the hospital for treatment and the costs go even higher.
It is easy to get disheartened at the cost of fighting a disease, and especially when it is one like mesothelioma that is a result of somebody else's negligence. The asbestos attorneys at Danziger & De Llano know your frustration and are here to help. We are committed to helping the victims of asbestos exposure to get the compensation that they need and deserve for their medical expenses, their lost wages, and any other out of pocket expenses, as well as for the pain and suffering that they have to endure. If you need help or information on your rights to file a mesothelioma lawsuit, contact us today.
Get Your FREE Resources Sent Overnight
New treatment options
Veterans benefits & claims
$30 Billion asbestos trust fund information
For over 15 years, we've provided the best FREE resources to mesothelioma patients and loved ones. Our resources include information on the leading treatment options and best doctors in your area; lessons learned from survivors; claims and benefits specifically for Veterans; and how to access your share of billions of dollars in trust fund money.
Get Your FREE Resources Sent Overnight
New Treatment Options
Veteran's Benefits & Claims
$30 Billion Asbestos Trust Fund Information
If you've been diagnosed with asbestos-related cancer, contact us at 1-800-692-8608 to find out if you are eligible to receive compensation. You can also fill out the form above to receive FREE information.