Closed Procedures Improve Patient Outcome for Mesothelioma Surgery
Published on November 20, 2013
Page Last Modified: September 02, 2019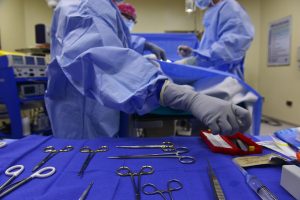 In the last several years, one of the most popular surgical options available to patients suffering from mesothelioma has been to undergo a procedure known as cytoreductive surgery (CRS) followed immediately by a HIPEC procedure (heated intraperitoneal chemotherapy).
CRS is a highly invasive operation that involves opening the patient's abdomen in order to remove as much cancer as possible from the peritoneum. Following the surgery, physicians pour a hot solution of chemotherapy directly into the surgical site in order to kill off any remaining cancer cells left behind.
It has been determined that this procedure has fewer complications than the traditional systemic application of chemotherapy and may be more effective.
A new study released in the "European Journal of Surgical Oncology" indicated that patients who have low-level cases of mesothelioma may have better outcomes. They also have shorter hospital stays and reduced complications if the procedure is done via laparoscopy..
The research was conducted in France at the Hospice Civils de Lyon. It concluded that the amount of time that the patients were in the operating room was approximately thirty minutes shorter during the laparoscopic procedure.
Of the 16 patients included in the study, only one out of eight who underwent laparoscopy had a serious complication. The group that underwent the more aggressive cytoreductive surgery there were four with major complications. Hospital stays for the patients were shortened by as much as a week for those who underwent the laparoscopic procedure.
All of the patients involved in the study were identified as having mesothelioma that had been staged at an earlier point in the disease's progression. The disease had not spread far beyond the peritoneum.
Where the traditional surgery involves a large incision made in the abdomen and exposing the entire peritoneum, the laparoscopic procedure makes tiny incisions and utilizes a fiber optic camera to help the patient see what they are doing.
Previous studies done on the benefits of laparoscopic surgery have shown that patients tend to suffer less blood less and are diagnosed with fewer infections. They also report much less pain than those patients who undergo major abdominal surgery.