Mesothelioma Chemotherapy
This page has been fact checked by a Medical Doctor who specializes in mesothelioma. Sources of information are listed at the bottom of the article.
We make every attempt to keep our information accurate and up-to-date.
Please Contact Us with any questions or comments.
Chemotherapy is the most commonly used treatment for mesothelioma.[1] It is a therapy that uses drugs to kill cancer cells. These drugs also kill healthy cells, which is why this line of treatment causes so many unpleasant side effects. Mesothelioma, the cancer of the mesothelium, is aggressive and spreads quickly. Chemotherapy can be effective in shrinking tumors and slowing growth, but it is just one of several treatment options that doctors and patients have.
Mesothelioma chemotherapy may be used to meet one or more treatment goals: as part of an attempt to cure the cancer, to prepare a patient for surgery, after surgery to reduce the risk of a recurrence, to shrink the cancer as part of palliative care, or along with other therapies in an overall treatment plan.[2] There are several different drugs used for mesothelioma chemotherapy, and researchers are working on developing better drugs with fewer side effects.
Free Mesothelioma Packet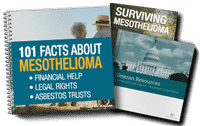 New treatment options
Learn from survivors
Veterans benefits & claims
File for your share of $30 billion in trust funds
What is Chemotherapy?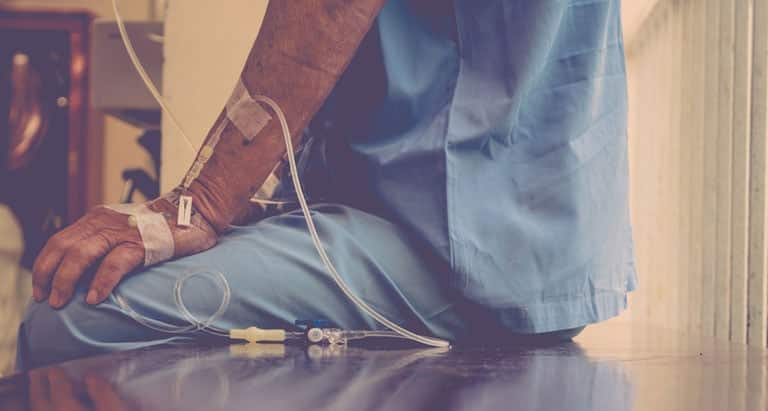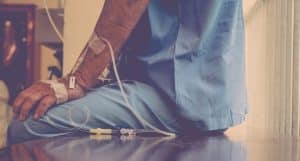 Chemotherapy is a treatment strategy that uses cytotoxic, or anti-cancer, drugs to destroy cells in tumors. The most common way to give this treatment is through an intravenous injection. Chemotherapy circulates and targets rapidly dividing cells, like cancer. Unfortunately, it cannot tell the difference between cancer and other cells that naturally grow quickly in your body. This is what gives you side effects.[3]
Most chemotherapy drugs are not specific in targeting cancer cells. They work on any cells that grow and divide rapidly, which means that certain healthy cells, like those in hair follicles, are also harmed by the drugs.
Management strategies for chemotherapy side effects have improved greatly over the years. There is now greater focus on prevention of side effects before they become an issue. This includes things like nausea and vomiting. Other common side effects may include fatigue, hair loss, increased risk of infections, bleeding or bruising, and taste changes.[4] Chemotherapy has the potential to be effective in reducing the size of tumors, which is important in preventing the spread of the cancer, in making surgeries more successful, and in relieving symptoms caused by larger tumors.
How is Mesothelioma Chemotherapy Administered?
Chemotherapy is considered systemic therapy. This means that it goes everywhere in your body that blood travels. This allows for treatment not just for the visible cancer, but also cancer cells that may have spread to lymph nodes or other organs that are too small to see on imaging. The majority of chemotherapy for mesothelioma is giving intravenously in outpatient cancer infusion centers.[2]
Another way of administering chemotherapy drugs is to inject them directly into the part of the body where the tumor is.[2] For mesothelioma chemotherapy, this means injecting it intrapleurally or intraperitoneally. For pleural mesothelioma the drugs may be injected right into the chest cavity, and for peritoneal mesothelioma, right into the abdominal wall.
Chemotherapy is typically administered in cycles[2]. Each cycle lasts three to four weeks, after which there is a break to let the body recover. Chemotherapy side effects are different for everyone. Treatment effects can be cumulative, so they may become worse the more treatment you receive. Your medical team can decrease the chemotherapy dose if your side effects become severe or more than you would like to tolerate.
Heated Intraperitoneal Chemotherapy (HIPEC)
Researchers looking for better outcomes for mesothelioma patients have developed a special type of chemotherapy for peritoneal mesothelioma. HIPEC involves injecting heated chemotherapy drugs into the abdominal cavity, typically after surgery to remove the bulk of cancerous tissue.[5]
Research has found that some chemotherapy drugs work better when they are heated and infused directly into the abdomen. Not all mesothelioma treatment facilities offer HIPEC because of the need for specialized equipment and training.
Because of the successes seen with HIPEC, researchers have begun to look into using a similar chemotherapy strategy for pleural mesothelioma.[6] Some studies have found that the drugs are too quickly absorbed in the chest cavity, while others have found higher survival rates among patients being administered this treatment. It is still experimental and not available to all patients.
Chemotherapy Drugs for Mesothelioma
There are many different chemotherapy medications on the market with new ones being developed all the time. Mesothelioma patients may be given one or a combination of two different drugs for a more effective treatment. Some of the chemotherapy drugs used most often for mesothelioma are:[4][7]
Carboplatin
Cisplatin
Doxorubicin
Gemcitabine
Methotrexate
Mitomycin
Navelbine
Onconase
Pemetrexed
Vinorelbine
For HIPEC, the most common choices are either mitomycin by itself or a combination of doxorubicin and cisplatin.[5]
Bevacizumab is another drug used to treat mesothelioma.[8] It is a targeted therapy, so it works differently than chemotherapy. It aims to prevent blood vessels from reaching the tumor, making it harder for them to grow and spread. Since this affects all blood vessels in the body, it can stop wound healing necessary after surgery or procedures. Your doctor will discuss the right timing of this drug. This may be given in combination with chemotherapy.
Immunotherapy Treatment for Mesothelioma
Immunotherapy works very differently than chemotherapy. Instead of killing off cancer cells, it adjusts your immune system to find and kill cancer cells. Side effects are also very different than chemotherapy and are related to the immune system becoming over stimulated. Drugs now approved for use in mesothelioma include:[9][10]
Nivolumab, with or without ipilimumab
Pembrolizumab
Chemotherapy Side Effects
Chemotherapy can affect everyone differently. Some experience side effects that can be worse than the cancer itself. When treatment causes more harm them good, patients may choose to focus on other means to make them feel better. Patients may choose palliative care or hospice services to help them manage the side effects of mesothelioma. Because these drugs target cells that divide quickly, not exclusively cancer cells, they kill many healthy cells. This is what causes side effects. The most common side effects of chemotherapy are:
Loss of appetite, weight loss
Nausea and vomiting
Hair loss
Diarrhea
Mouth sores
Bleeding and bruising
Fatigue
Increased infections
Chemotherapy drugs cause significant damage to blood cells and platelets, which is what causes some of these symptoms. For instance, reduced platelets after chemotherapy triggers abnormal bleeding and bruising. A reduction in red blood cells causes fatigue, while damage to white blood cells can hamper the immune system, making infections more common.
Multimodal Treatment with Chemotherapy
Most patients being treated for mesothelioma will receive a multimodal treatment strategy, meaning that multiple techniques are used for the best results.[7] Chemotherapy may be used to shrink tumors before a surgery, for example. A surgery to remove tumors has a greater chance of success if the tumors are smaller and less widespread.
Chemotherapy may also be used after surgery has been done to remove tumors. In this case the drugs are used to kill any remaining cancer cells and to reduce the risk that the cancer will recur later. Radiation is used in a similar way and both strategies may be used before and after a surgery, or in some combination that best suits the needs of the patient.
If you have mesothelioma and your doctor suggest chemotherapy, it helps to know what to expect. Although chemotherapy can be effective to get rid of cancer cells, it is not always easy. Make sure you have loved ones around to support you as you go through cycles of chemotherapy.

Luis Argote-Greene is an internationally recognized thoracic surgeon. He has trained and worked with some of the most prominently known thoracic surgeons in the United States and Mexico, including pioneering mesothelioma surgeon Dr. David Sugarbaker. He is professionally affiliated with University Hospitals (UH). His areas of interest and expertise are mesothelioma, mediastinal tumors, thoracic malignancies, lung cancer, lung transplantation, esophageal cancer, experimental surgery, and lung volume reduction. Dr. Argote-Greene has also done pioneering work with video-assisted thoracoscopic surgery (VATS), as well as robotic assisted minimally invasive surgery. He has taught the procedures to other surgeons both nationally and internationally.