Mesothelioma Chemotherapy
This page has been fact checked by a Medical Doctor who specializes in mesothelioma. Sources of information are listed at the bottom of the article.
We make every attempt to keep our information accurate and up-to-date.
Please Contact Us with any questions or comments.
Mesothelioma chemotherapy is a common treatment strategy for this type of cancer.[1] Patients usually receive a combination of chemotherapy drugs, most often pemetrexed and cisplatin, to target the fast-growing cancer cells. Chemotherapy helps shrink tumors to extend life expectancy and improve qualify of life by relieving symptoms.[2]
FREE Mesothelioma Packet
Watch Dr. James Pearle answer
-
"What chemotherapy options are available for mesothelioma patients?"
How Does Chemotherapy Work?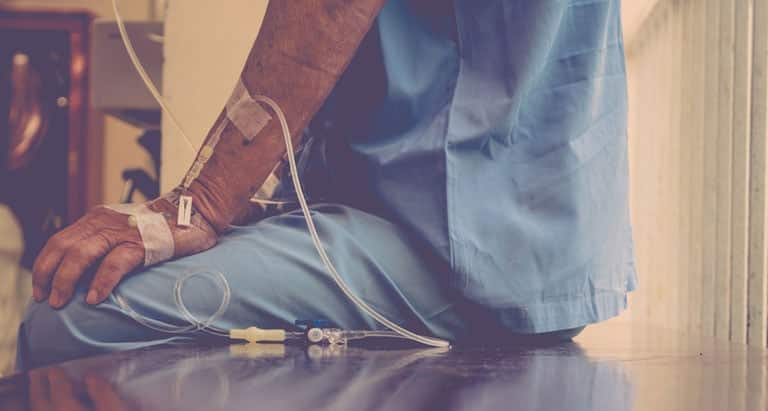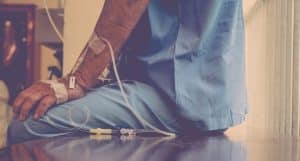 Chemotherapy is a cancer treatment that uses cytotoxic drugs to destroy cells in tumors. The most common way to give this treatment is through an intravenous injection.
Chemotherapy drugs circulate and target rapidly dividing cells, like those in tumors. Unfortunately, it cannot distinguish between cancer and other cells that naturally grow quickly in your body. The damage to healthy cells causes side effects.[3]
Management strategies for chemotherapy side effects have improved greatly over the years. There is now a greater focus on the prevention of side effects before they become an issue.
Chemotherapy can be effective in reducing the size of tumors, which is important in preventing the spread of the cancer, making surgeries more successful, and relieving symptoms caused by larger tumors.
What to Expect When Getting Chemotherapy
Chemotherapy is considered a systemic therapy. This means that the drugs go everywhere in your body that blood travels.[4]
Intravenous Chemotherapy
Most patients get chemotherapy intravenously. A needle is inserted into a vein to circulate a solution with chemotherapy drugs throughout the body.
This allows for treatment for the visible cancer and cancer cells that may have spread to lymph nodes or other organs that are too small to see on imaging. The majority of chemotherapy for mesothelioma is given intravenously in outpatient cancer infusion centers.
Injected Chemotherapy
Another way of administering chemotherapy drugs is to inject them directly into the part of the body where the tumor is. For mesothelioma chemotherapy, this means injecting it intrapleurally or intraperitoneally.
For pleural mesothelioma, the drugs may be injected right into the chest cavity and right into the abdominal wall for peritoneal mesothelioma.
Cycles of Chemotherapy
Chemotherapy is typically administered in cycles[2]. Each cycle lasts three to four weeks, after which there is a break to let the body recover. Chemotherapy side effects are different for everyone.
Treatment effects can be cumulative, so they may become worse with the more treatment you receive. Your medical team can decrease the chemotherapy dose if your side effects become severe or more than you would like to tolerate.
Researchers looking for better outcomes for mesothelioma patients have developed a special type of chemotherapy for peritoneal mesothelioma. HIPEC involves injecting heated chemotherapy drugs into the abdominal cavity, typically after surgery, to remove the bulk of cancerous tissue.[5]
While research has found that some chemotherapy drugs work better when they are heated and infused directly into the abdomen, not all mesothelioma treatment facilities offer HIPEC because of the need for specialized equipment and training.
Because of the successes seen with HIPEC, researchers have begun to look into using a similar chemotherapy strategy for pleural mesothelioma.[6]
Some studies have found that the drugs are too quickly absorbed in the chest cavity, while others have found higher survival rates among patients being administered this treatment. It is still experimental and not available to all patients.
Chemotherapy Drugs for Mesothelioma
There are many different chemotherapy medications on the market, with new ones being developed all the time. Mesothelioma patients may be given one or a combination of two different drugs for a more effective treatment. Some of the chemotherapy drugs used most often for mesothelioma are:[4][7]
For HIPEC, the most common choices are either mitomycin by itself or a combination of doxorubicin and cisplatin.[5]
Bevacizumab is another drug used to treat mesothelioma.[8] It is a targeted therapy, so it works differently than chemotherapy. It aims to prevent blood vessels from reaching the tumor, making it harder to grow and spread.
Since this affects all blood vessels in the body, it can stop wound healing necessary after surgery or procedures. Your doctor will discuss the right timing of this drug. This may be given in combination with chemotherapy.
Immunotherapy works very differently than chemotherapy. Instead of killing off cancer cells, it adjusts your immune system to find and kill cancer cells. Side effects are also very different from chemotherapy and are related to the immune system becoming overstimulated. Immunotherapy drugs recently approved for treating pleural mesothelioma include:[9]
Most patients being treated for mesothelioma will receive a multimodal treatment strategy, meaning that multiple techniques are used for the best results.[7] Chemotherapy may be used to shrink tumors before surgery, for example. Surgery to remove tumors has a greater chance of success if the tumors are smaller and less widespread.
Chemotherapy may also be used after surgery to remove tumors. In this case, the drugs kill any remaining cancer cells and reduce the risk that cancer will reoccur later. Radiation is used in a similar way, and both strategies may be used before and after surgery or in some combination that best suits the patient's needs.
Some early-stage patients qualify for curative surgery. When the tumors are localized, surgery can potentially remove them all. In these cases, doctors use chemotherapy after surgery to reduce the risk of recurrence after remission.
What Are the Official Guidelines for Treating Mesothelioma with Chemotherapy?
The National Comprehensive Cancer Network (NCCN) and other professional organizations outline recommendations for the treatment of different types of cancer. For mesothelioma, the NCCN makes the following recommendations regarding the use of chemotherapy:[10]
Chemotherapy can be used alone for patients who do not qualify for surgery.
For patients who can have surgery, chemotherapy should be offered as part of a multimodal plan.
The standard first-line treatment is pemetrexed with cisplatin, or with carboplatin if the patient doesn't tolerate cisplatin.
Some patients should receive bevacizumab in addition to chemotherapy.
For second-line treatment patients may receive the same combination of drugs.
If patients don't respond to pemetrexed and cisplatin, they should recieve nivolumab with ipilimumab or pembrolizumab
Options for second-line treatment in patients with no response are treatment with virnorelbine or paricipation in a clinical trial.
Chemotherapy Side Effects
Chemotherapy can affect everyone differently. Some experience side effects that can be worse than the cancer itself. When treatment causes more harm than good, patients may choose to focus on other means to make them feel better.
Patients may choose palliative care or hospice services to help them manage the side effects of mesothelioma. Because these drugs target cells that divide quickly, not exclusively cancer cells, they kill many healthy cells. This is what causes side effects. The most common side effects of chemotherapy are:[4]
Loss of appetite, weight loss
Nausea and vomiting
Hair loss
Diarrhea
Mouth sores
Bleeding and bruising
Fatigue
Increased infections
Chemotherapy drugs cause significant damage to blood cells and platelets, which is what causes some of these symptoms. For instance, reduced platelets after chemotherapy trigger abnormal bleeding and bruising.
A reduction in red blood cells causes fatigue, while damage to white blood cells can hamper the immune system, making infections more common.
Rare and More Serious Side Effects
Chemotherapy may cause some rarer side effects. If you experience these, contact your doctor right away:
A high fever
Intense chills
Bleeding
A skin rash
Intense headaches
Difficulty breathing
Chronic diarrhea or vomiting
Bloody stool or urine
Pain at the injection or catheter site
How Long Do Side Effects Last?
Chemotherapy can be very uncomfortable, but the side effects are generally short-lived. You can expect most of them to resolve within a couple of weeks of stopping treatment.
In some cases, chemotherapy causes lasting damage to organs, like the heart, kidney, or lungs. These can cause problems for years or indefinitely.
How Do Doctors Know Chemotherapy Worked?
When administering chemotherapy, doctors need to know if the patient responds. In other words, did it work? Answering this question is essential for tracking the progress of the cancer and planning the next treatments, if needed.
Doctors evaluate the progress of cancer and treatments using diagnostic techniques. Most important are imaging scans to see if tumors have shrunk, stopped growing, or continued to grow and spread. They may also use blood tests to look for markers.
What Happens During Chemotherapy Treatment?
Keep in mind that you'll be in the hands of qualified medical experts. Your oncologist, who is part of the medical team, will let you know what medications you'll receive and what the dosages will be before your first chemotherapy treatment session.
How Do I Prepare for Chemotherapy?
Your doctors will explain everything you need to do before starting chemotherapy. In terms of medical preparation, you may need additional blood tests or imaging scans. It's also a good idea to see your dentists. Dental infections can complicate chemotherapy.
You may want to make the experience more comfortable by bringing a friend or family member along. Chemotherapy sessions take some time, so bring something to do as well as drinks and snacks.
Plan in advance for being able to rest after: stock up on groceries and supplies, have medications ready, and ask a loved one to be available to help if you need it.
What Does it Feel Like?
This depends on the type of chemotherapy you receive. For most people, treatment is intravenous, requiring you to sit in a perfusion center for several hours. There will be a little bit of pain when the nurse places the catheter in the vein. Otherwise, it won't hurt.
You may feel a little tired or lightheaded during the treatment. Some side effects, like nausea, begin within a few hours of treatment. You may begin to feel nauseous while still receiving the medications.
How Long Is a Session of Chemotherapy?
In most instances, after you receive your first cycle of medications, you won't have to repeat it for a few weeks. This allows physicians time to assess how well the chosen medications are working, and it also gives the healthy cells in your body the ability to recover from the medications.
A typical treatment session can last minutes, hours, or sometimes days, according to the American Society of Clinical Oncology (ASCO).[11] However, treatments that require several days, which are generally continuous infusion chemotherapy, do not require you to be at the hospital or medical center the entire time.
Home Care and Follow-up
Once you finish your treatment, your blood pressure and other vital signs will be checked. Your medical team will give you additional instructions before you leave for home care, but make sure you have the best contact number to reach someone on your medical team before you leave.
Your medical team will also let you know what foods and drinks you are allowed that help the medication work the best. They will also go over possible side effects and what to do to help alleviate them.
It's important to keep any follow-up appointments after your chemotherapy sessions are complete. The American Cancer Society states that follow-ups could last for years, but it is an important part of the recovery process.
Managing the Most Common Chemotherapy Side Effects
As mentioned earlier, chemotherapy patients may have to deal with side effects, but you can do things at home to ease the discomfort.
Fatigue
According to the American Cancer Society, fatigue is a common side effect of chemotherapy.[12] In addition to adequate nighttime sleep, consider taking naps throughout the day. Light exercise, such as short walks, sometimes help as well.
However, don't be hard on yourself if you cannot complete routine chores or you're too tired to make dinner. Enlist the help of friends or family if possible, or contact your doctor for possible home healthcare recommendations.
Nausea and Vomiting
According to in-depth clinical studies, around 70% to 80% of chemotherapy patients experience nausea and/or vomiting.[13] This could cause weight loss, which is normal.
Keep in mind that you probably won't be up to eating like you did before chemotherapy started, but it's important to eat small portions of food that are easy to digest. Your doctor can give you a diet to follow that can help fight nausea while getting adequate nutrition. Your doctor could also prescribe you an anti-nausea medication, such as Zofran or Aloxi.
Hair Loss
Hair loss is a common side effect of chemotherapy. Although it may not be flattering, remember that it means powerful medications are attacking cancerous cells and helping you heal. However, the same medication also attacks your healthy cells, including your hair roots, where cells rapidly grow and divide.
Hair loss usually begins within a few weeks of treatment. It can fall out in large clumps, or it could fall out gradually. Unfortunately, there is no treatment for hair loss, but there are other things to consider.
A scalp cooling cap is a cap placed tightly on the head that's filled with chilled liquid. The liquid is said to restrict the blood flow in the scalp, which, in turn, can slow the process of hair loss.
Rogaine, a popular drug used for hair loss, is another possibility. Although it likely won't stop hair loss, it may speed up the process of your hair growing back faster. However, rogaine comes with its own side effects, so be certain to discuss the pros and cons with your physician before making a decision.
Some chemotherapy patients choose to wear wigs. In some instances, insurance may cover the costs for wigs. Check with your provider to see if you qualify.
Mouth Sores
Get a dental checkup before going in for treatment. Chemotherapy drugs can irritate the mouth, causing painful sores. It can be worse if you have untreated dental issues. Eating is difficult with mouth sores, so be prepared with soft, mild foods.
Is Chemotherapy Expensive?
The cost of a cycle of chemotherapy is anywhere from a couple thousand dollars to tens of thousands of dollars. It depends on the location, cancer type, state, and drugs used. Health insurance will cover part of your costs. If you are a veteran, you may qualify for healthcare at a Veterans Administration hospital.
If you struggle with the costs of cancer care, even with insurance and other benefits, consider taking legal action. A mesothelioma and asbestos cancer can help you get compensation through trust funds, lawsuits, or settlements.
Get Your FREE Mesothelioma Packet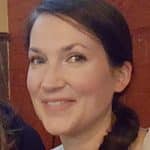 Mary Ellen Ellis has been the head writer for Mesothelioma.net since 2016. With hundreds of mesothelioma and asbestos articles to her credit, she is one of the most experienced writers on these topics. Her degrees and background in science and education help her explain complicated medical topics for a wider audience. Mary Ellen takes pride in providing her readers with the critical information they need following a diagnosis of an asbestos-related illness.
Get Your FREE Mesothelioma Packet

Luis Argote-Greene is an internationally recognized thoracic surgeon. He has trained and worked with some of the most prominently known thoracic surgeons in the United States and Mexico, including pioneering mesothelioma surgeon Dr. David Sugarbaker. He is Regional Director of Thoracic and Esophageal Surgery at Cleveland Clinic Indian River Hospital. His areas of interest and expertise are mesothelioma, mediastinal tumors, thoracic malignancies, lung cancer, lung transplantation, esophageal cancer, experimental surgery, and lung volume reduction. Dr. Argote-Greene has also done pioneering work with video-assisted thoracoscopic surgery (VATS), as well as robotic assisted minimally invasive surgery. He has taught the procedures to other surgeons both nationally and internationally.