This page has been fact checked by a Medical Doctor who specializes in mesothelioma. Sources of information are listed at the bottom of the article.
We make every attempt to keep our information accurate and up-to-date.
Free Mesothelioma Packet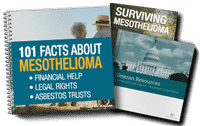 New treatment options
Learn from survivors
Veterans benefits & claims
File for your share of $30 billion in trust funds
Please Contact Us with any questions or comments.
Stage 4 mesothelioma is advanced and is characterized by metastasis, the spread of the cancer from the original tumor to more distant locations in the body. Stage 4 mesothelioma is tough to treat and incurable. For many patients at this stage, treatments are palliative in nature.[1]
What Is Stage 4 Mesothelioma?
Mesothelioma is an aggressive type of cancer that most often affects the tissue around the lungs. Caused by asbestos exposure, mesothelioma has a long latency period. This means it can be decades between asbestos exposure and symptoms that lead to a diagnosis.
Free Mesothelioma Packet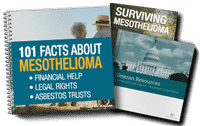 New treatment options
Learn from survivors
Veterans benefits & claims
File for your share of $30 billion in trust funds
Many patients receive a diagnosis only after the cancer is advanced.[2] At this most advanced stage, cancer cannot be cured or easily treated because it has metastasized. It is considered terminal, but treatments can still reduce pain, improve quality of life, and possibly extend life.
How Is Mesothelioma Staged?
When mesothelioma is diagnosed, it is also given a stage. Staging describes how far the cancer has advanced. The convention for pleural mesothelioma is to give a stage from one to four.[3]
One is the earliest and least advanced stage, and four is the most advanced stage. An examination of cells from a biopsy along with imaging scans of the patient's body is used to stage the cancer.
The staging system used for pleural mesothelioma is the TNM system:
T describes the original tumor
N describes the degree of the spread of the cancer to lymph nodes
M describes metastasis
There are three possible combinations of designations for T, N, and M that can be characterized as stage 4 mesothelioma:[3]
T4, any N, and M0. This describes a cancer that has grown extensively from the original tumor. It may have expanded into both layers of the pleura, into the chest wall, into the diaphragm, into the peritoneum around the abdominal cavity, into the spine, and possibly even into the pericardium around the heart. It has not metastasized, and may have spread into the lymph nodes.
Any T, N3, and M0. This describes tumors that may or may not have grown into surrounding tissues, but has definitely spread to lymph nodes both near the site of the original tumor and in those on the opposite side of the chest. There is no metastasis.
Any T, any N, and M1. This means that the cancer has metastasized, or spread to more distant parts of the body. The spread into nearby tissues or lymph nodes may or may not be extensive.
Why Is Mesothelioma Often Diagnosed at Stage 4?
A stage 4 diagnosis is common among patients with mesothelioma for many reasons:[4]
Mesothelioma has a long latency period, the time between exposure to asbestos and diagnosis. Symptoms are not usually noticeable until decades after exposure.
Early symptoms mimic those of more common illnesses, often leading to a delay in getting an accurate diagnosis.
Diagnosing mesothelioma correctly is difficult. Even when determined to be malignant, this kind of cancer is easy to mistake for lung cancer.
What Are the Symptoms of Stage 4 Mesothelioma?
Patients with stage 4 mesothelioma have many of the same symptoms of early-stage mesothelioma, such as cough, chest pain, and shortness of breath. These symptoms are more severe by stage 4. Other symptoms in stage 4 include:[5]
Blood when coughing
Difficulty swallowing
Fever
Night sweats
Weight loss
Fatigue
General malaise
Pain or discomfort at sites of metastasis
How Is Stage 4 Mesothelioma Treated?
Treatment options for stage 4 mesothelioma are limited. Because the cancer is so widespread, it is difficult to shrink, remove, or slow the progression of tumors. Treatment at this stage is focused on relieving pain and other symptoms and extending the patient's life if possible. This is referred to as palliative rather than curative care.
Stage 4 Surgical Options
Extensive and curative surgeries, like pleurectomy/decortication or extrapleural pneumonectomy, are not options at stage 4. The cancer is simply too widespread.
Surgical procedures may be used, however, for palliative reasons. These include:
Thoracentesis to drain fluid from the chest cavity
Paracentesis to drain fluid from the abdominal cavity
Pericardiocentesis to remove fluid from around the heart
Pleurodesis to seal the two layers of the pleura together and prevent ongoing fluid build-up
Stage 4 Chemotherapy and Radiation
Patients with stage 4 mesothelioma may opt for chemotherapy or radiation to shrink the size of tumors. Chemotherapy uses drugs to kill cancer cells, and these are generally injected intravenously.
Radiation is targeted at a tumor externally and uses high-energy beams to kill cancer cells. Either of these may reduce the bulk of tumors in stage 4 mesothelioma and may provide some symptom relief.[1]
Palliative Care for Stage 4 Mesothelioma
Stage 4 patients most often receive palliative or supportive care rather than treatments designed to increase life expectancy significantly. Palliative care focuses on a patient's goals, wishes, and overall quality of life.
Rejecting treatments like chemotherapy is not unusual for palliative cancer patients. Many choose to live out the time they have left without the terrible side effects of that treatment. Less invasive treatments with fewer side effects, such as draining excess fluids from the chest or abdomen, can be used to help patients feel better.[6]
At this stage, complementary and alternative therapies may also help improve quality of life, along with psychological care and spiritual interventions. Working with a therapist or chaplain, trying mediation or massage, using minimal exercise, or improving nutrition, are all strategies that can help improve quality of life for stage 4 patients.[7]
What Is the Life Expectancy?
The usual prognosis for stage 4 mesothelioma is that the cancer is not curable and that life expectancy is short. The median survival time after a stage 4 diagnosis is just fifteen months.[8]
This is an average based on past cases, but individual factors can make the life expectancy longer or shorter. A longer survival time is expected for younger patients with otherwise good health and for patients who are eligible for and able to withstand more aggressive treatments.
Being diagnosed with stage 4 mesothelioma is devastating, especially if you find out that the cancer was likely caused by exposure to asbestos that you either didn't know about or that came with risks you weren't aware of at the time. Let a lawyer help guide you if you choose to take legal action against a former employer or manufacturer of asbestos products.

Luis Argote-Greene is an internationally recognized thoracic surgeon. He has trained and worked with some of the most prominently known thoracic surgeons in the United States and Mexico, including pioneering mesothelioma surgeon Dr. David Sugarbaker. He is professionally affiliated with University Hospitals (UH). His areas of interest and expertise are mesothelioma, mediastinal tumors, thoracic malignancies, lung cancer, lung transplantation, esophageal cancer, experimental surgery, and lung volume reduction. Dr. Argote-Greene has also done pioneering work with video-assisted thoracoscopic surgery (VATS), as well as robotic assisted minimally invasive surgery. He has taught the procedures to other surgeons both nationally and internationally.