Wedge Resection in Mesothelioma Treatment
Mesothelioma is a difficult cancer to treat. Depending on the stage of the cancer and the patient's health and preferences, a variety of strategies may be used. Typical treatment includes a combination of chemotherapy, surgery, and radiation therapy.[1]
Not all patients are good candidates for surgicalprocedures. Those who do undergo surgery may have different goals: to slow thespread of cancer, to achieve remission, to extend life, or to relieve symptomsas part of palliative care. A wedge resection is one surgical procedurespecialists may use to help treat or manage pleural mesothelioma.
Free Mesothelioma Packet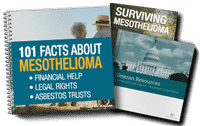 New treatment options
Learn from survivors
Veterans benefits & claims
File for your share of $30 billion in trust funds
Resectable Mesothelioma
Mesothelioma is considered resectable when a surgicalprocedure is considered a valid option for slowing the spread of cancer or evenremoving all cancerous tissue with a curative intent. Whether or not pleuralmesothelioma is resectable depends on several factors.
The most important factor is stage. Most cases of stage I are resectable, many cases of stage II are, and some people in stage III may be considered for surgical procedures. Stage IV is not generally resectable because the tumors are too widespread. Surgeries during this stage are largely palliative.[2]
If your medical team decides that your mesothelioma is potentiallyresectable, you can use their advice to determine if you would like to go aheadwith surgery, and if so with what type. Mesothelioma surgeries are generallyaggressive to match tumor growth. Surgeons will always try to remove as little tissueas possible to minimize complications and preserve function.
What Is a Wedge Resection?
Of the many surgical procedures that may be used to treat or manage pleural mesothelioma, a wedge resection is among the more conservative. The surgery removes a wedge-shaped piece of lung tissue, usually containing both the tumor and some of the healthy tissue around it.[3]
A wedge resection is sometimes used to treat lung cancer. This can usually be done with a minimally-invasive procedure. Just a few small incisions are used to perform the surgery rather than opening up the chest. This minimizes the risks of complications like infection and also speeds recovery.[4]
In addition to being used for cancer treatment, a wedgeresection may be performed for diagnosis. If a larger amount of tissue isneeded for examination than a needle biopsy can provide, this surgery canremove enough cancerous tissue for study.
Wedge Resection for Pleural Mesothelioma
One reason that pleural mesothelioma is difficult to treatand nearly impossible to cure is that it tends to form multiple, small tumors.This makes it challenging to surgically remove all cancerous tissue. A wedgeresection is not often used for pleural mesothelioma for this reason. It simplyisn't radical enough to remove a significant amount of the tumors.
A wedge resection may be useful for a biopsy, as part of the diagnosis process. It may also be used as part of a more extensive surgical procedure. For instance, a patient undergoing a pleurectomy/decortication surgery, which removes the pleura and additional tissue, a wedge resection can be used to remove tumors that have infiltrated lung tissue.[5]
This strategy is mostly useful before the cancer has spreadwidely in the lungs. In earlier stages of mesothelioma, a wedge resection usedalong with pleurectomy and decortication may be curative. It can certainly prolonglife expectancy by slowing the spread of the tumors.
The Risks of a Wedge Resection
When performing surgical procedures to slow the spread of cancer or to cure it, surgeons must always balance the benefits against the risks. The more extensive a surgery, the greater the risk of complications and serious complications.
A wedge resection is fairly conservative compared to the more extensive surgeries often done to manage pleural mesothelioma, but it still comes with risks:[6]
Complications related to anesthesia
Infections
Bleeding at the incision site
Internal bleeding in the chest cavity
Air leaks that may lead to a collapsed lung
A hole between the lung and pleural tissue
If VATS, or video-assisted thoracoscopic surgery, is a possibilityfor your treatment, the risks are less but still significant.
Recovering from Surgery
Recovery from a wedge resection takes less time than from a more extensive procedure, especially if you underwent a VATS procedure; however, when used for pleural mesothelioma, a wedge resection is often part of a more radical surgery. You may need to be in the hospital for up to ten days or two weeks to recover.
Once home you will need to monitor your symptoms and the incision sites and contact your medical team if you have any concerns. Look for swelling, redness, or bleeding at the incisions, a fever, difficulty breathing, chest pain, coughing, or shortness of breath.
A wedge resection can be a useful tool in managing pleural mesothelioma. Unless you are in the very early stages, it is unlikely this procedure will be curative, but it may help you live longer and have fewer symptoms. Talk to your doctor about surgical options to make the best decisions for your treatment.