Mesothelioma and the Simian Virus 40
For decades it has been well known that the leading cause of and risk factor for mesothelioma is exposure to asbestos. This fibrous mineral can be inhaled and lodged in lung and other tissues, causing damage at the cellular level that probably leads to the development of cancer. Not all people exposed to asbestos will develop mesothelioma, but most people with mesothelioma were exposed to asbestos at one time and to some degree.
For those that were not exposed to asbestos and still developed mesothelioma, the cause has remained a mystery. Researchers have suggested other minerals, radiation, genes as factors, but there is another possibility: that a virus called SV40 could increase the risk that a person will develop mesothelioma and that it may have contaminated people through vaccines.
What is Simian Virus 40?
Also known as SV40, Simian virus 40 is an infectious pathogen that has been seen in both humans and monkeys. It was first discovered in 1960 when researchers found it as a contaminant in polio vaccines. Ultimately it was determined that 90 percent of children and 60 percent of adults who were given the polio vaccine between 1955 and 1963 were given vaccines that contained SV40.
SV40 has since been found in many wild populations of monkeys where it is mostly dormant and does not cause any signs of infection. In monkeys with suppressed immune systems, usually because of another infection, the SV40 virus can cause problems like kidney disease and tumors. In fact, SV40 has been used extensively in cancer research because it readily triggers tumors in laboratory animals.
Early on in the discovery of SV40 and its contamination of polio vaccines, a few studies were done and concluded that it did not cause cancer in humans. However, that research was limited and little investigation had been done between the 1960s and 1990s into how SV40 may have affected people. Several researchers began studying the virus and cancer starting in the 1990s, and they have proposed that SV40 could also contribute to the development of tumors in humans, including those that cause mesothelioma. The idea is still controversial, but some believe there is evidence to prove a connection.
Early Mesothelioma and SV40 Studies
Some of the earliest of the most recent study of SV40 and its impact on human health targeted mesothelioma right away. In one study a researcher injected hamsters with SV40 and found that each one of them developed and died from mesothelioma.
A mesothelioma surgeon got involved in the study and used an extensive collection of biopsy samples from mesothelioma patients to check for the presence of SV40. Sixty percent of those samples contained the virus. Control tissue samples from the patients, which were noncancerous, did not contain the virus. The work of these early researchers has since been replicated in other laboratories around the world.
Additional SV40 Studies Point to Polio Vaccines
More recent studies of SV40 and cancer have found further evidence that it could be a potential cause of mesothelioma. These studies looked for the virus in mesothelioma patients in Finland, Turkey, Italy, and the U.S. No SV40 was found in the Finnish and Turkish samples. However, the American and Italian samples did contain SV40. This helps to implicate the virus as one cause or a contributing cause of mesothelioma because Turkey and Finland never used polio vaccines contaminated with the SV40 virus.
Critics of the SV40 Hypothesis
Although some of the research into the connection between SV40 and mesothelioma is intriguing and clearly points this virus as a potential cause of the cancer, there are critics and the idea remains controversial. More than 40 studies published in journals have found SV40 in various types of tumors, not just mesothelioma, and yet other studies have failed to find the connection.
Just two studies, in fact, have failed to find any evidence of SV40 in mesothelioma tissue samples. In one of these studies, the researchers reported testing 50 biopsy samples and finding no SV40 virus. The government has consistently cited these two papers as evidence that SV40 is not connected to mesothelioma or other types of cancer. Not only did these two studies fail to find the virus, but the authors have been critical of the methods used and conclusions drawn in the studies that did find the virus in human tumors.
Public health officials have reason to deny that SV40 causes mesothelioma. They do not want to scare people away from taking vaccines. When people refuse to be vaccinated, the result could be massive outbreaks of diseases that have been mostly eradicated. Critics of the SV40 cause of cancer have pointed out that the studies that found the virus in tumors failed to prove that there was no laboratory contamination, that it came from the polio vaccine, or that the virus found in the tumors actually caused the cancer or was just a passive or benign contaminant.
The International Mesothelioma Interest Group
Over arguments about whether or not SV40 contributes to cancer, the International Mesothelioma Interest Group set out to determine one way or another if the virus could be consistently found in mesothelioma tissue samples. In a study that was tightly controlled, and that included four separate and independent laboratories, the group found that SV40 was in the majority of mesothelioma samples. They also proved that the virus did not come from laboratory contamination. Although the evidence seemed strong, critics still disagreed with the conclusion that the virus could be a contributing factor in mesothelioma.
Today, work continues into the study of SV40 with some researches insisting it is involved in most cases of mesothelioma and others denying that possibility. Whether we will discover the truth any time soon remains to be seen, but for many patients with mesothelioma, the cause is no longer an important issue. More important to them are advancements in treatments, which researchers are also working on. Understanding how a disease like mesothelioma develops, though, is important. It helps researchers come up with better treatments and it also helps aid in prevention.
FREE Mesothelioma Packet includes: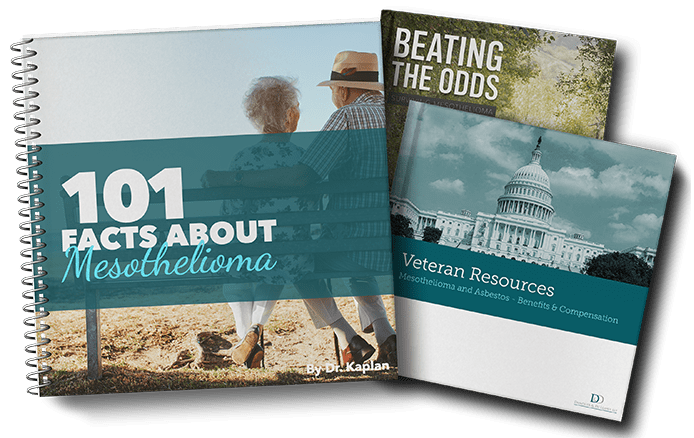 New Treatment Options
Veterans Benefits & Claims
$30 Billion Asbestos Trust Fund Information
For over 15 years, we've provided the best FREE resources to mesothelioma patients and loved ones. Our resources include information on the leading treatment options and best doctors in your area; lessons learned from survivors; claims and benefits specifically for Veterans; and how to access your share of billions of dollars in trust fund money.
FREE Mesothelioma Packet includes: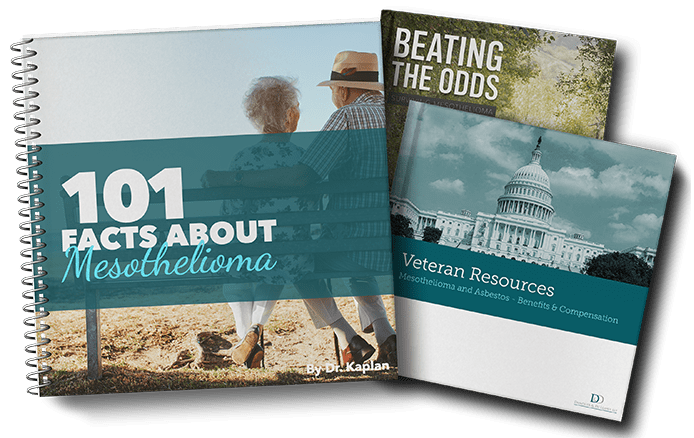 New Treatment Options
Veterans Benefits & Claims
$30 Billion Asbestos Trust Fund Information
If you've been diagnosed with asbestos-related cancer, contact us at 1-800-692-8608 to find out if you are eligible to receive compensation. You can also fill out the form above to receive FREE information.