This page has been fact checked by a Medical Doctor who specializes in mesothelioma. Sources of information are listed at the bottom of the article.
We make every attempt to keep our information accurate and up-to-date.
Free Mesothelioma Packet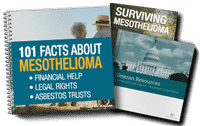 New treatment options
Learn from survivors
Veterans benefits & claims
File for your share of $30 billion in trust funds
Please Contact Us with any questions or comments.
Stage 3 mesothelioma is a common diagnosis for this rare type of cancer. By this stage, it has spread into the lymph nodes and other organs near the original site of tumor growth. Treatment options at stage 3 are limited, the prognosis is poor, and life expectancy is short.[1]
What is Stage 3 Mesothelioma?
In stage 3 mesothelioma the cancer has spread through the pleura and into the lymph nodes. It may also be in other areas of the chest cavity.
The cancer has not yet metastasized at stage 3.
Symptoms of chest pain, coughing, and shortness of breath are likely to be more severe and frequent in this stage.
Experimental treatments may help extend life, but standard therapies can do little in stage 3 to cure this cancer.
Survival rates are low for stage 3 mesothelioma.
What if I Get a Stage 3 Diagnosis?
Staging is important for any type of cancer, but for cancer that is aggressive and moves quickly, getting the staging right is especially crucial. When a mesothelioma diagnosis is made for a patient, the next step is to determine its stage.[2] This helps inform your next steps.
Free Mesothelioma Packet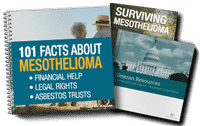 New treatment options
Learn from survivors
Veterans benefits & claims
File for your share of $30 billion in trust funds
Mesothelioma is often diagnosed at stage 3 or 4. It is often first diagnosed as a more common illness, delaying the correct diagnosis.[3] It is difficult to treat, incurable, and comes with a shortened life expectancy at these later stages.[4]
After getting a stage 3 mesothelioma diagnosis, the best thing you can do is to find specialists for advice and treatment. Teams of experts in mesothelioma can provide you with the best guidance and most advanced treatment options.
What Are the Characteristics of Stage 3 Mesothelioma?
Working with specialists right away is essential, but it also helps to understand your cancer.
The staging system most often used for pleural mesothelioma is the TNM system. T describes the extent of the original tumor, N describes the spread of cancer to lymph nodes, and M describes any metastasis of the cancer.
For stage 3 mesothelioma, there are several possible designations:[4]
T1-3 with N1 or N2: These combinations describe pleural mesothelioma as having grown beyond the pleural tissue and into the lungs or diaphragm. The cancer may also have spread into the lymph nodes on the same side of the chest cavity as the primary tumor.
M0 or T3 with N0 to N2, and M0: These designations for stage 3 indicate that the primary tumor has spread into the chest wall, fatty tissues between the lungs, or even to the lining of the heart, and possibly into the lymph nodes.
There is no metastasis in stage 3 mesothelioma, which means the cancer has only spread in the chest cavity and not to more distant tissues or organs.
What is the Treatment for Stage 3 Mesothelioma?
By stage 3 of mesothelioma, treatment options are limited.[5] The more cancer spreads, the more difficult it becomes to treat. The only surgery that has a chance of curing the cancer is the most aggressive: extrapleural pneumonectomy.
This is an extensive surgery that is risky and must be performed by a specialist. It involves removing all of the pleura, lung, and part of the diaphragm from one side of the chest. Not all stage 3 patients are eligible for this surgery due to health and other reasons.[6]
Treatments for stage 3 mesothelioma include:[7]
Combinations of chemotherapy and radiation
Surgery, which may be used with chemotherapy or radiation to shrink tumors first or to eliminate any remaining cancer cells after a procedure
Any treatments that may extend a patient's life
Palliative treatments to manage symptoms and side effects
Another option for some patients at this stage is participation in a clinical trial. Speak with your medical team about any trials for which you may qualify.
Clinical trials test newer procedures and medicines and are often open to patients with few other treatment options.
Palliative Care for Stage 3 Mesothelioma
Although curing mesothelioma at this stage is highly unlikely and even the ability to extend lifespan is limited, treatments can help patients feel better and enjoy a higher quality of life for their remaining time.
Patients with stage 3 mesothelioma have several options for palliative care:[8]
Debulking surgery to remove part of a tumor can help a patient breathe more easily
Procedures to drain fluid from around the lungs reduce pain, improve breathing, and help patients be more mobile
Medications to relieve pain, nausea, and other symptoms
Alternative therapies can also be used at this stage to help patients cope with the consequences of having cancer and facing death.
These therapies may also help reduce pain and stress and include acupuncture, massage, exercise and nutrition, yoga, meditation, and others that are guided by the patient's medical team.
What is the Prognosis for Stage 3 Mesothelioma?
As the stage of mesothelioma advances, the prognosis gets worse for patients. It is highly unlikely that stage 3 mesothelioma can be cured, but treatments can extend the life expectancy.
The median survival time for stage 3 is eighteen months after diagnosis.[9] Younger and healthier patients can undergo more aggressive treatments and are likely to survive longer than older patients with poor health.
The prognosis is never good for mesothelioma, and too many people struggling with this disease were exposed to asbestos without being aware of the dangers. Find specialists for your treatment and expert lawyers to guide your legal decisions for seeking justice and compensation.

Luis Argote-Greene is an internationally recognized thoracic surgeon. He has trained and worked with some of the most prominently known thoracic surgeons in the United States and Mexico, including pioneering mesothelioma surgeon Dr. David Sugarbaker. He is professionally affiliated with University Hospitals (UH). His areas of interest and expertise are mesothelioma, mediastinal tumors, thoracic malignancies, lung cancer, lung transplantation, esophageal cancer, experimental surgery, and lung volume reduction. Dr. Argote-Greene has also done pioneering work with video-assisted thoracoscopic surgery (VATS), as well as robotic assisted minimally invasive surgery. He has taught the procedures to other surgeons both nationally and internationally.