Mesothelioma Medications
This page has been fact checked by a Medical Doctor who specializes in mesothelioma. Sources of information are listed at the bottom of the article.
We make every attempt to keep our information accurate and up-to-date.
Please Contact Us with any questions or comments.
Medications for mesothelioma are an essential part of treatment for most patients. Treatment for mesothelioma usually includes a combination of medications with surgery or radiation. Mesothelioma medications include chemotherapy and immunotherapy drugs, targeted drugs, light-activated drugs, and palliative medications.
FREE Mesothelioma Packet
What Kinds of Medications Are Available to Treat Mesothelioma?
The most common medications used to treat mesothelioma are chemotherapeutic agents. Some patients may also benefit from other types, like immunotherapy drugs, targeted drugs, and others.
Chemotherapy. Chemotherapeutic drugs are not very specific. Most often administered systemically throughout the entire body, they target fast-growing cells, like cancer cells.
Photodynamic Therapy. This new type of therapy relies on more targeted medications. Delivered to the tumor site, they only become active when exposed to light.
Antiangiogenesis. These are drugs that stop the growth of new blood vessels in tumors, essentially starving them of oxygen and nutrients.
Immunotherapy. Various types of immunotherapy drugs empower the patient's immune system to recognize, attack, and kill cancer cells.
Targeted Therapy. This category includes different types of medications that target particular weaknesses in cancer cells.
Palliation. Doctors use some medications, like painkillers, to give patients symptom relief and improve their quality of life.
Emerging Medications. Researchers continue to develop and study new medications. Many current clinical trials are working on new immunotherapies and targeted therapies, but emerging medications exist in all categories.
What Is the Most Common Treatment for Mesothelioma?
The most common treatment for mesothelioma is chemotherapy, which involves using drugs that kill fast-growing cells. Many patients receive multimodal treatment, typically a combination of chemotherapy with surgery, radiation therapy, or immunotherapy.
Because chemotherapy is the standard treatment for mesothelioma, a lot of research has gone into these medications. They can be very useful in slowing the growth of cancer but researchers always aim to find better drugs that cause fewer side effects.
Can Any Medication Cure Mesothelioma?
Curing mesothelioma with any treatment strategy is unlikely. Experts consider this a terminal cancer. The few patients who achieve remission have an early-stage diagnosis and undergo multimodal treatment.
Surgery is the most effective way to achieve remission, often used along with chemotherapy or other types of medication. Medications alone cannot cure mesothelioma.
Are Mesothelioma Medications FDA-Approved?
The U.S. Food and Drug Administration (FDA) has approved a handful of drugs for treating pleural mesothelioma:
Pemetrexed (Alimta)
Cisplatin
Gemcitabine
Nivolumab (Opdivo)
Ipilimumab (Yervoy)
The first three of these are chemotherapy drugs. The second two are immunotherapy medications. The FDA has not approved many medications, but doctors may use many unapproved drugs at their own discretion and as a part of clinical trials.
Chemotherapy Medications Target Fast-Growing Cells
The first line of treatment for most patients with mesothelioma is chemotherapy. It involves using medications that kill cancer cells during their rapid growth and cell division. Unfortunately, these medications are not specific to tumors. This means that while chemotherapy drugs kill cancer cells, they also damage healthy cells that grow quickly, like blood cells and hair follicles.
Only a few drugs are approved for first-line use in chemotherapy for mesothelioma:[1]
Despite the unpleasant and often difficult side effects that they can cause, chemotherapy medications are one of the best and most effective treatments for a number of cancers, including mesothelioma. Patients must endure these side effects to receive the benefits.
Only a few drugs are approved for treating mesothelioma, but that doesn't mean doctors cannot use other chemotherapy drugs for their patients. Doctors may prescribe other chemotherapy agents such as carboplatin, doxorubicin, and navelbine. However, these alternatives have not been clinically proven to be as effective, or they are still in trials to prove safety and efficacy.[2]
Chemotherapy Side Effects
Although chemotherapy is the most effective type of treatment for mesothelioma, it is not always easy. Because the medications are not specific to cancer cells, patients may experience a range of side effects from mild to severe.
Because of their side effects, chemotherapy drugs are typically given in cycles with a couple of weeks of break between administering doses to give the body time to recover.
Chemotherapy medications may be given orally, but most often, they are administered intravenously. This allows the drugs to go immediately into the bloodstream, where they can circulate throughout the whole body and attack any cells growing and dividing at a rapid pace.
Common side effects of chemotherapy drugs include:[3]
Hair loss
Fatigue
Pain
Nausea and vomiting
Bleeding
Infections
Photodynamic Drugs Rely on the Power of Light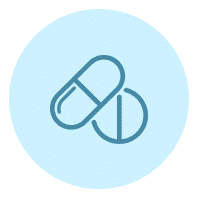 Another type of medication some treatment teams may use for mesothelioma treatment is a photosensitizer. This is also known as a photodynamic drug or a photosensitizing agent. These are agents that become activated to kill cancer cells when exposed to light.[4]
Different drugs of this type are activated by different wavelengths of light, which can travel varying distances through the body. The location of the tumor determines the choice of drug and wavelength of light.
To be treated with a photodynamic drug:
A patient is injected with the optimal photosensitizing agent.
The drug travels to all areas of the body but stays longer in cancer cells than in healthy cells.
After two or three days, most of the medication has been eliminated from the healthy part of the body, but it lingers in the tumors.
The doctor can then insert a light on the end of an endoscope into the body.
They aim it at the tumor to activate the medication, which then kills cancer cells.
Photodynamic medications are not commonly used to treat mesothelioma, but researchers continue to develop it as a treatment strategy. Some studies have found that photodynamic therapy improves survival time when used with surgery.[5]
Antiangiogenic Medications Starve Tumors
Another critical line of research in targeted therapy is called antiangiogenesis treatment. Angiogenesis is the process of making new blood vessels, which is usually a normal and healthy process in the body.
However, this process is exploited in cancer to rapidly build new blood vessels to provide the tumor with oxygen and nutrients. If a medication can stop or slow the building of blood vessels, it may slow the growth or kill the cells in the tumor by limiting their blood flow.
Some antiangiogenesis medications have proven to be disappointing in trials, but others show promise. These agents often work best when used in conjunction with chemotherapy.[6]
Bevacizumab (Avastin) is the most commonly used antiangiogenic medication used for mesothelioma patients. Although not approved yet by the FDA, experts recommend using it in combination with chemotherapy for some patients.
Immunotherapy Mesothelioma Medications Harness the Immune System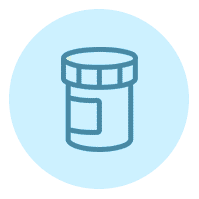 Another novel line of attack against mesothelioma is immunotherapy. While there are a few similar agents, the general idea is to stimulate the immune system to recognize and attack cancer cells.[7]
How Immunotherapy Drugs Work
Cancer cells are too similar to healthy cells in the body for the immune system to recognize and attack them. The immune system is unable to see them as foreign or harmful. To convince the immune system to attack, it must be pushed in some way:
One type of immunotherapy medication works by making the immune system more active.
Another method is to overcome cancer's ability to evade detection.
A third method is to specifically train the immune system by exposing it to small pieces of cancer in the hope it will recognize the tumor.
Some immunotherapy works better for certain types of cancers than others, and trials are ongoing to test for new options in patients with mesothelioma. Even more trials are ongoing that attempt to find more effective treatment combinations, focusing on the combination of chemotherapy and immunotherapy.
FDA Approved First New Medications for Mesothelioma in 16 Years
In October 2020, the FDA officially approved the first immunotherapy for pleural mesothelioma. The combination of Opdivo and Yervoy activates immune system T-cells and helps T-cells find cancer cells.[8]
Although not approved for mesothelioma, pembrolizumab (Keytruda) is another option for some patients. Like Opdivo, it uncovers cancer cells hiding under a protein called PD-1.
Doctors do not generally use immunotherapy as a first-line treatment for mesothelioma. They turn to it if tumors continue to grow after chemotherapy and in patients not eligible for surgery.
Immunotherapy Side Effects
Immunotherapy is often better tolerated than chemotherapy but can still have side effects. While chemotherapy may have side effects for a few days to weeks, immunotherapy may not have noticeable side effects for weeks to months.
Their effects can also be seen well after the drug has been stopped. Because the medications work by increasing the activity of the immune system, some of the adverse effects can resemble autoimmune diseases. Common side effects of immunotherapy include:[9]
Thyroid dysfunction: such as a low thyroid level
Pneumonitis: inflammation of the lung tissue causing shortness of breath or a cough
Colitis: inflammation of the colon causing diarrhea, abdominal cramping, or vomiting
Nephritis: inflammation of the kidney leading to kidney (or renal) damage
Fatigue
Muscle or bone aches and pains
Dermatitis: inflammatory response of your skin cells, causing a rash, color changes, or itching
Neurological complications
Targeted Medications Are More Specific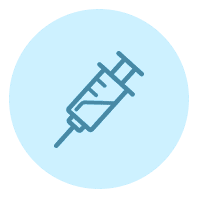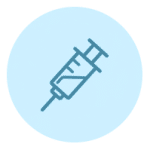 One of the upcoming lines of treatment in mesothelioma and other types of cancers is the development of drugs that are more specific than chemotherapy drugs. These are medications that recognize, target, and kill cancer cells only.
These drugs are so specific that some are being designed to target cells from specific types of cancer:[10]
Mesothelin is a protein expressed mostly in mesothelioma tumors. Drugs that can specifically target this compound are currently being tested.
Emerging research uses specific genes to better target mesothelioma cells. Researchers may be able to identify which treatments work best for patients based on their specific genetic mutations.
One potential gene-targeted medication inhibits a particular enzyme active in patients with a BAP1 mutation. This may trigger cancer cell death.
Adding enzymes supressed by genetic mutations may also help slow or stop the growth of mesothelioma cells.
Palliative Medications Aid Symptom Relief
Doctors also use many medications for treating mesothelioma as part of palliation. Palliative treatments are not curative. They help make patients more comfortable. Often, the best way to do this is to shrink tumors. Doctors may use chemotherapy and other treatment drugs in this way.
Other medications do not target cancer but provide some relief from symptoms. These include painkillers to manage the pain caused by tumors. Common medications used to treat pain in mesothelioma patients are opioids, like morphine or oxycodone.
Patients may also benefit from drugs that target treatment side effects, for instance, anti-nausea medications to treat chemotherapy-related nausea.
Are All of These Treatments Available to Mesothelioma Patients?
While there are many possible medications to treat or slow the growth of mesothelioma, access can be an issue. Talk to your medical team about any medications or treatments you think might help. They might not be able or willing to provide them, but they will give you more information.
Many Mesothelioma Medications Are Experimental
The primary reason some medications might not be available to mesothelioma patients is that they are still experimental. Emerging treatments are under study for both safety and effectiveness. They might not work and they might not be safe.
Some new medications are still in the laboratory testing stage. This means researchers are only using them in cell lines or animal models. Those that have gone further might only be available in clinical trials.
Can I Try New Mesothelioma Medications in Clinical Trials?
Researchers study emerging medications in clinical trials. These are controlled studies with patient volunteers. If you qualify, you can join a trial and get access to a new drug without full approval.
Talk to your doctors about clinical trials. They can suggest trials that may be good options for you. They can also discuss with you the risks and benefits of participating.
How to Talk to Your Medical Team About Medications
As a patient with a rare and difficult cancer, it is crucial that you ask questions and play an active role in treatment decisions. Many cancer teams are much more patient-centered than in the past. This means they involve patients in every part of the decision-making process and keep them informed.
If you are unclear about medications recommended or used in your treatment, ask questions. Some important things to ask your oncologist or other medical caregivers include:
Is this an approved treatment?
Has it been effective for your other patients?
What are the potential and serious side effects?
What should I do if I get side effects?
Are there ways to manage them?
Is there another option if this medication doesn't work?
Keeping a journal of your reactions to medications is a great way to stay on top of your treatment choices. It will also help your medical team provide better options that are safer, more effective, and more comfortable for you.
As research continues, doctors and patients hope that newer medications will be even more effective and cause fewer side effects. Photodynamic drugs, antiangiogenesis agents, immunotherapy, and targeted medications show promise and can be better tolerated than chemotherapy. Much more research needs to be done, but even now, patients with mesothelioma and their doctors have many options for medication treatment.
Get Your FREE Mesothelioma Packet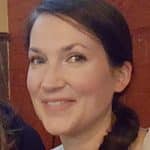 Mary Ellen Ellis has been the head writer for Mesothelioma.net since 2016. With hundreds of mesothelioma and asbestos articles to her credit, she is one of the most experienced writers on these topics. Her degrees and background in science and education help her explain complicated medical topics for a wider audience. Mary Ellen takes pride in providing her readers with the critical information they need following a diagnosis of an asbestos-related illness.
Get Your FREE Mesothelioma Packet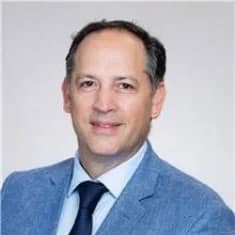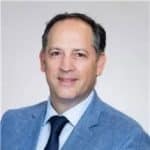 Luis Argote-Greene is an internationally recognized thoracic surgeon. He has trained and worked with some of the most prominently known thoracic surgeons in the United States and Mexico, including pioneering mesothelioma surgeon Dr. David Sugarbaker. He works in the Department of Thoracic and Cardiovascular Surgery at Cleveland Clinic – Rosner Family Health and Wellness Center. His areas of interest and expertise are mesothelioma, mediastinal tumors, thoracic malignancies, lung cancer, lung transplantation, esophageal cancer, experimental surgery, and lung volume reduction. Dr. Argote-Greene has also done pioneering work with video-assisted thoracoscopic surgery (VATS), as well as robotic assisted minimally invasive surgery. He has taught the procedures to other surgeons both nationally and internationally.