Peritoneal Mesothelioma
This page has been fact checked by a Medical Doctor who specializes in mesothelioma. Sources of information are listed at the bottom of the article.
We make every attempt to keep our information accurate and up-to-date.
Please Contact Us with any questions or comments.
Mesothelioma is a rare and deadly cancer caused by asbestos exposure. The peritoneal form of this disease begins in the peritoneum, the tissue that lines the abdominal cavity and organs. This is the second most common type of mesothelioma, affecting between 20 and 33 percent of patients diagnosed with this aggressive cancer.[1] Symptoms may include indigestion, abdominal pain, and diarrhea or constipation. Prognosis is poor, but aggressive and early treatment can extend a patient's life.
Free Mesothelioma Packet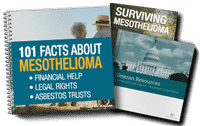 New treatment options
Learn from survivors
Veterans benefits & claims
File for your share of $30 billion in trust funds
What is Peritoneal Mesothelioma?
What Causes This Type of Mesothelioma?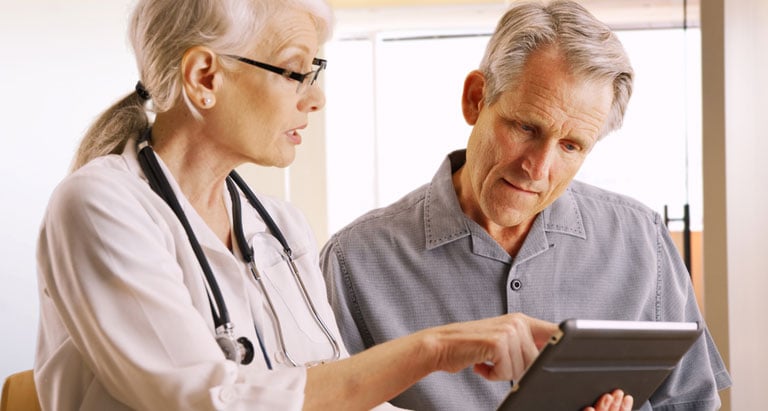 The main cause of any type of mesothelioma is asbestos exposure. The longer and more frequent the exposure, the greater the risk of developing mesothelioma.
Experts believe other risk factors, like genetics and family history, also play a role because not everyone exposed to asbestos develops cancer.[3]
Prolonged asbestos exposure is most often associated with pleural mesothelioma because exposure is usually through inhalation of the fibers. There are two possible ways that the fibers may trigger cancer in the abdomen:
Asbestos fibers may also be ingested from the air or as they build up on surfaces. Over time, these fibers can cause a chronic inflammatory process on the mesothelium cells. This process can ultimately lead to cancerous cells to develop
Fibers that have been inhaled may also migrate through the lymphatic system and end up in the abdomen where they cause damage.
How Peritoneal Mesothelioma Develops
Whether they get there through inhalation or ingestion, asbestos fibers in the abdomen embed in the cells of the peritoneum. There they trigger inflammation and damage.
Cellular damage can lead to those cells becoming cancerous, growing and dividing out of control. They then develop into tumors that may spread further, through the peritoneum and to other tissues and organs.
What Are the Symptoms of Peritoneal Mesothelioma?
The symptoms of peritoneal mesothelioma may not obvious, or they may be mild and for many years after asbestos exposure. Significant and harmful delays in diagnosis often occur for this reason. Peritoneal mesothelioma may cause:[4]
A feeling of fullness in the abdomen
Abdominal pain
Unintentional and unexplained weight loss
Diarrhea
Constipation
Bowel obstruction
Anemia
Fever
Fatigue
Nausea
Vomiting
How is Peritoneal Mesothelioma Diagnosed?
The early symptoms of peritoneal mesothelioma make it challenging to diagnose. They are similar to symptoms of irritable bowel syndrome, Crohn's disease, colitis, and other more common gastrointestinal disorders. Doctors are more likely to diagnose these first. This is especially true if they are unaware of any asbestos exposure a patient may have experienced.
The first step in getting an accurate diagnosis is a physical exam and a thorough history. Tell your healthcare provider if you have or think you may have experienced asbestos exposure. This will help guide what additional testing may be necessary and determine if you need to see a specialist. The next steps in a diagnosis include:[5]
After reviewing your symptoms and performing a physical exam, your provider may start ordering imaging studies. This usually begins with a simple X-ray or CT scan. These studies can help identify peritoneal changes, such as thickening of the lining, or a tumor to suggest the presence of cancer. Other specialized imaging such as MRI or PET/ CT scans are usually ordered by specialty providers and may take place after a biopsy.
A blood test may also be used to determine if you have any unusual markers, any substances that are associated with cancer.
If there are visible abnormalities on a scan, a biopsy is used to determine a diagnosis. This is usually done by an interventional radiologist, a specialist trained in both reading imaging scans and performing minimally invasive biopsies. Most biopsies can be performed at a local hospital with patients going home the same day.
In some cases, a more invasive surgical biopsy may be necessary. This happens when the tissue in question is difficult to reach or the routine biopsy could not gather enough cells to give your medical team a firm diagnosis. At this point, a surgeon will usually recommend a laparoscopy in the operating room under general anesthesia. This allows the surgeon to use a camera to look inside the abdominal cavity looking for any signs of cancer and also choose the best location to biopsy.
How is Peritoneal Mesothelioma Treated?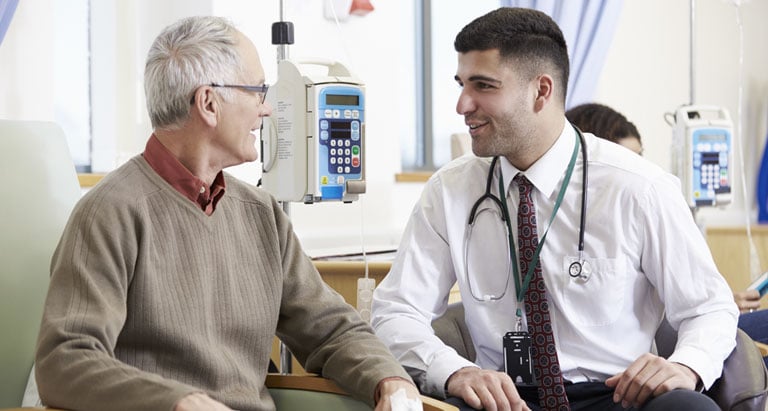 Treatment options for peritoneal mesothelioma include standard therapies like surgery, chemotherapy, and radiation, as well as some newer and experimental therapies.
Oncologists, especially those who specifically work with mesothelioma patients, are best suited to plan your treatments. They will most likely recommend a combination of therapies based on your cancer's stage, your health and age, and your preferences.[6]
A newer, innovative treatment has been used with more success in patients with peritoneal mesothelioma than standard therapies. It is called HIPEC, or heated intraperitoneal chemotherapy:[7]
The first step in this procedure is surgery to remove as much cancerous tissue as possible.
Then, heated chemotherapy drugs are injected directly into the abdomen toward the end of surgery.
Only certain patients meet the requirements for this cutting edge treatment, but it has helped some live longer than otherwise expected.
What is the Prognosis for Peritoneal Mesothelioma?
The prognosis for peritoneal mesothelioma is generally poor given the aggressive nature of the disease. It is usually better than the outlook for pleural mesothelioma, though. Overall prognosis improves if you are a surgical candidate.[8]
Several factors determine each individual patient's prognosis:
Age and health
Gender
Stage of the cancer at diagnosis
Treatments chosen
For peritoneal mesothelioma, the median survival time without disease progression, that is the time a patient lives from diagnosis with no further worsening of the disease, is just 13.9 months.[8]
The best chance you have of a good prognosis for peritoneal mesothelioma is with an early diagnosis. Finding out about it in the early stages gives you more treatment options. Aggressive, early treatments can increase the amount of time patients spend without visible cancer and allow patients to feel good longer. It is important to discuss the potential risks and complications with your medical care team to ensure you are making the right decision. Choosing a team that has experience with mesothelioma can be very helpful.
The best survival rates are seen with patients who undergo HIPEC. A 2017 study involved 29 peritoneal mesothelioma patients who received surgery followed by heated chemotherapy. Nearly three-quarters of the patients lived longer than five years after treatment, a big improvement in overall survival times.[7]
Getting a diagnosis for peritoneal mesothelioma may be devastating, but you have options and hope. You may get a second opinion and then seek treatment at a specialty center. You can choose from among treatments that are aggressive and those that will make you feel more comfortable in the time you have left. You may also be able to file a lawsuit to seek compensation if you were exposed to asbestos in the workplace.

Luis Argote-Greene is an internationally recognized thoracic surgeon. He has trained and worked with some of the most prominently known thoracic surgeons in the United States and Mexico, including pioneering mesothelioma surgeon Dr. David Sugarbaker. He is professionally affiliated with University Hospitals (UH). His areas of interest and expertise are mesothelioma, mediastinal tumors, thoracic malignancies, lung cancer, lung transplantation, esophageal cancer, experimental surgery, and lung volume reduction. Dr. Argote-Greene has also done pioneering work with video-assisted thoracoscopic surgery (VATS), as well as robotic assisted minimally invasive surgery. He has taught the procedures to other surgeons both nationally and internationally.