Mesothelioma may be a rare cancer, but thousands of people are diagnosed with it every year. That means that many more people, tens of thousands, are affected by it. Those who are diagnosed, and the people who love and care about them, are all affected by this terrible, aggressive disease. Awareness of mesothelioma is not as high as with other types of cancer that impact more people, but it is beginning to grow thanks to groups shedding light on asbestos and mesothelioma.
Mesothelioma awareness is important—as is awareness of all diseases—because it helps all people better understand each other, but also for more practical reasons. Raising awareness of rare diseases like mesothelioma increases funding for research, donations to charity groups, and perhaps most importantly, helps prevent illness.
Mesothelioma and Asbestos
Asbestos exposure is the leading risk factor for mesothelioma. This is a rare and aggressive type of cancer that affects the mesothelium, a double layer of tissue that surrounds organs. The most common type of this cancer is pleural mesothelioma, the cancer of the tissue that surrounds the lungs. Asbestos is a natural mineral that is now restricted in use, but for many years it was heavily used in construction, ships, and other applications.
People who spent their careers inhaling asbestos fibers are now at the greatest risk for developing pleural mesothelioma, although not all who were exposed will get it. The asbestos fibers that are inhaled by workers get lodged in tissues and cause damage. This can lead to illnesses like asbestosis or lung cancer, and more rarely mesothelioma.
It wasn't until the 1970s that the connection between asbestos and mesothelioma led to regulations on the use of the mineral. Since then awareness has grown and more people now know what this type of cancer is and what the dangers of being exposed to asbestos are. There is much more work to be done to raise awareness even further, to raise funds for treatment research, and to prevent more people from being exposed to asbestos and developing this deadly type of cancer.
Mesothelioma Awareness Day
Assigning a day to a disease is one way to raise awareness. Groups and individuals around the country, and around the world, can use these days as a way to educate the public about a particular disease, how it develops, how to prevent it, and to raise funds for research. The Mesothelioma Applied Research Foundation founded Mesothelioma Awareness day in 2004 to achieve all of these goals.
The organization holds its awareness day on September 26 every year and assigned the color blue to help identify those supporting research and awareness for mesothelioma. Local groups can reach out to this national research foundation for ideas and assistance with holding events for raising awareness. Events include holding community fundraisers, online awareness campaigns, and conferences on mesothelioma research. Mesothelioma Awareness Day has been officially recognized by the U.S. House of Representatives, the U.S. Senate, and numerous local governments and municipalities.
Global Asbestos Awareness Week
The U.S. is not the only country affected by asbestos, mesothelioma, and other asbestos-related diseases. Every first week of April, the Asbestos Disease Awareness Organization (ADAO) promotes Global Asbestos Awareness Week. In 2016 the theme of the week was "Hear Asbestos. Think Prevention." The event focused on preventing asbestos exposure and related illnesses. The ADAO is based I the U.S., but strives to bring awareness to the risks of asbestos to the entire world.
In 2004 the ADAO used Global Asbestos Awareness Week to get twelve resolutions passed in the U.S. Senate, as well as four asbestos warnings announced by the U.S. Surgeon General. These moves helped to spread awareness about asbestos and its dangers. The group also uses the week to spearhead efforts to get the mining, manufacturing, and use of asbestos completely banned.
Miles for Meso
Another organization that supports mesothelioma awareness does so with a fun run and walk each year. The 5K Miles for Meso events are currently held in Washington, Missouri, Illinois, Ohio, Virginia, and Florida, and organizers hope to spread the event to other locations in the future. A run like the Miles for Meso event is a popular way to both raise money and to raise awareness while also promoting health and being active. They are especially great for raising awareness at a local level and present a good opportunity for local groups and individuals to get involved in a cause they care about.
International Mesothelioma Interest Group
Organizations that develop mesothelioma awareness are not restricted to activists and individuals. Professionals and academics are also involved in these awareness groups and campaigns. The International Mesothelioma Interest Group is one such example. It consists of physicians, medical specialists, and scientists interested in furthering the understanding of this cancer, how it develops, how to prevent it, and how to treat it. The group holds international meetings every two years to discuss research and to raise awareness among medical professionals and researchers.
Ban Asbestos Canada
Some mesothelioma awareness groups focus on educating the public about asbestos and pushing policy makers to ban it. There are several Ban Asbestos groups, including Ban Asbestos Canada. This group raises awareness about asbestos, where it is used, current regulations on asbestos, and how exposure to it can harm people. It uses this awareness and educational campaigns to recruit people to help push policy toward a total asbestos ban.
All of these groups, and many more both in the U.S. and in other countries, are doing the important work of bringing awareness to asbestos and the diseases it causes. Mesothelioma awareness is so important because it helps prevent this cancer in people who are at risk. It also promotes early detection and makes people more aware if they may actually be at risk of developing mesothelioma. Awareness groups also help push policy toward more research funding and even toward further bans of the use of asbestos. Awareness is powerful and it is something that can be cultivated by large international groups as well as local groups and individuals.
FREE Mesothelioma Packet includes: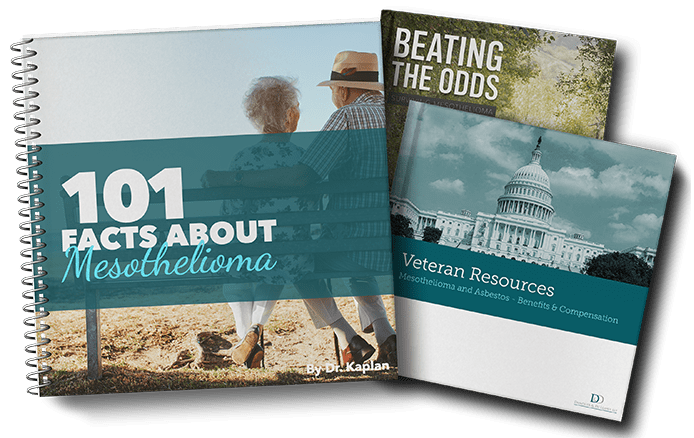 New Treatment Options
Veterans Benefits & Claims
$30 Billion Asbestos Trust Fund Information
For over 15 years, we've provided the best FREE resources to mesothelioma patients and loved ones. Our resources include information on the leading treatment options and best doctors in your area; lessons learned from survivors; claims and benefits specifically for Veterans; and how to access your share of billions of dollars in trust fund money.
FREE Mesothelioma Packet includes: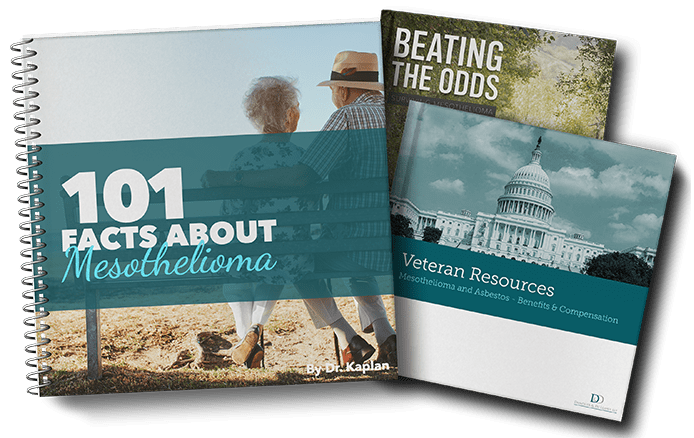 New Treatment Options
Veterans Benefits & Claims
$30 Billion Asbestos Trust Fund Information
If you've been diagnosed with asbestos-related cancer, contact us at 1-800-692-8608 to find out if you are eligible to receive compensation. You can also fill out the form above to receive FREE information.