This page has been fact checked by a Medical Doctor who specializes in mesothelioma. Sources of information are listed at the bottom of the article.
We make every attempt to keep our information accurate and up-to-date.
Free Mesothelioma Packet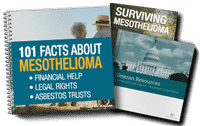 New treatment options
Learn from survivors
Veterans benefits & claims
File for your share of $30 billion in trust funds
Please Contact Us with any questions or comments.
Stage I mesothelioma occurs when the cancer is localized in the mesothelial tissue. It has not yet spread regionally or to more distant parts of the body. At stage I, mesothelioma is the easiest to treat and has the best prognosis.
About Stage I Mesothelioma
Mesothelioma, like other types of cancer, is staged at the time of diagnosis. The stages include I, II, III, and IV. Stage I is the earliest and IV is the furthest progression of the disease.[1]
Free Mesothelioma Packet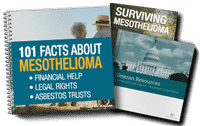 New treatment options
Learn from survivors
Veterans benefits & claims
File for your share of $30 billion in trust funds
Stage I diagnosis is rare in mesothelioma for several reasons:[2]
Mesothelioma is difficult to diagnose
Misdiagnosis is common and it can take a long time to get an accurate diagnosis
Mesothelioma is rare
Its symptoms mimic more common illnesses
It has a long latency period, up to 50 or even 70 years
This cancer, which attacks the mesothelium tissue lining organs in the body, is aggressive and moves quickly. Most patients get a diagnosis at a later stage. Those who do manage to catch it early, at stage I, have more treatment options and a better overall prognosis, including real hope it can be cured.[3]
What Is the Staging System for Mesothelioma?
There are multiple systems for staging cancer, but the TNM system is most common and most often used for mesothelioma. While diagnosing cancer, doctors, pathologists, and specialists will try to stage the disease.
This involves looking at the cells in the tumor, the extent of the tumor, and any metastasis or spreading of the original tumor to the lymph nodes or any other part of the body.
Doctors use biopsy samples and imaging scans. In some cases, they may need to do exploratory surgery. This is invasive and avoided if possible.[4]
In the TNM staging system:
T describes the primary tumor, how far it has penetrated and grown into other tissues, and its overall size.
N is descriptive of intrusion into lymph nodes. It is from these immune system organs that cancer can spread to other parts of the body.
M stands for metastasis and describes whether the cancer has become metastatic or not.
What Is the TNM Designation for Mesothelima?
There are three possible combinations of T, N, and M that indicate stage I mesothelioma:[1]
T1, N0, M0. This stage is known as IA. It describes tumors in the pleural tissue on just one side of the chest. At this stage, the cancer may be in the pleura near the diaphragm, the lung, and the space between the lungs, known as the mediastinum.
T2, N0, M0. Stage IB with this designation is mesothelioma in the pleural tissue and with some growth into the lung on the same side, the diaphragm, or both.
T3, N0, M0. This designation is also known as stage IB. T3 means that the cancer has spread throughout the pleura on one side of the chest as well as into the lung or diaphragm. It has also spread to the chest wall, the fatty tissue of the mediastinum, or the pericardium, the tissue around the heart.
All stage I designations include N0 and M0. This means the cancer has not spread to lymph nodes and has not metastasized.
Stage I Symptoms – The Earliest Signs of Mesothelioma
It's easy to miss or dismiss early mesothelioma symptoms. Some people in stage I may have no or minimal symptoms. Possible early signs include:
Dry coughing
Getting short of breath easily
Fatigue
Mild pain in the chest
Stage I Peritoneal Mesothelioma
Because there have been so few cases, experts have no standard staging system for peritoneal mesothelioma. When diagnosed, patients may receive a designation of stage I if the cancer is confined to the peritoneal tissue.
Early signs of peritoneal mesothelioma include swelling and fluid in the abdomen, abdominal pain, and gastrointestinal issues similar to irritable bowel syndrome.
How Is Stage I Mesothelioma Treated?
Because there has been no spread of cancer to lymph nodes or other organs, patients with stage I mesothelioma have the most treatment options.
Mesothelioma is almost always considered incurable, but for those at stage I, there is hope and a possibility of going into remission. As long as a patient is healthy and able to withstand it, most doctors will recommend aggressive and multimodal treatment at this stage.
One of the most important distinctions between stage I and later stage mesothelioma is that it is most likely resectable.[5] In other words, surgery to attempt to remove all or most of the cancerous tissue is a possibility.
When the cancer has spread to other locations, surgery becomes a less viable option. For most stage I patients, a combination of surgery, radiation, and chemotherapy gives the best hope of survival.
For surgical treatment, there are a couple of options. A pleurectomy and decortication removes all of the pleura on the side of the chest with the tumor that surrounds the lungs, the diaphragm, and the space between the lungs.
More radical and risky is an extrapleural pneumonectomy, which removes the pleura and also the lung and the diaphragm on the side where the tumor is found. This surgery is only recommended for healthy patients and is only performed by specialists.
Surgery to remove as much of the tumor as possible is also an option for peritoneal mesothelioma. That surgery may remove the abdominal mesothelium as well as the omentum, a layer of fat that hangs over the abdominal organs.[6]
Chemotherapy is medication that targets fast-growing cells in the body, and radiation is a beam of high-energy waves that can be aimed at a tumor to kill cancer cells.
Each of these is often used before or after surgery in patients with stage I mesothelioma. Chemotherapy may be used before surgery to shrink the tumor and may be used after to kill any remaining cancer cells and to prevent a recurrence.[7]
What Is the Prognosis for Stage I Mesothelioma?
It is rare for a patient to receive a stage I diagnosis for mesothelioma, but it has the best prognosis and a five-year survival rate of nearly 20%.[8]
As a comparison, patients with stage IV mesothelioma typically have less than a year to live and a five-year survival rate of 7%.
These averages, of course, are only guidelines. Everyone is different, and some stage I patients have gone into remission for years or decades after treatment.
How Long Can I Live with Stage I Mesothelioma?
Life expectancy is an individual estimate based on factors unique to each patient. The median overall survival time for stage I pleural mesothelioma is 22.2 months.[9]
Aside from the stage of the cancer, other factors that improve the prognosis include:[10]
Being at a younger age
Being in good overall health
Choosing positive lifestyle habits, such as not smoking
Opting for aggressive and early treatment
The Prognosis for Early-Stage Peritoneal Mesothelioma
Patients with an early-stage diagnosis of peritoneal mesothelioma have among the best prognoses of all. Treatment with cytoreductive surgery and HIPEC (heated intraperitoneal chemotherapy) has the potential to extend life expectancy significantly. In the earliest stages, it may even be curative.
One study of over 400 patients found that this treatment combination prolongs life in most patients. Median overall survival in the study was four to five years, much higher than the same statistic for even stage I pleural mesothelioma.[11]
Is it Possible to Cure Stage I Mesothelioma?
Getting treatment for mesothelioma almost always extends life expectancy. In stage I, treatment may even cure the cancer. Doctors don't generally talk in terms of curing mesothelioma, but long-term remission is possible at this stage.
If you have been diagnosed in stage I, you may want to take an aggressive approach to treatment to give yourself the best prognosis possible. Get started with treatment as soon as possible and work with experienced mesothelioma specialists.
Most people with mesothelioma were exposed to asbestos at work through materials they used on the job. Even if you are a stage I patient hoping to beat it, you still have legal rights to sue and seek compensation for your illness. Let a mesothelioma lawyer help you decide what to do next and what steps to take to get justice.

Luis Argote-Greene is an internationally recognized thoracic surgeon. He has trained and worked with some of the most prominently known thoracic surgeons in the United States and Mexico, including pioneering mesothelioma surgeon Dr. David Sugarbaker. He is professionally affiliated with University Hospitals (UH). His areas of interest and expertise are mesothelioma, mediastinal tumors, thoracic malignancies, lung cancer, lung transplantation, esophageal cancer, experimental surgery, and lung volume reduction. Dr. Argote-Greene has also done pioneering work with video-assisted thoracoscopic surgery (VATS), as well as robotic assisted minimally invasive surgery. He has taught the procedures to other surgeons both nationally and internationally.