Mesothelioma Diagnosis
This page has been fact checked by a Medical Doctor who specializes in mesothelioma. Sources of information are listed at the bottom of the article.
We make every attempt to keep our information accurate and up-to-date.
Please Contact Us with any questions or comments.
A mesothelioma diagnosis begins with a physical exam and imaging scans to rule out more common illnesses. Confirmation of mesothelioma requires a biopsy, a removal of tissue and cells that a pathologist can examine under a microscope. Early diagnosis is essential for aggressive treatment and a better prognosis.
Free Mesothelioma Packet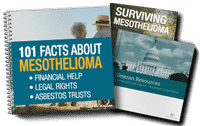 New treatment options
Learn from survivors
Veterans benefits & claims
File for your share of $30 billion in trust funds
The First Step in a Mesothelioma Diagnosis: See Your Doctor
The first step in getting an accurate diagnosis is to recognize the signs of mesothelioma and to see your doctor about your concerns. Some of the symptoms of mesothelioma include:[1]
Chest pain
Shortness of breath
Painful coughing
Lumps on the chest
Unexplained and unintentional weight loss
Abdominal pain and swelling
Early signs of mesothelioma are usually mild. Doctors and patients often overlook them, especially since they are similar to signs of more common conditions. If you have these symptoms, and especially if they persist and if you know or suspect you have been exposed to asbestos, ask your doctor about mesothelioma.
This initial step is important because your doctor may be able to rule out mesothelioma.[2] Your doctor can also rule out other conditions that are more common and less serious. If your doctor cannot make a conclusive diagnosis or rules out other conditions, your next step is to see an oncologist.
Staging Mesothelioma
The final step in diagnosing mesothelioma is to assign a stage to the cancer.[8] This describes how advanced mesothelioma is in an individual patient. Various factors help determine how advanced the cancer is:
The size of the original tumor
The extent of the spread of the tumor to nearby tissues
The spread of the cancer to lymph nodes
The spread of cancer to distant tissues or organs
Staging helps specialists plan for your treatment and helps you make more informed choices about treatment. Mesothelioma can be staged as one, two, three, or four, with one being the earliest stage and four the most advanced.
Do I Need a Second Opinion?
Diagnosing mesothelioma is imperfect. There is no single test that can provide a definitive answer, and misdiagnosis happens. It is typical for patients to get a misdiagnosis of something more common and less serious, like bronchitis or irritable bowel syndrome. If you are uncomfortable with your diagnosis, treatment options, or prognosis, you should seek a second opinion from another specialist.
Often it is only after symptoms persist and treatments for other conditions don't work that doctors consider the possibility of cancer. Sometimes this results in a misdiagnosis of another type of cancer, like lung cancer. Early-stage mesothelioma is difficult to diagnose, and it mimics other types of cancers.
If you feel uncomfortable about a diagnosis, you have every right to see another doctor for a second opinion.
What to Do Next
Getting a diagnosis of mesothelioma can feel devastating and overwhelming. Have loved ones around you to support you and help with difficult decisions. There are a few things you should do after getting your diagnosis:
Get a second opinion if you feel you need one. See a mesothelioma specialist to confirm a diagnosis made by a general oncologist.
Ask your specialist or diagnosing oncologist about the stage of your cancer and prognosis so you know what to expect.
Select a treatment team and discuss your options.
Rely on family to support you and the guidance of your doctors to make decisions about treatment.
Learning about and understanding your treatment options can help during the process of diagnosis and deciding on what treatments to choose from. Let your oncologist give you resources so that you can make informed decisions. Ask any questions you have before starting on a treatment plan, so you feel comfortable with the next steps. Involve your loved ones, so you have support and help making important decisions.
If you do not have a support system available to you, or would like assistance, please call us at 1-800-692-8608 or fill out our form for your Free Resources. We're standing by to offer you any assistance you need.