Pericardial Mesothelioma
This page has been fact checked by a Medical Doctor who specializes in mesothelioma. Sources of information are listed at the bottom of the article.
We make every attempt to keep our information accurate and up-to-date.
Please Contact Us with any questions or comments.
Pericardial mesothelioma is cancer of the heart lining and is one of the rarest types of mesothelioma.[1] Pericardial mesothelioma is strongly associated with asbestos exposure, but how fibers of asbestos inhaled or ingested cause cancer in the lining of the heart is not fully understood. Treatment is especially challenging because of the proximity of the tumors to the heart.
FREE Mesothelioma Packet
Facts About Pericardial Mesothelioma
Mesothelioma of the pericardium is extremely rare. It is a primary cancer of the pericardium, the layer of tissue that surrounds the heart. Because of this location, it is tough to treat.
Pericardial mesothelioma is so rare that the exact numbers of cases are unknown. Some estimates put it at only 200 reported diagnoses ever. One study reviewed the medical literature and found only twenty-seven instances of pericardial mesothelioma between 1972 and 1992.[2] This accounts for about 1% of all known cases of mesothelioma.
Mesothelioma is a cancer of the mesothelium, the tissue that surrounds most organs in the body. The vast majority of cases are primary cancers of the pleura, the part of the mesothelium surrounding the lungs because asbestos fibers are generally inhaled during exposure.
Peritoneal mesothelioma, cancer of the tissue surrounding abdominal organs, is the second most common.
The third most common is pericardium cancer. The pericardium is a thin tissue made up of two layers. The inner layer is called the visceral layer or the epicardium, and the outer layer is called the parietal layer or the heart sac.[3] Tumors may begin growing in either or both layers.
What Causes Pericardial Mesothelioma?
Because pericardial cancer is so rare, studies are limited, and it is difficult to determine what causes it. Like pleural mesothelioma, causes are thought to include asbestos exposure. There may be a component of environmental or genetic factors.
Having a family history of this cancer and being exposed to asbestos over a long period of time are the two strongest risk factors. Men are twice as likely as women to have this type of cancer, likely due to workplace asbestos exposure.[4]
Pericardial mesothelioma, like pleural mesothelioma, is linked to asbestos exposure, but the connection is not as strong. It is not clear how the fibers of asbestos could get to the pericardium and cause a primary tumor. It may be that fibers migrate from lung tissue to the area around the heart.
Rates of asbestos exposure among people diagnosed with pericardial mesothelioma are much lower than those with pleural or peritoneal mesothelioma. Limited studies of people with pericardial mesothelioma have estimated that only about 15 to 30% of people getting the diagnosis were ever exposed to asbestos, as far as they knew.[4]
Symptoms of Pericardial Mesothelioma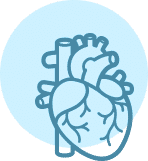 As with other types of mesothelioma symptoms, pericardial mesothelioma has a long latency period, and symptoms often don't appear until decades after any asbestos exposure.
In those cases with no asbestos exposure, symptoms still don't seem to be troubling until cancer has developed into later stages. Many of the symptoms of this type of mesothelioma result from the fact that it causes fluid to build up between the two layers of the pericardium and from a thickening of this tissue.
Potential symptoms od pericardial mesothelioma include:[5]
Heart palpitations
Trouble breathing
Weight loss
Shortness of breath when lying down
Chest pain
Fatigue
Cough (often dry and non-productive)
Night sweats
Fever
Complications of Pericardial Mesothelioma
Pericardial mesothelioma can also lead to complications related to the heart. These are not indicative of mesothelioma, as they can occur in many other situations, but they can be additional clues for the right diagnosis.
Pericardial Effusion
Pericardial effusion is the buildup of fluid between the two layers of the pericardium around the heart. It causes shortness of breath, pain, and a feeling of pressure in the chest.
Doctors can perform a pericardiocentesis to remove the fluid as a palliative measure. This involves inserting a thin needle into the pericardium and then using a catheter to drain it.
Heart Failure
Pericardial mesothelioma can also cause heart failure. This occurs when the heart can no longer pump enough blood for the body to use. This results in edema or fluid buildup in the body. Heart failure is progressive and incurable. It is a common cause of death in pericardial mesothelioma patients.[6]
Diagnosis of Pericardial Mesothelioma
The symptoms and the rarity of pericardial mesothelioma make it challenging to diagnose. The symptoms are often nonspecific and are caused by the fluid and thickening in the pericardium, both of which can be caused by other, more common conditions.[4][7]
Physical Examination. A diagnosis will begin with a physical examination and medical history. Your doctor will want to know about your symptoms, past illnesses, and if they suspect mesothelioma, your work history.
Ultrasound. The next step is most likely an image of the heart, usually by ultrasound, called an echocardiogram, which can show fluid in the pericardium. Pericardial effusion is often a complication of pericardial mesothelioma, but there are other causes too.
Radionuclide Imaging. This type of imaging helps find suspected tumors around the heart. This involves injecting the patient with a radioactive element, which is transported into rapidly dividing cells, like cancer cells. A radiologist can then see by detecting radiation the location of tumors in the body. Doctors may also order a CT, or computed tomography scan. This shows details of soft tissue and is one of the best ways to identify tumors.
Biopsy. The last step in a diagnosis is a biopsy of the pericardium. Often, even if the fluid is drained from around the heart, there will not be enough cancer cells to provide a diagnosis. A biopsy is the removal of a small amount of tissue from the area of the tumor that a pathologist will examine under microscopy. The pathologist looks for abnormal cells to try to determine if the abnormal tissue is a malignant tumor. Even with this diagnostic tool, getting a firm answer is difficult.
Do I Need a Second Opinion?
All types of mesothelioma are difficult to diagnose. Because of its rarity, pericardial mesothelioma is especially challenging. Doctors are more likely to conclude your symptoms result from a more common condition, like:
Heart disease
Constrictive pericarditis
Cardiomyopathy
Cardiac tamponade
Tuberculosis pericarditis
If you aren't comfortable with your diagnosis, or you feel your doctor isn't taking you seriously, get a second opinion. Consider seeking out a mesothelioma specialist.
Treatment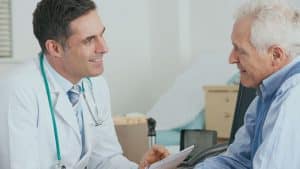 Treatment for any type of mesothelioma is challenging, but this is especially true for pericardial mesothelioma. A surgery called a pericardiectomy is one possible option and involves removing the pericardium, either in part or completely.[8]
In the early stages of cancer, this may cure it, but in most cases, the cancer is too far advanced, which will only prolong the patient's life a little. It can also provide some relief from the pressure of the fluid buildup.
Chemotherapy and radiation treatment are standard treatments for other types of cancer. Radiation is not considered useful for extending life expectancy in patients with pericardial mesothelioma. Chemotherapy with surgery provides the most benefit for extending survival time.[9]
For most patients, the focus is not on a cure but on improving symptoms. Treatment most often involves palliative care to make the patient more comfortable.[9] Removing fluid and parts of the pericardium, for instance, relieve pressure on the heart and reduce pain and other symptoms.
What Is the Prognosis for Pericardial Mesothelioma?
The overall prognosis for pericardial mesothelioma is very poor, with median survival at less than six months from diagnosis.[9] Treatment most often involves palliative care to make the patient more comfortable. Removing fluid and parts of the pericardium, for instance, relieve pressure on the heart and reduces pain and other symptoms.
If you know or suspect you had past exposure to asbestos, talk to your doctor about it. Take symptoms seriously and get screened as soon as possible for the best outcome.
Get Your FREE Mesothelioma Packet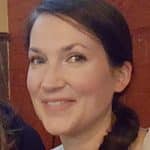 Mary Ellen Ellis has been the head writer for Mesothelioma.net since 2016. With hundreds of mesothelioma and asbestos articles to her credit, she is one of the most experienced writers on these topics. Her degrees and background in science and education help her explain complicated medical topics for a wider audience. Mary Ellen takes pride in providing her readers with the critical information they need following a diagnosis of an asbestos-related illness.
Get Your FREE Mesothelioma Packet

Luis Argote-Greene is an internationally recognized thoracic surgeon. He has trained and worked with some of the most prominently known thoracic surgeons in the United States and Mexico, including pioneering mesothelioma surgeon Dr. David Sugarbaker. He is Regional Director of Thoracic and Esophageal Surgery at Cleveland Clinic Indian River Hospital. His areas of interest and expertise are mesothelioma, mediastinal tumors, thoracic malignancies, lung cancer, lung transplantation, esophageal cancer, experimental surgery, and lung volume reduction. Dr. Argote-Greene has also done pioneering work with video-assisted thoracoscopic surgery (VATS), as well as robotic assisted minimally invasive surgery. He has taught the procedures to other surgeons both nationally and internationally.