HMGB1 Secretion and Mesothelioma: Immunotherapy Implications
This page has been fact checked by an experienced mesothelioma Patient Advocate. Sources of information are listed at the bottom of the article.
We make every attempt to keep our information accurate and up-to-date.
Free Mesothelioma Packet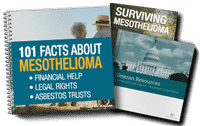 New treatment options
Learn from survivors
Veterans benefits & claims
File for your share of $30 billion in trust funds
Please Contact Us with any questions or comments.
What is Mesothelioma?
Malignant mesothelioma is a rare and aggressive cancer that typically affects the lungs (pleural mesothelioma), heart (pericardial mesothelioma), or abdominal cavity (peritoneal mesothelioma). In rare cases, mesothelioma may also affect the testicles. Mesothelioma is typically associated with long-term exposure to asbestos. Because asbestos was once commonly used in the construction industry, many mesothelioma victims spent a lifetime installing asbestos-containing tiles, insulation, and other products. Time from initial exposure to diagnosis is lengthy compared to other cancers. Sometimes a person afflicted with mesothelioma will not notice symptoms until several decades after exposure.
What is Immunotherapy?
Immunotherapy is a cutting-edge treatment for cancer that uses the body's own autoimmune response to "attack" malignant cells. Some types of immunotherapy involve vaccination; although, little research is currently focused on cancer vaccines. Others use manipulation or introduction of antibodies into the body. In one form of immunotherapy, laboratory-made antibodies are introduced into the body, and these antibodies then travel to the cancer site, attacking malignant cells to eradicate the cancer or stop it from spreading further.[1]
Free Mesothelioma Packet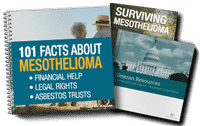 New treatment options
Learn from survivors
Veterans benefits & claims
File for your share of $30 billion in trust funds
What is HMGB1?
High mobility group protein B1 (HMGB1), also known as amphoterin, is a protein secreted by the human body in response to inflammation. Heightened levels of HMGB1 often indicate autoimmune dysfunction like those caused by lupus, arthritis, and cancer.[2] Not only is HMGB1 more prominent in mesothelioma patients, it also seems to play a role in keeping the cancer "up and running."
What Happens with HMGB1 in Mesothelioma Patients?
HMGB1 is secreted at higher levels in mesothelioma patients than in other individuals. Researchers initially thought the high levels of the protein were an immune response to the cancer. This would indicate the cancer caused the excessive release of the HMGB1 protein; however, recent research suggests a connection between HMGB1 secretion and cancer progression.[3] In other words, HMGB1 appears to "feed" the malignant cells; therefore, HMGB1 not only increases as the cancer spreads, but also helps spread the cancer in a sort of "symbiotic" feedback loop.
Research Findings and Implications
Recent studies conducted by Dr. Haining Yang of the University of Hawaii Cancer Center discovered that manipulation of HMGB1 via immunotherapy methodology impacts the spread of malignant mesothelioma cancer. They found that HMGB1 appears to increase the proliferation and spread of cancer cells; thus, the spread of mesothelioma can be inhibited when HMGB1's production is inhibited through the use of lab-created antibodies.[4]
Dr. Yang's team also found that cancer cells created by mesothelioma need HMGB1 to migrate. They may even need it to survive; therefore, when malignant mesothelioma cells are deprived of HMGB1 via immunotherapy, they cannot spread. They may even die off as a result. This type of treatment does not target the cancer, but targets the HMGB1 instead, which affects the cancer in turn. In Dr. Yang's study, mice successfully treated with HMGB1 inhibition therapy experienced a halt in tumor growth, and these mice lived longer than mice whose HMGB1 levels were left alone.
What This Means for the Future of Mesothelioma Treatment
Because mesothelioma spreads rapidly, it can have devastating consequences if it is not caught early on. Unfortunately, many people do not notice the signs and symptoms until it has already done extensive damage to the body. This is why early diagnosis and effective treatment are crucial.
Although it may not completely eradicate the cancer, HMGB1-inhibiting antibodies in immunotherapy could help those with malignant mesothelioma live longer lives by halting cancer cell growth. Preventing metastasis (where cancer travels from its original location to affect disparate parts of the body) is key for improving mesothelioma prognoses. If this innovative treatment is fully implemented, millions of people suffering with mesothelioma could see their lives lengthened significantly.
Page Edited by Patient Advocate Dave Foster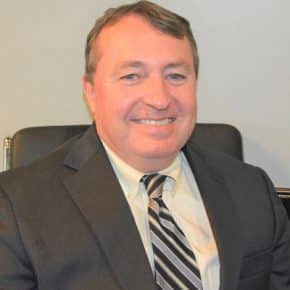 Dave has been a mesothelioma Patient Advocate for over 10 years. He consistently attends all major national and international mesothelioma meetings. In doing so, he is able to stay on top of the latest treatments, clinical trials, and research results. He also personally meets with mesothelioma patients and their families and connects them with the best medical specialists and legal representatives available.