The Costs of Mesothelioma Care
Once the initial shock of a mesothelioma diagnosis has started to fade, both patients and their family members must face the logistics of dealing with it. The expense of mesothelioma is one of the top concerns that need to be addressed, particularly because mesothelioma is often diagnosed after the patient has retired, and if the patient is still working they may be too sick to continue to do so. Finances are among the most stressful aspects of having cancer, and this is even more true for those with a mesothelioma diagnosis with its typically grim prognosis.
Though it may be tempting to try to cut corners in order to preserve financial resources and keep out-of-pocket costs to a minimum, doing so can have a significant negative impact on your quality of life and can even put additional hardships on your family. Though you may choose not to follow an aggressive course of treatment, you and your physician will still need to come up with a plan that will keep you comfortable.
Cancer comes with several different associated costs that require careful budgeting. As a mesothelioma patient you may be pursuing a lawsuit that will compensate you and your family for the costs that you are facing, but that doesn't stop the bills from coming in right now. It is important both to understand all of your costs and that you document each expense. This includes costs that are not immediately obvious or anticipated.
These hidden expenses can quickly add up, and can be forgotten when it is time to calculate damages and hand in receipts. They can be as seemingly insignificant as the costs of parking at the hospital or the gas that you use on your way to treatments. It could be the housekeeper you are forced to hire to help your prepare meals or to clean your home as you become sicker. The best way to track your expenses is to break them down into different categories:
Doctor Visits

This includes any office visit, costs of diagnostic exams, co-pays, lab fees and any other medical costs not directly considered treatment.

Cancer Treatment

Any treatments, like radiation therapy, surgery or chemotherapy used to treat your cancer are included here. Patients involved in mesothelioma clinical trials may have other associated costs.

Medication

Cancer medicines can be astronomically expensive, so make sure that you track every payment that you make.

Transportation

This includes airfare if your physician is far from your home, car, bus, or train expenses, and lodging if it is needed. Be sure to document miles for gas expenses and keep parking and toll receipts.

Living Expenses

There will be increased costs of running your household when you are sick. This includes childcare, help with caring for the family members of the mesothelioma patient, help with shopping, cleaning, cooking or errands.

Home Care

This is additional in home care or long-term care for the patient.

Financial Expenses

As a mesothelioma patient you may need to travel to meet with an attorney, a financial planner or an employment counselor in order to make plans for your future and the future of your family. These are expenses you may not have faced had you not gotten sick.
This is a long list of expenses and costs, and though just looking at them may cause stress, the more that you are able to anticipate what your needs will be, the better you will be able to plan. Though it may be difficult to discuss financial concerns with your physician or your family, it is essential that you do so.
There are professionals who can help you navigate the costs, and many patient advocacy organizations that can help you with how best to manage your bills. It is important that you take advantage of these resources in order to reduce your own burden because many may offer financial services or grants that can help you to reduce your expenses.
The best way to begin these conversations is by asking simple questions such as who in your doctors' offices you need to talk to about health insurance and how much you can anticipate having to pay out of pocket. Knowing that you have an advocate or somebody who can assist you will provide tremendous relief, and you'll find that because they work with mesothelioma patients and insurance companies every day, they can be a valuable help to you.
Page Edited by
Dave Foster
FREE Mesothelioma Packet includes: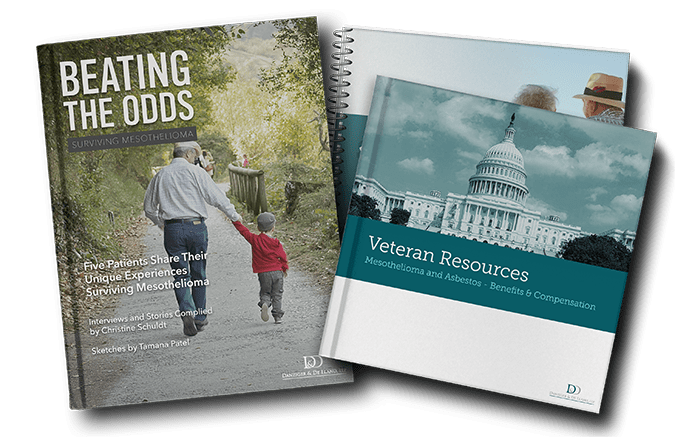 New Treatment Options
Veteran's Benefits & Claims
$30 Billion Asbestos Trust Fund Information
Learn about the latest treatments?
For over 20 years we've provided the best FREE resources to mesothelioma patients and loved ones. Our resources include information on the leading treatment options and best doctors in your area, lessons learned from survivors, claims and benefits specifically for Veterans, and how to access your share of billions of dollars in trust fund money.
FREE Mesothelioma Packet includes:
New Treatment Options
Veteran's Benefits & Claims
$30 Billion Asbestos Trust Fund Information