Mesothelioma Doctors
This page has been fact checked by a Medical Doctor who specializes in mesothelioma. Sources of information are listed at the bottom of the article.
We make every attempt to keep our information accurate and up-to-date.
Please Contact Us with any questions or comments.
Mesothelioma doctors specialize in diagnosing and treating this rare, aggressive cancer. Surgeons, oncologists, radiologists, and other physicians contribute to the care of patients with peritoneal and pleural mesothelioma. They provide the most up-to-date treatment options, advanced surgeries, and access to clinical trials to give patients the best possible care.
GET CONNECTED TO THE BEST DOCTORS
Call us at 1-800-692-8608 to get connected with the top mesothelioma doctors in the country. We have a doctor matching program to ensure mesothelioma patients are matched with only experienced doctors who specialize in the treatment of mesothelioma. You can also fill out this form to receive FREE information and resources.
Free Mesothelioma Packet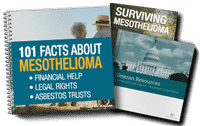 New treatment options
Learn from survivors
Veterans benefits & claims
File for your share of $30 billion in trust funds
Mesothelioma Treatment Centers
The physicians listed above and many others provide treatment at some of the nation's leading cancer and mesothelioma treatment centers. These include:
Brigham & Women's Hospital
Brigham & Women's Hospital's International Mesothelioma Program (IMP) is one of the leading treatment centers in the world. Its focus on multi-modality treatment, which uses a combination of surgery, chemotherapy and radiation therapy, has been highly successful.
Pacific Meso Center
The Pacific Meso Center is at the forefront for pleurectomy/decortication surgery. This lung-sparing treatment is just one of the cutting-edge protocols used at the Pacific Meso Center. The Pacific Meso Center is located in Los Angeles and is a part of the Pacific Heart, Lung and Blood Institute.
M.D. Anderson Cancer Center
Located in Houston, Texas, M.D. Anderson's Mesothelioma Program has earned respect for its innovative radiation therapy center as well as its state-of-the-art research programs.
Mount Sinai Hospital
Mount Sinai first made a name for itself in the field of asbestos-related diseases by helping create OSHA guidelines for asbestos in the workplace. The hospital is one of the country's oldest and most respected medical institutions. It boasts a staff of dedicated specialists who are recognized as leaders in the field of thoracic surgery, surgical oncology, and multi-modality therapies.
Selecting the Right Physician For You
If you have been diagnosed with mesothelioma, the most important decisions you will make will be where to seek treatment and who your doctor will be. Not only does your decision need to be based on the doctor's expertise, but also on your level of comfort with them and their entire treatment team.
Be sure to consider the doctor's experience treating mesothelioma patients and whether they treat you with respect. You will also need to consider your insurance coverage and their location for easy accessibility.