Shanel Bhagwandin DO, MPH
Mesothelioma.net content reviewer and editor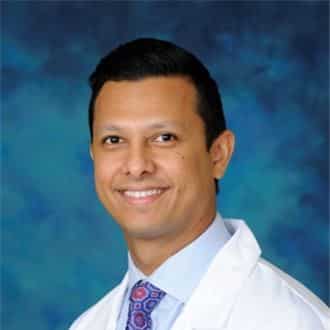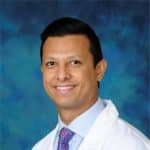 Dr. Shanel Bhagwandin is a doctor of osteopathic medicine trained in surgical oncology and a board-certified general surgeon. He is the current director of the Gastrointestinal Surgical Oncology Program at South Florida's Jupiter Medical Center. Dr. Bhagwandin specializes in treating cancers of the abdominal area, including peritoneal mesothelioma.[1]
Early Education and Career
Returning to the area where he attended high school and college, Dr. Bhagwandin now holds a position at Jupiter Medical Center near Palm Beach, Florida. He graduated from Deerfield Beach High School in Broward County, completing the competitive and challenging International Baccalaureate program. He then earned his undergraduate degree at Florida Atlantic University.[2]
Dr. Bhagwandin attended Lake Erie College of Osteopathic Medicine in Bradenton, earning a Doctor of Osteopathic Medicine. He went on to complete his residency at the University of Illinois in Chicago.[3]
Following the residency program, Dr. Bhagwandin completed an internship and a fellowship at the Icahn School of Medicine at Mount Sinai Hospital in New York City. Dr. Bhagwandin trained at Mount Sinai as a surgical oncologist, developing an interest in gastrointestinal oncology, including cancers like mesothelioma.[2]
Current Position
Dr. Bhagwandin is currently an assistant professor in the surgical oncology department of the Department of Surgery at the Icahn School of Medicine, Mount Sinai Hospital, New York City. He is also the medical director of Surgical Oncology Network Development at Mount Sinai in New York.[1]
Recently Dr. Bhagwandin accepted the role of medical director of the Gastrointestinal Surgical Oncology Program at Jupiter Medical Center in Jupiter, Florida. It is a non-profit organization, and Dr. Bhagwandin hopes to add his expertise to the Center's excellent record of patient care.[2]
His continued affiliation with Mount Sinai will also benefit patients in Florida. Area patients will have a doctor with access to extensive resources, a network of cancer specialists, clinical trials, and experimental procedures.[2]
Medical Specialties
Dr. Bhagwandin specializes in surgical oncology. His area of sub-specialty is abdominal cancers, including cancers of the bile duct, liver, stomach, pancreas, rectum, colon, and peritoneum. He also treats benign tumors and cysts of the abdominal area.[1]
Dr. Bhagwandin works with experts in other areas of medicine to provide the best care for patients with complicated or recurrent cancers. In addition to treating cancer, he focuses on patient wellness, keeping each patient's comfort and well-being in mind during the treatment process.
HIPEC and Treating Mesothelioma
Dr. Bhagwandin is one of only a few oncologists specializing in HIPEC, or hyperthermic intraperitoneal chemotherapy, an innovative and effective treatment for mesothelioma. The first step in HIPEC is to surgically remove as much of the tumor mass as possible. This step is known as cytoreductive surgery.[4]
Instead of following surgery with standard chemotherapy, circulating drugs through the entire body, HIPEC delivers heated chemotherapy drugs directly into the abdomen. This makes the drug's effects more selective, targeting the remaining cancer in the abdominal area instead of affecting cells through the entire body.[4]
Dr. Bhagwandin has brought his expertise to patients in South Florida, allowing more people to benefit from it. For those with peritoneal mesothelioma, HIPEC offers hope of a longer life expectancy and even remission in some cases.
Certifications and Professional Memberships
Dr. Bhagwandin is the only physician board certified in complex general surgical oncology in the four-county region around Jupiter Medical Center. He is just one of seven in the entire state of Florida.[2] He is also board-certified in general surgery.
Dr. Bhagwandin is a member of the American College of Surgery, the Society of Surgical Oncology, and the Americas Hepato-Pancreato-Biliary Association.
Dr. Bhagwandin is a dedicated surgeon who treats patients with complex and aggressive cancers. Bringing expertise and innovative new procedures to South Florida, he has expanded treatment access to patients throughout the region. Dr. Bhagwandin is known for his excellent patient care, and he can speak both English and Spanish depending on patient needs. If you or a loved one is struggling with peritoneal mesothelioma, it is important to seek care from an expert like Dr. Bhagwandin.