New Mesothelioma Treatments and Research
This page has been fact checked by a Medical Doctor who specializes in mesothelioma. Sources of information are listed at the bottom of the article.
We make every attempt to keep our information accurate and up-to-date.
Please Contact Us with any questions or comments.
Medical researchers are working on emerging mesothelioma treatments to give patients better outcomes. Curing this aggressive cancer is still rare, but new treatments, like tumor treating fields and immunotherapy, may help extend life expectancy for many patients.
Can Mesothelioma Be Cured?
There is still no cure for mesothelioma, but researchers continue to get closer to managing this terminal illness. Improved treatments combined with better diagnostic procedures give patients more time than ever before.
What Is the Outlook for Mesothelioma?
There is no definitive cure for mesothelioma, and generally, the outlook isn't positive. However, with ongoing research, many patients have hope for a longer survival time than previously.
The outlook, or prognosis, for each patient varies and depends on many factors. Younger, healthier patients who choose more aggressive treatments have a better outlook.
Other factors include the type of mesothelioma and tumor location, the stage at diagnosis, and the cancer cell type.
Why Is Mesothelioma So Difficult to Treat?
Traditional cancer treatments may effectively extend a mesothelioma patient's life and reduce pain, but they are rarely curative.[1]
Pleural mesothelioma, which affects the tissue around the lungs, is the most common type.[2] It is aggressive compared to other cancers. Effective treatment is an ongoing challenge:
One of the biggest challenges is that it is often diagnosed in later stages, when the cancer has spread.[3]
Another challenge is that mesothelioma spreads rapidly. It is an aggressive cancer.
Unlike many other cancers, mesothelioma does not grow as a single tumor. It spreads along surfaces and blood vessels. Surgery to remove all of the malignancies is not always possible.[4]
Mesothelioma is rare, which means that doctors have few cases for comparison in order to determine the best treatment.[4]
Because of these challenges, the standard cancer treatments–chemotherapy, surgery, and radiation–are not always effective. Researchers are working on new treatments to help mesothelioma patients live longer and with a better quality of life.
What Are the Newest Developments in Mesothelioma Research?
Despite the roadblocks to treating mesothelioma, researchers continue to find new ways to help patients live longer and more comfortably. The latest research is mostly focused on treatments but also includes improved diagnoses and prevention.
Mesothelioma Research: Cause, Prevention, and Diagnosis
The research that directly tests new therapies and treatments is not the only important research ongoing with respect to mesothelioma. Researchers are also working on determining how asbestos causes mesothelioma and how it could be prevented.
Also important is finding better ways to diagnose mesothelioma so that treatment can begin in the earlier stages. One line of diagnostic research is investigating the presence of biomarkers, molecules in the blood that could diagnose mesothelioma earlier and more accurately.[5]
The most recent area of study for early diagnosis of mesothelioma is called epigenetics. Epigenetics is the study of how the body expresses genes in response to environmental factors, like asbestos.
If researchers can find epigenetic biomarkers for asbestos damage, they might be able to diagnose mesothelioma much earlier. This gives patients a better chance at benefitting from aggressive treatments.
Targeted Drugs and Gene-Based Medications for Mesothelioma
Chemotherapy is a standard treatment for many types of cancer, including mesothelioma. The effects on mesothelioma are generally short-term, so researchers are testing new drugs that may be more effective.[6]
Sunitinib is one of these newer, targeted drugs currently under study.[7] Drugs that are specifically designed to target a protein called mesothelin are also under development and in clinical trial stages.
Mesothelin helps differentiate tumor cells from healthy cells so that drugs targeting them will not harm healthy cells.[8]
Another type of targeted therapy uses a patient's genetic information to determine an effective medication. For instance, researchers are interested in the BAP1 genetic mutation. Targeting it with a specific drug may inhibit an enzyme that protects cancer cells.
Tazemetostat is one of the newest targeted drugs that has been tested in patients with pleural mesothelioma that targets BAP1. Clinical trials show promising results for this new therapy.
Learn more about targeted therapies here.
Photodynamic Therapy
Photodynamic therapy, or PDT, is a treatment strategy that targets cancer cells by using light-activated drugs. The drug is injected into the body and accumulates in the tumor.
Doctors then insert a light into the chest cavity to activate the drugs. The light is directed at the tumor to protect other areas where the drug may have accumulated.[6]
When activated, these special drugs go to work, killing cancer cells. Because this is a targeted treatment, it kills cancer cells and shrinks mesothelioma tumors with minimal harm to healthy cells in the body. Clinical trials are ongoing right now.[6]
Learn more about photodynamic therapy here.
Immunotherapy – A Major Breakthrough for Mesothelioma Treatment
Targeting the immune system is another line of research in mesothelioma and cancer treatment. Treatments use the patient's own immune system to target cancer cells. Some immunotherapy drugs come in vaccine form. An injected drug attaches to cancer cells, so the immune system cells recognize them as pathogens.[6]
In October 2020, the FDA approved the first immunotherapy treatment for pleural mesothelioma. The combination of Opdivo and Yervoy is still being tested in clinical trials, but it is an exciting development for patients.[9]
The FDA rarely approves new treatments for mesothelioma. This first-line combination treatment could help more pleural mesothelioma patients who cannot undergo surgery.
Keytruda (pembrolizumab) is another immunotherapy drug that may help patients with mesothelioma.
Learn more about immunotherapy here.
Tumor Treating Fields
A new type of therapy was recently approved for treating mesothelioma patients when used along with chemotherapy. Known as tumor treating fields or TTFields, the system applies alternating electric fields to the cancerous tissue from outside the body. It is non-invasive and shows promising results in extending life expectancy.[10]
Learn more about TTFields here.
Advances in Multimodal Treatment
Currently, the most effective way to treat mesothelioma is with a multimodal approach. This means using more than one treatment, typically a combination of two or three of the standard cancer treatments: chemotherapy, surgery, and radiation therapy.
Not all mesothelioma treatment research is focused on new therapies or medications. Some target new and better combinations of treatments:
Four-modality treatment. Using four treatment strategies is relatively new but showing promise for patient outcomes. In one study, patients received immunotherpay, surgery, chemotherapy, and radiation therapy. Most patients tolerated treatment and had improved survival times.[11]
Chemotherapy-immunotherapy. Some researchers are investigating combinations of chemotherapy and immunotherapy in patients who do not qualify for surger. One study found that the combiation of standard chemotherapy with durvalumab improved survival times in these patients.[12]
The SMART protocol. Researchers have been working on SMART (surery for mesothelioma after radiation therapy) in recent years, hoping to develop it as an effective multimodal treatment. The patient receives intensity-modulated radiation therapy to shrink the edges of tumors. A surgeon the has a better chance of removing all or most of the cancerous tissue. A recent large study found improved outcomes and longer survival times for patients undergoing the SMART protocol.[13]
Learn more about multimodal therapy here.
Other Emerging Treatments
Some other emerging treatments are newer and require more research and clinical trials but show promise for managing mesothelioma:
How Can I Access New Mesothelioma Treatments?
Some of these newer treatments are available in select treatment facilities. You have a better chance of access if you receive care at a specialty cancer center with oncologists and surgeons experienced in treating mesothelioma patients.
Another way to access emerging and experimental treatments is through clinical trials. These studies investigate novel treatments for safety and efficacy using volunteer patients.
Talk to your medical team about how you can access any of these treatments that interest you. They can tell you if those treatments are available where you receive care. If the treatments are only accessible through clinical trials, they can help you find a trial and determine if you qualify to enroll.
The ongoing research into treating and diagnosing mesothelioma is crucial to help save more people from this terrible disease. Education, awareness, and fundraising are crucial for helping this kind of research get more funding to save more people.
Get Your FREE Mesothelioma Packet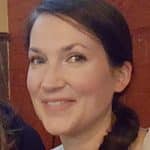 Mary Ellen Ellis has been the head writer for Mesothelioma.net since 2016. With hundreds of mesothelioma and asbestos articles to her credit, she is one of the most experienced writers on these topics. Her degrees and background in science and education help her explain complicated medical topics for a wider audience. Mary Ellen takes pride in providing her readers with the critical information they need following a diagnosis of an asbestos-related illness.
Get Your FREE Mesothelioma Packet

Luis Argote-Greene is an internationally recognized thoracic surgeon. He has trained and worked with some of the most prominently known thoracic surgeons in the United States and Mexico, including pioneering mesothelioma surgeon Dr. David Sugarbaker. He is Regional Director of Thoracic and Esophageal Surgery at Cleveland Clinic Indian River Hospital. His areas of interest and expertise are mesothelioma, mediastinal tumors, thoracic malignancies, lung cancer, lung transplantation, esophageal cancer, experimental surgery, and lung volume reduction. Dr. Argote-Greene has also done pioneering work with video-assisted thoracoscopic surgery (VATS), as well as robotic assisted minimally invasive surgery. He has taught the procedures to other surgeons both nationally and internationally.