Emerging New Mesothelioma Treatments and Research
This page has been fact checked by a Medical Doctor who specializes in mesothelioma. Sources of information are listed at the bottom of the article.
We make every attempt to keep our information accurate and up-to-date.
Free Mesothelioma Packet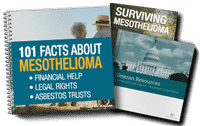 New treatment options
Learn from survivors
Veterans benefits & claims
File for your share of $30 billion in trust funds
Please Contact Us with any questions or comments.
Medical researchers are working on emerging mesothelioma treatments to give patients better outcomes. Curing this aggressive cancer is still rare, but new treatments, like tumor treating fields and immunotherapy, may help extend life expectancy for many patients.
Why Is Mesothelioma So Difficult to Treat?
Traditional cancer treatments may effectively extend a mesothelioma patient's life and reduce pain, but they are rarely curative.[1]
Free Mesothelioma Packet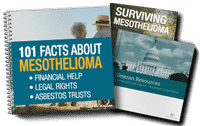 New treatment options
Learn from survivors
Veterans benefits & claims
File for your share of $30 billion in trust funds
Pleural mesothelioma, which affects the tissue around the lungs, is the most common type.[2] It is aggressive compared to other cancers. Effective treatment is an ongoing challenge:
One of the biggest challenges is that it is often diagnosed in later stages, when the cancer has spread.[3]
Another challenge is that mesothelioma spreads rapidly. It is an aggressive cancer.
Unlike many other cancers, mesothelioma does not grow as a single tumor. It spreads along surfaces and blood vessels. Surgery to remove all of the malignancies is not always possible.[4]
Mesothelioma is rare, which means that doctors have few cases for comparison in order to determine the best treatment.[4]
Because of these challenges, the standard cancer treatments–chemotherapy, surgery, and radiation–are not always effective. Researchers are working on new treatments to help mesothelioma patients live longer and with a better quality of life.
Targeted Drugs for Mesothelioma
Chemotherapy is a standard treatment for many types of cancer, including mesothelioma. The effects on mesothelioma are generally short-term, so researchers are testing new drugs that may be more effective.[5]
Sunitinib is one of these newer, targeted drugs currently under study.[6] Drugs that are specifically designed to target a protein called mesothelin are also under development and in clinical trial stages.
Mesothelin helps differentiate tumor cells from healthy cells so that drugs targeting them will not harm healthy cells.[7]
Photodynamic Therapy
Photodynamic therapy, or PDT, is a treatment strategy that targets cancer cells by using light-activated drugs. The drug is injected into the body and accumulates in the tumor.
Doctors then insert a light into the chest cavity to activate the drugs. The light is directed at the tumor to protect other areas where the drug may have accumulated.[5]
When activated, these special drugs go to work, killing cancer cells. Because this is a targeted treatment, it kills cancer cells and shrinks mesothelioma tumors with minimal harm to healthy cells in the body. Clinical trials are ongoing right now.[5]
Immunotherapy
Targeting the immune system is another line of research in mesothelioma and cancer treatment. Treatments use the patient's own immune system to target cancer cells. Some immunotherapy drugs come in vaccine form. An injected drug attaches to cancer cells, so the immune system cells recognize them as pathogens.[5]
In October 2020, the FDA approved the first immunotherapy treatment for pleural mesothelioma. The combination of Opdivo and Yervoy is still being tested in clinical trials.[8]
Tumor Treating Fields
A new type of therapy was recently approved for treating mesothelioma patients when used along with chemotherapy. Known as tumor treating fields or TTFields, the system applies alternating electric fields to the cancerous tissue from outside the body. It is non-invasive and shows promising results in extending life expectancy.[9]
Other Emerging Treatments
Some other emerging treatments are newer and require more research and clinical trials but show promise for managing mesothelioma:
Mesothelioma Research: Cause, Prevention, and Diagnosis
The research that directly tests new therapies and treatments is not the only important research ongoing with respect to mesothelioma. Researchers are also working on determining how asbestos causes mesothelioma and how it could be prevented.
Also important is finding better ways to diagnose mesothelioma so that treatment can begin in the earlier stages. One line of diagnostic research is investigating the presence of biomarkers, molecules in the blood that could diagnose mesothelioma earlier and more accurately.[12]
The ongoing research into treating and diagnosing mesothelioma is crucial to help save more people from this terrible disease. Education, awareness, and fundraising are crucial for helping this kind of research get more funding to save more people.

Luis Argote-Greene is an internationally recognized thoracic surgeon. He has trained and worked with some of the most prominently known thoracic surgeons in the United States and Mexico, including pioneering mesothelioma surgeon Dr. David Sugarbaker. He is professionally affiliated with University Hospitals (UH). His areas of interest and expertise are mesothelioma, mediastinal tumors, thoracic malignancies, lung cancer, lung transplantation, esophageal cancer, experimental surgery, and lung volume reduction. Dr. Argote-Greene has also done pioneering work with video-assisted thoracoscopic surgery (VATS), as well as robotic assisted minimally invasive surgery. He has taught the procedures to other surgeons both nationally and internationally.