Clinical Trials for Mesothelioma Treatment: What to Expect
This page has been fact checked by a Medical Doctor who specializes in mesothelioma. Sources of information are listed at the bottom of the article.
We make every attempt to keep our information accurate and up-to-date.
Please Contact Us with any questions or comments.
Clinical trials for mesothelioma treatments provide patients with the opportunity to try new, unapproved therapies. The purpose of a clinical trial is to test the efficacy and safety of new therapies and diagnostic techniques. They also provide patients with additional options and hope for better outcomes.
Free Mesothelioma Packet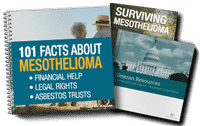 New treatment options
Learn from survivors
Veterans benefits & claims
File for your share of $30 billion in trust funds
What Are Clinical Trials?
A clinical trial uses human participants to test novel therapies, treatment procedures, and medications. Treatment is administered to a select group of people, and researchers monitor the results. Researchers use this information to establish the safety and effectiveness of that treatment for a given disorder.[1]
For clinical trials related to mesothelioma, the process usually involves a "testing out" of a given chemotherapy drug.
There are potential risks for both standard therapy and drugs used in clinical trials. Treatments studied are experimental, and the trial's purpose is to determine both treatment safety and effectiveness.[1]
However, the risks are often considered worth the potential benefits for people with aggressive cancer like mesothelioma.
Qualifying for Clinical Trials
Each trial has a specific set of criteria that potential participants must meet to qualify for the study. Those who meet the criteria may participate. Criteria often vary widely from one clinical trial to another.[2]
Some trials involve people from specific demographics (such as people of a particular gender or age range). Some trials will focus on participants with a certain type of mesothelioma.
For example, a trial may be conducted to determine the safety and efficacy of a new drug for malignant pleural mesothelioma, but not pericardial or peritoneal mesothelioma. As a first step, patients who wish to participate can expect a questionnaire to determine if they meet the trial's qualification requirements.
The Clinical Trial Process
The process for all clinical trials is generally the same. To meet approval guidelines set by the FDA, each trial must be conducted according to experimental research standards; thus, whether the trial is studying a chemotherapy drug or a novel multi-modal treatment approach, it will be conducted like other clinical trials.
Clinical Trial Phases
There are always at least three phases to a clinical trial. Often a fourth phase is conducted, even after FDA approval has been secured and treatment made available to the general public.[3]
Phase 1:
The initial phase involves administering the proposed treatment to a very small subset of the intended treatment population. In this phase, dosages and treatment administration methods are established. Also, the first reports of side effects are recorded.[3]
Phase 2:
The second clinical trial phase expands the number of people receiving treatment, using guidelines for dosage and administration established in phase I. In this phase, the effectiveness of the treatment is studied in more detail.[3]
Phase 3:
The third clinical trial phase again expands the number of participants and involves creating a control group. The control group is given a placebo rather than the novel treatment being studied. The placebo may be a treatment that has already been approved for use.
The control group allows researchers to compare the treatment to standard treatments. If the results for the new treatment are positive, the FDA may approve it to treat malignant mesothelioma.[3]
Phase 4:
The fourth and final clinical trial phase continues to study the new treatment, looking specifically for long-term risks and additional benefits. This phase often occurs after FDA approval, and it may last for years or even decades.[3]
What Are the Risks and Benefits of Participating in Clinical Trials?
While participating in clinical trials to help further medical knowledge is altruistic, it is not realistic. The real motivation for participation is to benefit from a novel treatment or intervention. This is especially important for patients with an incurable disease, like late-stage mesothelioma.
If you have mesothelioma, you may have little hope of a cure; however, one of those small hopes may be through a clinical trial. Although rare, the intervention tested may provide a cure for the disease.
There are also risks involved with clinical trial participation. These are drugs and treatments that have not yet been tested on people. The participants are essentially human guinea pigs; however, there are protections, including informed consent.
Participants must be provided with all necessary information before agreeing to participate in the study. There are also institutional review boards that monitor and approve studies. This ensures clinical trials proceed ethically. Patients may opt out at any time and are not obligated to stay enrolled in the clinical trial.[2]
Even with these measures in place, there are risks. For instance, you may not even get to try the new treatment. Randomized, blind studies only assign the novel treatment to some participants.[4] Other risks are related to the newness of the intervention. There may be side effects and complications no one has yet foreseen.
Examples of Mesothelioma Clinical Trials
To find clinical trials, talk to your oncologist and other members of your medical team. Your doctors will likely know where to find a clinical trial in your area. They may be able to get you started, helping fill out application paperwork to get the ball rolling.
You can also search clinical trials listed by the National Institutes of Health; search for trials actively recruiting mesothelioma patients.
VISTA Protein Clinical Trials
Researchers from Curis, Inc. recently completed a phase I clinical trial for a new drug called CA-170. This is the first drug to target the checkpoint protein VISTA, which is strongly expressed in mesothelioma tumors. The drug also targets PD-L1, another checkpoint protein.
The drug is designed to interfere with the interaction between these proteins in cancer cells and matching proteins on immune system T-cells. When the interaction is prevented, it may trigger immune cells to attack the cancer cells.[5]
Nivolumab and Ipilimumab Clinical Trials
A combination of nivolumab and ipilimumab became the first immunotherapy treatment approved by the FDA to treat pleural mesothelioma after successful clinical trials. This combination triggers the immune system to find and kill cancer cells. A clinical trial testing the combination for rare cancers is ongoing and recruiting peritoneal mesothelioma patients.[6]
Durvalumab Clinical Trials
Mesothelioma patients with the pleural, nonresectable form of cancer are currently participating in clinical trials with the immunotherapy drug durvalumab. The drug targets proteins on the surface of cancer cells, effectively allowing the immune system to recognize them as harmful.
The immune cells can then destroy more cancer cells. The trials include the use of durvalumab along with chemotherapy and other immunotherapy drugs. Some of the results of these trials have been promising, and if they continue to go well, durvalumab could become an approved drug for managing mesothelioma.[7]
Anetumab Ravtansine Clinical Trials
Anetumab ravtansine is an experimental immunotherapy drug known as an antibody-drug conjugate. It uses an engineered antibody to target specific cancer cells and deliver a cytotoxic drug.
This particular immunotherapy drug targets cancer cells that overexpress the protein mesothelin, including cells in many mesothelioma, ovarian, and pancreatic tumors. Clinical trials are ongoing to test how effective the drug is compared to chemotherapy and in combination with chemotherapy or other immunotherapies.[8]
Atezolizumab Clinical Trials
The immunotherapy drug atezolizumab is currently being tested in clinical trials with mesothelioma patients. It is already approved for certain patients with bladder cancer and non-small cell lung cancer. Atezolizumab is also known as Tecentriq and is made by Genentech.
It is a PD-L1 checkpoint inhibitor and works by interacting with this protein on cancer cells. By binding to PD-L1, atezolizumab prevents the cancer cells from hiding from the body's immune system. Once unmasked by the drug, cancer cells can be attacked by immune system T-cells.[9]
Chimeric Antigen Receptor (CAR) T-Cell Clinical Trial
CAR T-Cell therapy is a new therapeutic strategy that involves removing a patient's immune system T-cells, altering them, and re-injecting them to kill cancer cells. Already approved for some types of blood cancers, CAR T-cell treatment uses genetic engineering to alter T-cells.
The T-cells are then prepared to multiply in the patient's body, find and latch onto cancer cells and kill them. A new version of this therapy targeting mesothelin proteins in cancers like mesothelioma is being tested in a phase I U.S. clinical trial.[10]
Immunotoxin Clinical Trials
Immunotoxin drugs are proteins that attach to toxins, like chemotherapy drugs. The proteins are antibodies, like those produced by the body's immune system. The antibodies find and attach to proteins on cancer cells and get absorbed. Once inside the cancer cell, the toxin can kill it. Clinical trials are currently ongoing to test the effectiveness of immunotoxins, often combined with other drugs. Some trials are recruiting patients with pleural and peritoneal mesothelioma.[11]
Interferon Alfa-2b Clinical Trials
Interferon Alfa-2b is a gene that can be added to viral cells and then injected into patients with certain viral infections and types of cancer. The gene creates a protein of the same name that helps signal immune cells against viruses and cancer cells.
Trizell is currently recruiting pleural mesothelioma patients for a phase III clinical trial using their novel drug TR002, a form of interferon alfa-2b gene therapy. This comes after a successful phase II trial that extended the survival times of many of the participants.[12]
Discuss Options with Your Doctors
If you hope to participate in a clinical trial for treating any type of mesothelioma, be sure you understand the risks. Always talk to your medical team before deciding to participate in an experimental treatment. You need to be sure you are eligible and willing to take risks associated with an untested medical treatment. For many mesothelioma patients, this is an easy choice. Mesothelioma is an aggressive cancer with no known cure; therefore, seeking a clinical trial with a novel treatment is often a smart option. Talk to your doctors and family members before making a final decision.

Luis Argote-Greene is an internationally recognized thoracic surgeon. He has trained and worked with some of the most prominently known thoracic surgeons in the United States and Mexico, including pioneering mesothelioma surgeon Dr. David Sugarbaker. He is professionally affiliated with University Hospitals (UH). His areas of interest and expertise are mesothelioma, mediastinal tumors, thoracic malignancies, lung cancer, lung transplantation, esophageal cancer, experimental surgery, and lung volume reduction. Dr. Argote-Greene has also done pioneering work with video-assisted thoracoscopic surgery (VATS), as well as robotic assisted minimally invasive surgery. He has taught the procedures to other surgeons both nationally and internationally.