Mesothelioma Treatment Centers
Mesothelioma is a highly aggressive type of cancer that is difficult to treat, which is why it is so important to find the best available care. If you or someone you love has recently been diagnosed with mesothelioma, you'll want to begin researching mesothelioma treatment centers as soon as possible.
What to Look for In Mesothelioma Treatment Care
Knowing what to ask and how to evaluate whether or not a particular cancer center or clinic is right for you can be a difficult task. Every case of mesothelioma is unique and each patient will have a different set of needs when it comes to choosing and administering a course of treatment. Therefore, it is crucial to locate a specialized oncologist who will take the time to explain available options and accompany the patient through every phase of his or her treatment.
Look for physicians who are actively involved in research, which generally signals that they are up to date with the latest treatment protocols. Partnering with doctors and medical professionals who are already known experts in their field is an excellent way to increase the chances of a favorable outcome.
Treatment Begins with a Complete Examination
The best treatment centers will always confirm a diagnosis of mesothelioma and do a range of tests to determine the stage and progression of the cancer. These steps are crucial to ensure a diagnosis is accurate and that the treatment plan developed is the best for the patient.
Doctors will generally conduct a range of physical exams, health history analyses, and diagnostic evaluations in an effort to better understand the nature of the disease and how far it has advanced. These exams are likely to include a biopsy, fluid test, PET scan, CT scan, and/or MRI. These exams will then likely be repeated throughout a patient's course of treatment in order to determine how the mesothelioma responds to particular therapies. However, a thorough and accurate diagnosis is the first step in developing an effective treatment plan.
Medical professionals will rely heavily on these tests to determine each patient's individualized treatment plan. However, mesothelioma patients, as with all cancer patients, should always seek multiple opinions before deciding upon a course of treatment. Though two doctors may be experts in their fields, it is unlikely that all will prescribe the same treatment plan.
If a patient is interested in participating in experimental mesothelioma treatments or clinical trials, ask medical staff for advice and conduct research in advance to determine which clinics and centers are currently conducting studies.
A Mesothelioma Team is Better Than One Doctor
Because mesothelioma can be a highly unpredictable and aggressive disease, it's critical that patients gather a team of specialized oncologists and medical professionals with experience in treating patients with similar conditions. This medical team will be dedicated to curing the cancer, as well as managing side effects and symptoms resulting from the disease as well as from the treatment.
It is not uncommon for mesothelioma patients to receive nutrition therapy, naturopathic therapy, oncology rehabilitation, survivorship support, pain management, mind-body medicine, and spiritual support. Whenever possible, it is helpful to have as many of these services available under the same roof – but it is most important to explore the range of treatment services available to mesothelioma patients.
A Treatment Center Should Fit Your Needs
As much as possible, attempt to evaluate how attentive the medical staff is to your needs. Certain centers will be outfitted with the latest medical equipment, designed to make scans and tests as comfortable for patients as possible. Receiving chemotherapy and radiation can be lengthy procedures, and it is surprising just how important small details become when they serve to ease a patient's discomfort.
Chances are you will find that the majority of the major mesothelioma treatment centers and clinics in the United States are equipped with the latest equipment and treatment options available. Simply feeling comfortable is important too, though. Never hesitate to question the level of care you are getting as a patient.
Finding a Treatment Center Near You
Numerous online databases are available to help patients find a quality treatment center in their area. These resources can significantly reduce the headaches and frustration involved in researching specialists. Receiving a mesothelioma diagnosis can be an overwhelming experience, but researching the available options and partnering with a skilled medical team will reveal the steps you can take on the path to recovery.
Top Mesothelioma Treatment Centers in the U.S.
With such a rare and aggressive type of cancer, it makes sense to seek out those treatment centers that specialize in mesothelioma research and treatment. A great cancer center may provide excellent treatment, but it cannot give you the specialized care nor does it have the specialized knowledge as compared to a center with specialists devoted to mesothelioma. There are several top cancer centers in the U.S. that also top the list for helping patients with mesothelioma. If you can travel to one of these medical centers, you will receive top care.
University of Texas MD Anderson Cancer Center, Houston
The MD Anderson Cancer Center at the University of Texas in Houston is highly regarded as one of the all-around best cancer treatment centers in the country. It hopes to "Make Cancer History" through a focus on research, treatment, and prevention. One of the areas of specialty here is diagnosing all types of lung and chest cancers, including pericardial and pleural mesothelioma. The MD Anderson Cancer Center also participates in numerous clinical trials and conducts all kinds of cancer research, giving patients even more options for treatment.
Brigham and Women's Hospital, Boston
Brigham and Women's Hospital in Boston is a premier cancer center in its own right, but it also partners with other medical centers including the Dana-Farber Cancer Institute, to provide the best care. The Hospital is home to the International Mesothelioma Program, a program devoted to developing the newest and most effective treatments for pleural mesothelioma. The program treats nearly 200 patients each year and research here led to the innovative extrapleural pneumonectomy surgical technique. This unique surgery has extended the lives of numerous pleural mesothelioma patients.
The Cleveland Clinic Taussig Cancer Institute, Cleveland
The Cleveland Clinic is a world-renowned hospital and one of the best medical centers in Ohio, and it provides treatment for patients along with research and training. The Cancer Institute focuses on the research of lung-related cancers, including mesothelioma. The staff includes oncologists, radiologists, thoracic surgeons, pulmonologists, and other specialists in diagnosing and treating mesothelioma. Research conducted here focuses on lung cancer and mesothelioma and includes the study of every subtype of these illnesses, no matter how rare or obscure. This is also a large medical center that can treat thousands of patients at once with its many beds and large staff.
The Pacific Mesothelioma Center at the Pacific Heart, Lung and Blood Institute, Los Angeles
The Pacific Mesothelioma Center (PMC) is a division of the Pacific Heart, Lung and Blood Institute and partners with the University of California, Los Angeles and the West Los Angeles Veterans Affairs Medical Center. The PMC was founded in 2012 to serve as a cancer center that is innovative in both research and treatment and that focuses on pleural mesothelioma. Many of the treatments available and being developed here are aimed at increasing longevity for patients. The approach of the experts here is that mesothelioma is not fatal, rather a chronic illness.
Mount Sinai Hospital, New York City
One of the oldest and most respected medical centers in the country, Mount Sinai covers a range of illnesses but is staffed by a couple of the world's top experts on mesothelioma. Drs. Raja Flores and Daniel Labow are leading experts in pleural mesothelioma and peritoneal mesothelioma, respectively. Dr. Labow also helped develop hyperthermic intraperitoneal chemotherapy, the innovative treatment that involves injecting heated chemotherapy drugs directly into the abdomen. Mount Sinai also leads the way in multimodal treatments for mesothelioma patients.
Mesothelioma Treatment Center, Baylor College of Medicine Lung Institute, Houston
The Baylor College of Medicine Lung Institute in Houston houses the Mesothelioma Treatment Center and is recognized as a leader in the U.S. and in the world in diagnosing and treating mesothelioma. The experts here work in teams to provide patients with comprehensive and individualized care. The Center also focuses on research, including clinical trials that provide patients with a chance to try cutting edge medical and surgical treatments for mesothelioma. Patients here can also expect to have their medical care coordinated with other types of support from social workers to therapists, and even spiritual guides.
The H. Lee Moffitt Cancer Center, Tampa
The H. Lee Moffitt Cancer Center in Tampa, Florida is often ranked as one of the best facilities in the country for cancer treatment and research. It is a National Cancer Institute-designated Comprehensive Cancer Center and noted for its innovative and leading research programs and clinical trials as well as its offering of the most cutting edge treatments. Through the Department of Thoracic Oncology and the Mesothelioma Research and Treatment Center, Moffitt offers patients with mesothelioma some of the best care of any medical facility.
The Jonsson Comprehensive Cancer Center at UCLA, Los Angeles
The Jonsson Comprehensive Cancer Center at UCLA is part of the university system and a leading center for research, education, and treatment. Among all the many types of cancer treated here is mesothelioma. Patients benefit from collaborative teams of experts in a variety of areas who develop individualized treatment plans for every patient that comes through the door. The Center also conducts groundbreaking research and enrolls patients in clinical trials.
Ochsner Medical Center, New Orleans
The Ochsner Medical Center in New Orleans and its Gayle and Tom Benson Cancer Center are leading the way in cancer care, research, and education in the region. As one of the largest medical facilities in the area, Ochsner is an important source of multi-disciplinary treatment and clinical trials for the many people in the Gulf region who have been impacted by asbestos in the shipping and other industries.
The Washington Cancer Institute at the Washington Hospital Center, Washington D.C.
The Washington Cancer Institute is a leader in cancer care and research and a part of the Washington Hospital Center in Washington D.C. The treatment offered here is both cutting edge and patient-focused. Multi-disciplinary teams work together to develop the best plans for treatment for each patient, keeping in mind the patient's comfort as well as medical and surgical treatment for the cancer. Supportive care is also provided for patients and their families as well as access to clinical trials.
The University of Chicago Comprehensive Cancer Center, Chicago
The University of Chicago Comprehensive Cancer Center is recognized by the National Cancer Institute and its Mesothelioma Program is known throughout the country and the world as a leading center for treatment and research of this complex cancer. Collaborative and team work to provide patients with individualized treatment plans helps to ensure that each patient gets the best and most effective care in a comforting setting. Numerous clinical trials ongoing at the Cancer Center allow patients to access and benefit from the most innovate treatments possible.
University of Pittsburgh Medical Center Hillman Cancer Center, Pittsburgh
The UPMC Hillman Cancer Center has been working with cancer patients and researching cancer treatments since the mid-1980s. As a Comprehensive Cancer Center, Hillman excels in both caring for patients and conducting leading research into all types of cancers including those that are rare and difficult to treat, like mesothelioma. The Mesothelioma Specialty Care program at Hillman offers these unique patients multi-disciplinary care from experts, like Dr. David Bartlett who was instrumental in developing regional perfusion as a treatment for peritoneal mesothelioma.
Moores Cancer Center at the University of California, San Diego
At the Moores Cancer Center at the University of California at San Diego, leading experts in cancer, mesothelioma, radiology, pathology, and other areas of medicine have come together to collaborate, research, and give patients the best possible care. This National Cancer Institute-designated facility is leading the way in preventing, diagnosing, and treating cancer through a strategy of innovative research, converting research into real treatments, leading clinical trials, and using immunology and genetic screening to provide patients with a personalized approach to care.
Van Elslander Cancer, Grosse Pointe Woods, Michigan
The Van Elslander Cancer Center, located just outside of Detroit, is a leading cancer treatment facility for the region. Among other cancers, the specialists here are skilled in treating peritoneal mesothelioma and this is one of the only facilities in the region that can offer HIPEC for these patients. In addition to treatment with cutting edge technologies, patients here have access to national clinical trials and healing arts center that helps to take care of each patient's wellness needs.
Dana-Farber Cancer Institute, Boston
The Dana-Farber Cancer Institute is a National Cancer Institute-designated Comprehensive Cancer Center along with other members of the Dana-Farber/Harvard Cancer Center Consortium. Dana-Farber engages in extensive and advanced research into all aspects of cancer and specializes in turning that research into positive and tangible outcomes for patients. The best technology, experts in mesothelioma and other fields, a collaborative approach, and support services combine to give mesothelioma patients some of the best care that can be found anywhere.
University of California San Francisco Helen Diller Comprehensive Cancer Center, San Francisco
The UCSF Medical Center's Comprehensive Cancer Center is a national and world leader in treating many types of cancers, including mesothelioma. The facility is staffed by specialists in mesothelioma, including the head of the thoracic surgery department, Dr. David Jablons. The Cancer Center conducts leading research and uses clinical trials to give patients more treatment options and to turn laboratory research into actual treatments that help people live longer.
Swedish Medical Center Cancer Institute, Seattle
The Swedish Cancer Institute at the Swedish Medical Center in Seattle is recognized as a leader in cancer care, treatment, and research and is staffed by specialists in mesothelioma. Multi-disciplinary teams work together to provide patients with the best individualized treatment plans along with excellent supportive care. Cutting edge surgical, radiation, and chemotherapy treatments are available to patients here, as is access to the latest clinical trials.
Herbert Irving Comprehensive Cancer Center, Columbia University, New York City
The Herbert Irving Comprehensive Cancer Center is a facility recognized by the National Cancer Institute for its excellence in and commitment to research and treatment of cancer. Research and clinical trials are conducted regularly at the Cancer Center and the results are translated into better treatment for patients. Mesothelioma patients may be referred to the Cancer Center for specialized treatment and to consult with the experts in this field. The clinicians and researchers take multi-disciplinary approach to using the most advanced treatments to craft individualized treatment plans for each patient.
Perlmutter Cancer Center, New York University Langone Medical Center, New York City
The Laura and Isaac Perlmutter Cancer Center is a leading cancer research and treatment facility and is part of the NYU Langone Medical Center. The Cancer Center has received its designation from the National Cancer Institute, underscoring the facility's commitment to excellence in cancer research and advancing patient care, cancer diagnosis, and cancer prevention. Patients with mesothelioma are often referred here to benefit from clinical trials, advanced technologies for treatments, and teams of specialists.
Learn about
the latest treatments.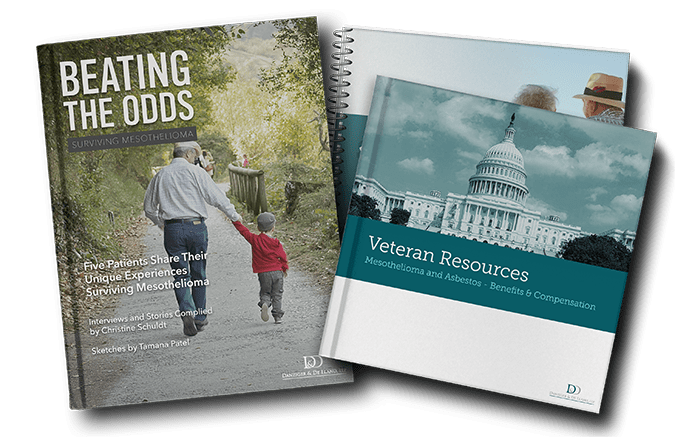 Treatment information
Learn from survivors
Veterans benefits & claims
Find out about the millions in asbestos trust funds
Continue For Free Resources

Questions or Need More Information?
Call us now and speak with a friendly associate. We are standing by to answer any inquiries.
Call us now and speak with a friendly associate. We are standing by to answer any inquiries.
Learn about the latest treatments?
If you or a loved one has been diagnosed with mesothelioma cancer you may be eligible for significant financial compensation. It is important that you contact one of our legal advocates to help you find the most experienced mesothelioma lawyer in your general area.
Learn about the latest treatments.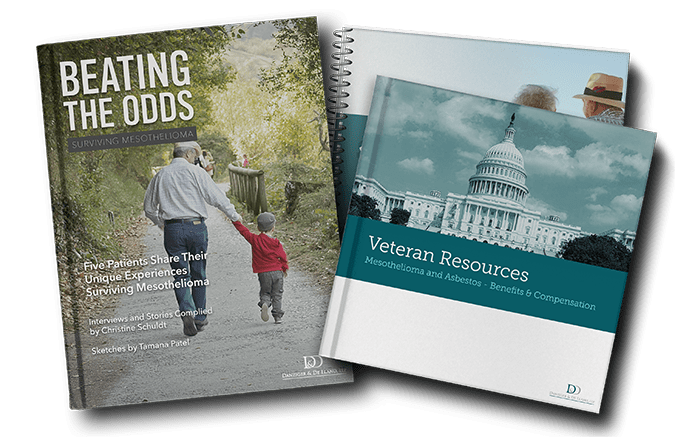 Treatment information
Learn from survivors
Veterans benefits & claims
Find out about the millions in asbestos trust funds
Continue For Free Resources
If you've been diagnosed with asbestos-related cancer, contact us at 1-800-692-8608 to find out if you are eligible to receive compensation. You can also fill out the form above to receive FREE information.