Mesothelioma
Treatment Centers
This page has been fact checked by a Medical Doctor who specializes in mesothelioma. Sources of information are listed at the bottom of the article.
We make every attempt to keep our information accurate and up-to-date.
Please Contact Us with any questions or comments.
Mesothelioma is a highly aggressive type of cancer that is difficult to treat, which is why it is so important to find the best available care.[1] Although this is a difficult cancer to manage and most often incurable, there are a lot of treatment options available. From the standards of chemotherapy, radiation, and surgery to innovative immunotherapies, gene therapy, and clinical trials, the treatment you choose can slow the growth of cancer, relieve symptoms, and extend your life.
The choice of specialists to plan and administer your treatment is important and impacts the outcome. Specialists in mesothelioma work in treatment facilities that focus on cancer, lung diseases, asbestos illnesses, and mesothelioma. For the most cutting-edge treatments, the most varied options, and the most experienced specialists, choose a mesothelioma treatment center. Begin researching mesothelioma treatment centers as soon as possible after receiving a diagnosis to get the best care immediately.
Free Mesothelioma Packet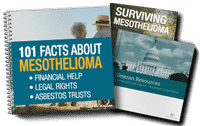 New treatment options
Learn from survivors
Veterans benefits & claims
File for your share of $30 billion in trust funds
What to Look for in Mesothelioma Treatment Care
Knowing what to ask and how to evaluate whether or not a particular cancer center or clinic is right for you can be a little overwhelming during this difficult time. Every case of mesothelioma is unique and each patient will have a different set of needs when it comes to choosing and administering a course of treatment; therefore, it is crucial to locate a specialized oncologist who will take the time to explain available options and accompany the patient through every phase of his or her treatment.
Look for physicians who are actively involved in research, which generally signals that they are up to date with the latest treatment protocols. Partnering with doctors and medical professionals who are already known experts in their field is an excellent way to increase the chances of a favorable outcome. Also choose a facility that specializes in cancer and, if possible, in mesothelioma.
Treatment Begins with a Complete Examination
The best treatment centers will always confirm a diagnosis of mesothelioma and do a range of tests to determine the stage and progression of the cancer before moving forward with treatment. These steps are crucial to ensure a diagnosis is accurate and that the treatment plan developed is the best for the patient.
Expect to undergo a full set of exams, which may include a biopsy, fluid test, PET scan, CT scan, and/or MRI. These exams will then likely be repeated throughout a patient's course of treatment in order to determine how the mesothelioma responds to particular therapies; however, a thorough and accurate diagnosis is the first step in developing an effective treatment plan.[2]
Medical professionals will rely heavily on these tests to determine each patient's individualized treatment plan; however, mesothelioma patients, as with all cancer patients, should always seek multiple opinions before deciding upon a course of treatment.[3] Though two doctors may be experts in their fields, it is unlikely that they will prescribe the exact same treatment plan.
Working with a Mesothelioma Team
Because mesothelioma is rare and difficult to treat, patients will get the best results from working with a team of oncologists and other medical professionals with experience in treating patients with similar conditions. This medical team will be dedicated to curing the cancer, as well as managing side effects and symptoms resulting from the disease as well as from the treatment.
It is not uncommon for mesothelioma patients to receive nutrition therapy, naturopathic therapy, oncology rehabilitation, survivor support, pain management, mind-body medicine, and spiritual support from a diverse team of professionals.[4]
Finding a Treatment Center Near You
Numerous online databases are available to help patients find a quality treatment center in their area. These resources can significantly reduce the headaches and frustration involved in researching specialists. Receiving a mesothelioma diagnosis can be an overwhelming experience, but researching the available options and partnering with a skilled medical team will reveal the steps you can take on the path to recovery.
Top Mesothelioma Treatment Centers in the U.S.
With such a rare and aggressive type of cancer, you will get the best care from treatment centers that specialize in mesothelioma research and treatment. A great cancer center may provide excellent treatment, but it cannot give you specialized care nor does it have the specialized knowledge as a facility with specialists devoted to mesothelioma. There are several top cancer centers in the U.S. that top the list for helping patients with mesothelioma. If you can travel to one of these medical centers, you will receive the best possible care.