Pleural Mesothelioma
This page has been fact checked by a Medical Doctor who specializes in mesothelioma. Sources of information are listed at the bottom of the article.
We make every attempt to keep our information accurate and up-to-date.
Please Contact Us with any questions or comments.
Pleural Mesothelioma Definition: Pleural mesothelioma is a cancer that affects the pleura lining around the lungs, and it is the most common type of mesothelioma. It is almost always caused by asbestos exposure.[1]
Pleural mesothelioma accounts for most diagnosed cases of mesothelioma and is strongly associated with the inhalation of asbestos fibers. This cancer is aggressive and difficult to diagnose. Many patients receive a late-stage diagnosis and a poor prognosis as a result, but treatments can slow the progression of the tumors.
Free Mesothelioma Packet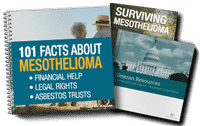 New treatment options
Learn from survivors
Veterans benefits & claims
File for your share of $30 billion in trust funds
Facts about Pleural Mesothelioma
Mesothelioma is a cancer that attacks the mesothelium. The mesothelium is a double layer of tissue surrounding most of the body's organs.
How Asbestos Causes Pleural Mesothelioma
Asbestos is made up of very small, needle-like fibers. These come loose from the material when disturbed. The fibers become part of the dust in air and on surfaces. Anyone in the vicinity is likely to inhale those fibers, which then can lodge in the pleura, lungs, and other tissue. They may also accidentally ingest the fibers.[2]
The lodged fibers cause damage to tissue, including irritation and inflammation. Eventually this can trigger serious illnesses in some people. Mesothelioma, lung cancer, or asbestosis can all be caused by asbestos fibers. When pleural mesothelioma develops, it spreads rapidly, often from one layer of the pleura to the next and then to the lung and other tissues.
Diagnosis
Diagnosing mesothelioma is difficult for many reasons. The early symptoms of pleural mesothelioma often mimic other illnesses and lead to a misdiagnosis. It may not be until after the symptoms persist and treatments don't provide relief that a patient will get a cancer diagnosis. The diagnostic process usually follows these steps:[6]
A thorough physical examination to rule out other illnesses
Imaging scans including X-rays to rule out pneumonia and other respiratory conditions, or a CT or MRI scan to search for soft tissue abnormalities
A biopsy, the removal of a small amount of tissue from any abnormal areas indicated on scans
Investigation of cells from the biopsy under a microscope to identify malignancy
Prognosis
The prognosis for pleural mesothelioma is usually negative, but it depends on individual factors. Survival rates for this type of cancer are comparatively low. Diagnosis typically comes after the cancer has reached a later stage and this means it is difficult to treat and nearly impossible to cure.
Some studies indicate that the median survival time for patients with pleural mesothelioma is just nine months, but this includes those who did not receive treatment. Any kind of treatment, but especially a combination of therapies, extends survival times. Patients with pleural mesothelioma who undergo surgical procedures as part of treatment live an average of three years after diagnosis.
Individual factors that can affect prognosis include:[4]
Age
Cancer stage
Smoking status or history
Extent and duration of exposure to asbestos
Gender
Overall health and fitness
Prognosis can be improved with early diagnosis and aggressive treatments, but patients often have limited options. Some may choose to fight the cancer and extend survival time, while others choose treatments that improve symptoms and quality of life.
A diagnosis of pleural mesothelioma can be a shock, and many people who develop this disease are victims. They experienced asbestos exposure without their knowledge or without being warned of the risks of being around asbestos. If you have been impacted by pleural mesothelioma because of workplace asbestos exposure, you have legal rights to seek compensation from your former employer or the manufacturer of asbestos-containing materials.