This page has been fact checked by a PhD who specializes in cancer research. Sources of information are listed at the bottom of the article.
We make every attempt to keep our information accurate and up-to-date.
Please Contact Us with any questions or comments.
Biphasic mesothelioma is the second most common type of mesothelioma cancer as described by the cells in the tumors. Approximately 20% of diagnosed mesothelioma cases are biphasic. It includes a mix of two major cell types: epithelioid and sarcomatoid.[1]
How Is Mesothelioma Classified by Cell Type?
Histology is the study of microscopic cell structures. When a tumor is discovered through imaging scans, cells are removed for examination by a pathologist to determine whether they are benign or malignant and determine the cells' origin. Mesothelioma cells may develop in the peritoneum, pleura, or pericardium.[2]
A pathologist will also look at biopsied cells to determine their histological classification, or cell type:[3]
Epithelioid
Sarcomatoid
Biphasic
Cell type describes the cells that mutated and became malignant to cause cancer. The distinction is important because it informs treatment and plays a role in prognosis and how the cancer progresses.
What Is the Definition of Biphasic Mesothelioma?
Biphasic mesothelioma is cancer with a mix of both epithelial cells and sarcomatoid cells. The biopsied sample must contain more than 10% of either epithelioid or sarcomatoid cells to be classified as biphasic.
For example, if a biopsy shows 88% epithelial cells and 12% sarcomatoid cells, the diagnosis is biphasic mesothelioma. If the sample contains 91% epithelial and 9% sarcomatoid cells, it is considered epithelioid mesothelioma.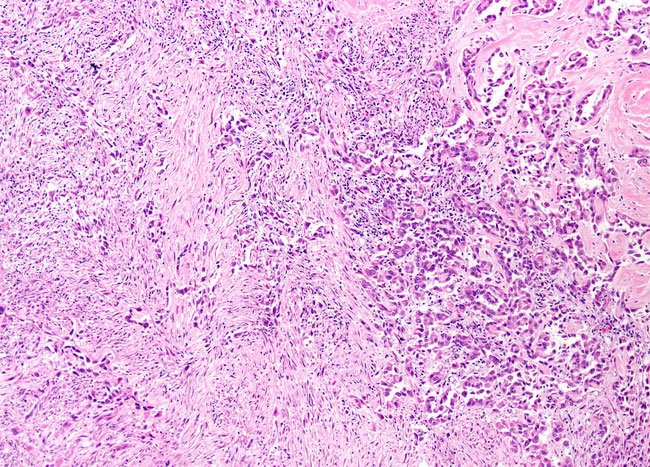 Biphasic Mesothelioma Cells (by WebPathology)
What Are Sarcomatoid and Epithelioid Cells?
Biphasic mesotheliomas are tumors that include a mix of these two cell types. Epithelial cells make up tissue in the body that lines surfaces of organs, blood vessels, and the interiors of cavities. When these cells become cancerous, it is called a carcinoma.[4]
On the other hand, sarcoma develops from cells that make up bone, fat, muscle, vascular, and connective tissue. Sarcomas are rarer than carcinomas. [4]
The distinction between the cell types is important in the diagnosis and treatment of mesothelioma:
Epithelioid mesothelioma cells are easier to treat.
They are also less aggressive because they tend to stick together rather than spread.
Sarcomatoid cells are more likely to spread to other organs as they adhere less to one another.
Epithelioid cells appear as rounded, cube-like shapes.
Sarcomatoid cells are spindle shaped and arrange themselves in a disorganized manner.
How Common Is Biphasic Mesothelioma?
All types of mesothelioma are rare. In terms of cell type, epithelioid mesothelioma is the most common, and sarcomatoid is the rarest. Biphasic mesothelioma accounts for about 25% to 30% of diagnoses. The rate is similar in both pleural and peritoneal mesothelioma.
What Are the Symptoms of Biphasic Mesothelioma?
The symptoms of biphasic pleural mesothelioma are:
Shortness of breath
Difficulty breathing
Wheezing
Coughing
Chest pains
Lumps under the skin
Typical symptoms of biphasic peritoneal mesothelioma include:
Abdominal swelling
Abdominal pain
Gastrointentinal problems
Nausea
Vomiting
Anemia
As both of these types of mesothelioma progress, symptoms worsen. Patients in later stages may also experience extreme fatigue, fever, loss of appetite, and weight loss.
How Is Biphasic Mesothelioma Diagnosed?
All types of mesothelioma are difficult to diagnose and may lead to misdiagnoses. Pleural mesothelioma is often misdiagnosed as lung cancer, for instance.
Peritoneal biphasic mesothelioma can be misdiagnosed as liver cancer, carcinosarcomas, synovial sarcoma, and other cancers.[5][6]
Diagnosis of biphasic mesothelioma begins with a visit to the doctor and a physical examination.
This is usually followed by an X-ray, CT scan, MRI, or PET scan (or combination of these) to determine if there are tumors or other abnormal tissues.
Any abnormal tissues are then biopsied. In most cases this requires the insertion of a needle to draw fluid or tissue. If the tumor is particularly difficult to reach, surgery may be required.
A pathologist then examines the biopsied cells to determine if they are malignant or benign.
The pathologist will also determine if the cells are in the mesothelium or some other tissue. This histological diagnosis is not always accurate. It is often difficult to distinguish mesothelioma cells from other cancer types.[7]
If the pathologist makes a confident mesothelioma diagnosis, they will then examine the cells to determine what type they are. If there is a mix of epithelioid and sarcomatoid cells in the sample, the diagnosis will be biphasic mesothelioma.[7]
The pathology component of diagnosis is essential to a complete mesothelioma diagnosis. Knowing the cell types and their proportions helps doctors develop the right treatment plan. This distinction also informs an overall prognosis for the patient.
Misdiagnosis is common in all types of mesothelioma. Even when doctors determine a patient has mesothelioma, getting the cell type right can be challenging. Studies have found that biphasic mesothelioma is more likely to be misdiagnosed than epithelioid mesothelioma.[6]
The study found that thoracoscopy led to the highest rates of accurate diagnosis of biphasic mesothelioma. Thoracoscopy is a minimally invasive procedure. Doctors use a scope inserted into a patient's chest to remove a piece of tissue for diagnosis.
How Is Biphasic Mesothelioma Treated?
Treatment for biphasic mesothelioma depends on many factors. One factor is the ratio of epithelial to sarcomatoid cells:
If more epithelial cells are present, the cancer is likely to spread slowly to areas near the original tumor.
If sarcomatoid cells dominate, the cancer is more likely to be fast-growing and aggressive. This heterogeneity is the major factor that limits treatment options for biphasic mesothelioma.
There are also individual factors to consider. These factors include the patient's health, tumor location, and the extend of the metastasis.
Surgery is usually only performed for epithelioid mesothelioma; however, if the biphasic tumor is mostly epithelioid, surgical removal of all or part of the tumor may be part of the treatment. Surgery is typically followed by radiation and chemotherapy.
For mostly sarcomatoid biphasic tumors, chemotherapy and radiation are more likely choices for treatment. Sarcomatoid patients are generally not eligible for surgery.
What Is the Outlook for Patients with Biphasic Mesothelioma?
As with treatment, the prognosis for patients with biphasic mesothelioma varies by individual. Unfortunately, most patients have a poor prognosis, regardless of cell type. Mesothelioma is aggressive and difficult to treat.
Generally, the outcomes for biphasic patients are better than those for sarcomatoid patients. Outcomes are worse than for epithelioid mesothelioma.
Survival rates for biphasic mesothelioma are low but vary depending on the proportion of cell types. The greater the ratio of epithelial cells present in a biphasic tumor, the longer the life expectancy.
A study measured survival times for patients who underwent some type of surgical procedure. The median survival time varied depending on the patients' cell types:[8]
Epithelial – 19 months
Biphasic – 12 months
Sarcomatoid – 4 months
Can I Improve My Prognosis?
Yes, patients can always take steps to improve the outcome, even if there is little to no hope of remission. Decisions you make following a diagnosis of biphasic mesothelioma can extend your life and improve the quality of life you experience:
Start treatment right away.
Work with specialists with experience treating mesothelioma patients.
Choose the most aggressive treatments for which you qualify.
Listen to your medical team and follow their instructions.
Take care of your overall health, which includes eating a good diet and avoiding alcohol and smoking.
Talk to your care team about palliative treatments that will help you feel better.
If you were exposed to asbestos and then received a diagnosis of biphasic mesothelioma, you may feel someone else is to blame. Either your employer or the maker of asbestos-containing materials could be at fault. File with an asbestos trust fund or start a lawsuit if you feel you have a strong case to make for compensation. This process can be complicated, but a lawyer with experience in asbestos and mesothelioma cases can help you navigate the process.
Get Your FREE Mesothelioma Packet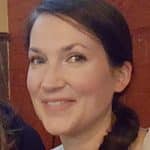 Mary Ellen Ellis has been the head writer for Mesothelioma.net since 2016. With hundreds of mesothelioma and asbestos articles to her credit, she is one of the most experienced writers on these topics. Her degrees and background in science and education help her explain complicated medical topics for a wider audience. Mary Ellen takes pride in providing her readers with the critical information they need following a diagnosis of an asbestos-related illness.
Get Your FREE Mesothelioma Packet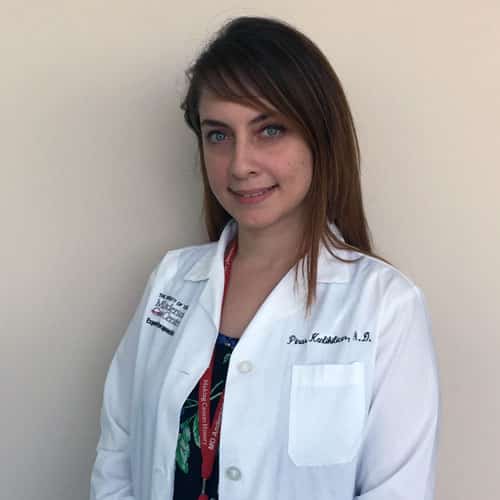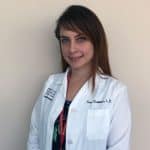 Dr. Pinar Kanlikilicer has a PhD in Biomedical Engineering. She completed her 5-years of postdoctoral training in the Department of Experimental Therapeutics at MD Anderson Cancer Center. She is currently working in the field of cancer as a research scientist.