Malignant Mesothelioma
This page has been fact checked by a Medical Doctor who specializes in mesothelioma. Sources of information are listed at the bottom of the article.
We make every attempt to keep our information accurate and up-to-date.
Please Contact Us with any questions or comments.
Malignant Mesothelioma Definition: Malignant mesothelioma is a rare and aggressive cancer that affects the lining of the lungs, abdomen, and/or heart. Rarely it can involve the testes. It is usually caused by exposure to asbestos.
Oncologists and specialists offer a number of therapies that can help prolong survival and minimize symptoms and discomfort. In most cases all types of mesothelioma are too aggressive and too far advanced at the time of diagnosis to be cured. Average life expectancy is just 12 months after diagnosis.
Free Mesothelioma Packet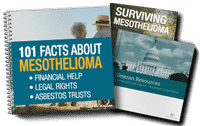 New treatment options
Learn from survivors
Veterans benefits & claims
File for your share of $30 billion in trust funds
How is Mesothelioma Related to Asbestos?
Asbestos exposure can be blamed for causing nearly all of the approximately 3,000 cases of malignant mesothelioma diagnosed every year. Most of that exposure occurred in the workplace.
Many companies used asbestos heavily until the government began regulating it in the 1970s. Workers who were more likely to be exposed include industrial workers, sailors and shipyard workers, construction laborers and skilled tradesmen, and miners, among many others.
Exposure to asbestos is now declining and occurs much less often than it did in the past. But not all the damage has yet been seen. People are still getting diagnosed with mesothelioma now because of its long latency period, which is often decades.
What are the Types of Malignant Mesothelioma?
Malignant mesothelioma is a cancer of the cells of the mesothelium. The mesothelium is a thin, double layer of tissue lining the chest cavity, abdominal cavity, and heart.
Pleural mesothelioma is the most common type and begins in the pleural tissue around the lungs.
Peritoneal mesothelioma, which develops in the abdomen, is less common.
A rare type occurs in the tissue around the heart and is called pericardial mesothelioma.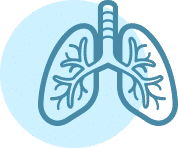 Pleural Mesothelioma
Nearly three-quarters of diagnosed cases of mesothelioma are pleural.
Most long-term exposure to asbestos occurs when the fibers are inhaled into the chest cavity.
Inhaled asbestos fibers, which are like tiny needles, lodge in pleural tissue and cause damage.
Symptoms include difficulty breathing, chest pains, coughing, and shortness of breath and are similar to more common respiratory diseases.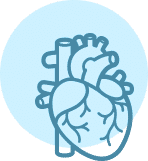 Pericardial Mesothelioma
This extremely rare form of mesothelioma accounts for just one percent of all diagnosed cases.
The primary tumor grows in the part of the mesothelium that is around the heart, the pericardium.
Because of how close the tumors are to the heart, pericardial mesothelioma is the most difficult to treat.
Symptoms include chest pains, difficulty breathing (especially while lying flat), heart palpitations, fatigue, and coughing.
Peritoneal Mesothelioma
Peritoneal mesothelioma accounts for less than 20 percent of all diagnosed cases.
It occurs in the peritoneum, which is in the abdomen.
The early symptoms of peritoneal mesothelioma include abdominal distension, abdominal pain, swelling or tenderness around the abdomen and constipation or diarrhea.
It can be mistaken for more common illnesses, like colitis or irritable bowel syndrome.
In addition to the location of mesothelioma, another important piece of information is the pathology classification.
Epithelioid: the most common type and tends to be a favorable indicator because it can take longer to grow.
Sarcomatoid: less common, yet very aggressive. It can grow and spread to other organs faster than epithelioid types.
Biphasic or Mixed: Simply a mix of epithelioid and sarcomatoid. The behavior and prognosis depend on the ratio of each.
What are the Symptoms of
Mesothelioma?
Most patients with mesothelioma experience no symptoms for many years. Or if they do, they have only mild symptoms. The early signs are also similar to other diseases that are more common.
Only when mesothelioma tumors grow larger and/or spread to other tissues and organs does it begin to cause more severe symptoms. This is also when the symptoms become more noticeable.
The later stages of mesothelioma cause symptoms more typical of other types of cancer, like weight loss and fatigue, fever, and persistent pain, swelling, or feelings of fullness in peritoneal mesothelioma.
Symptoms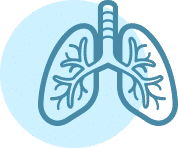 Pleural Mesothelioma
Shortness of Breath
Trouble Swallowing
Persistent, Dry Cough
Coughing up Blood
Chest Pains
Pain When Breathing
Lumps Under Skin of Chest
Fatigue
Weight Loss
Fever
Peritoneal Mesothelioma
Pain & Swelling in Abdomen
Feeling of Fullness
Weight Loss
Anemia
Fever
Diarrhea
Constipation
Bowel Obstruction
Nausea
Vomiting
Fatigue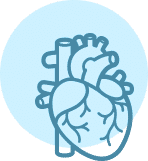 Pericardial Mesothelioma
Irregular Heartbeat
Heart Palpitations
Trouble Breathing
Heart Murmurs
Weight Loss
Shortness of Breath
Chest Pains
Fatigue
Coughing
Night Sweats
Fever
Heart Failure
Swelling of Lower Limbs
How is Malignant Mesothelioma Diagnosed?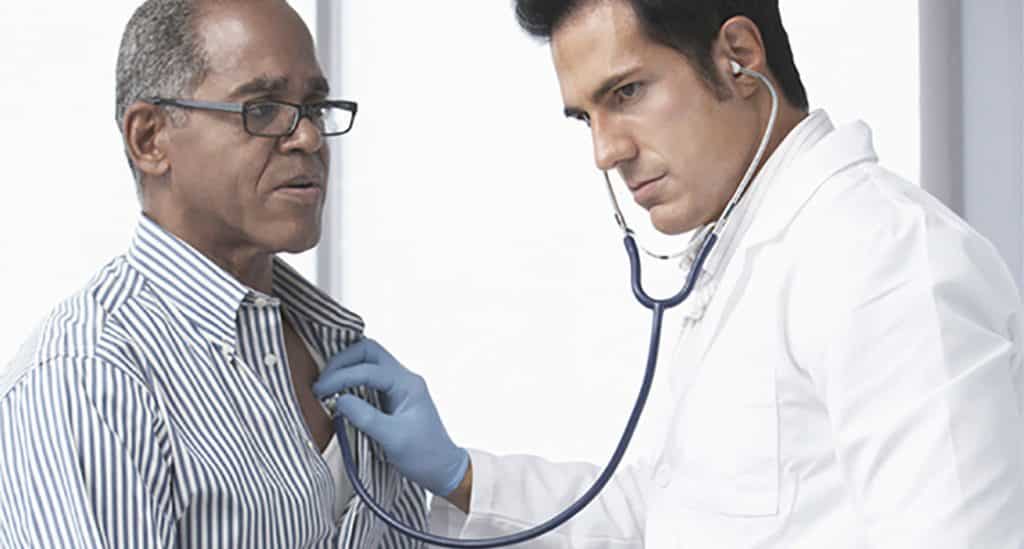 Physical Examination
The first step is a physical examination. This is usually done by a patient's regular physician and helps rule out more common conditions that could explain the symptoms.
A doctor examines the patient and tests for certain conditions, while also taking a medical history. In addition to characteristic symptoms, it is important to know of any exposure to asbestos, an important clue to look for signs of cancer.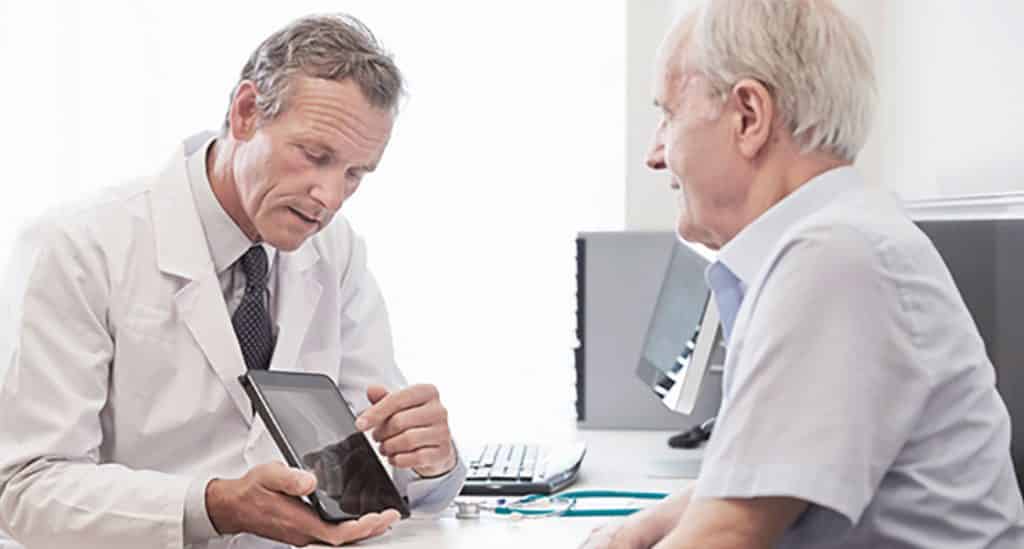 Imaging Scans
Next, patients undergo one or more imaging scans. An X-ray can rule out pneumonia and other non-cancerous lung diseases.
MRIs and CT scans provide a more detailed look at soft tissues. These scans can help doctors find areas of abnormal tissue that may be cancerous.
If an image shows abnormal tissue that could be malignant, some patients will be referred for a biopsy first to determine the type of cancer. Other times the imaging can be highly suggestive of mesothelioma and the patient will be referred directly to a surgeon or oncologist to determine the best location for a biopsy and confirm the diagnosis.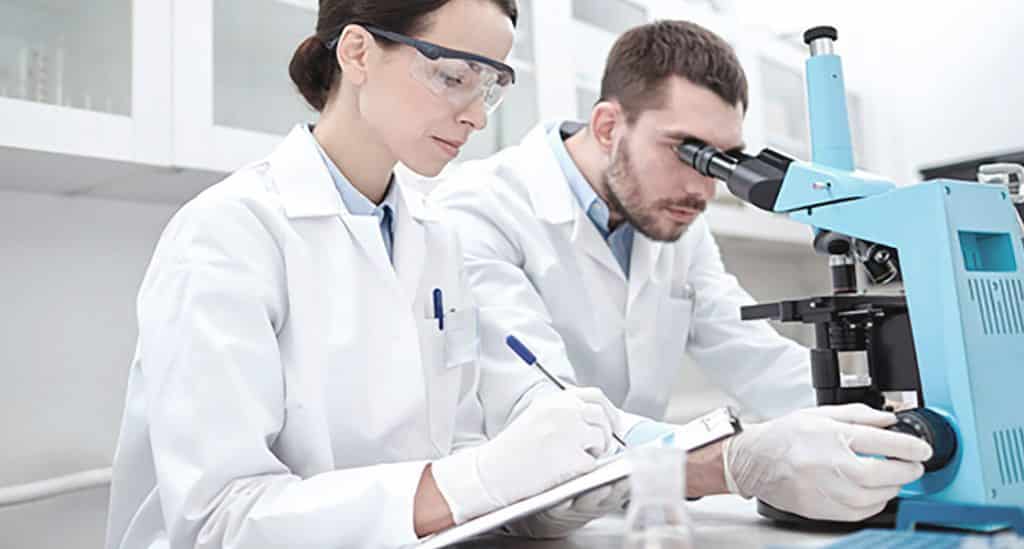 Biopsy
To perform a biopsy, a doctor takes a sample of cells from the area of abnormal tissue. A pathologist examines the cells under a microscope to look for signs of malignancy. There are a few types of biopsies:
A fluid biopsy is the removal of collected fluid from between the pleural or peritoneal tissue layers. This is not the most definitive way to diagnose cancer.
More accurate is a needle biopsy. A long needle is used to remove a small sample of tissue from the area in question.
If the needle sample is inconclusive or the abnormal tissue is too difficult to reach, doctors may need to perform a surgical biopsy to remove tissue and cells.
The Stages of Mesothelioma
A complete cancer diagnosis includes staging. Mesothelioma is staged from one through four. One is the earliest stage with the least progression of disease. Four is the most advanced stage with significant progression. Staging is determined by the size of the tumor, number of lymph nodes involved, and if the cancer has spread to other organs. Both the stage and pathology type help doctors create the best treatment plan for you.
Stage 1
Stage one mesothelioma patients have the best chance of long-term survival, but it is rarely diagnosed so early. Some people may not have symptoms at this stage or they are mild: coughing, fever, chest pains, breathing difficulties, and a general fatigue. Stage one patients have several treatment options, including aggressive surgery, and they have the best overall prognosis.
Stage 2
Stage two patients still have some chance of extended survival, but the prognosis is poorer than in stage one. The symptoms are similar, but the cancerous tumor has started to invade the chest cavity, diaphragm, and sometimes the lung tissue. This limits treatment options. Surgery may or may not be possible.
Stage 3
By stage three, the cancer has spread more extensively throughout the chest cavity or abdomen, depending on the type. Treatment may shift to palliative care. Extending survival time is difficult but possible depending on the individual. Symptoms include severe chest pains, weight loss, night sweats, coughing, fatigue, and other uncomfortable symptoms.
Stage 4
Stage four is diagnosed when the cancer has metastasized. This means tumors have spread to parts of the body far from the original location. Treatment options at this stage are severely limited and are designed to keep the patient comfortable and to extend life expectancy, if possible.
Free consultation with Dave, our Patient Advocate, on how to quickly recover compensation from the $30 Billion Asbestos Trusts, Veteran Benefits, and by Filing Legal Claims.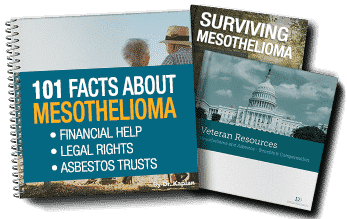 For Quicker Compensation for medical and other expenses – call Dave today!
Get started now on recovering from the $30 Billion in Asbestos Trusts Funds, VA Benefits and/or Filing a Legal Claim.

What are the options for Mesothelioma Treatment?
Treatment plans for mesothelioma vary depending on the needs, limitations, and preferences of each patient. It also depends on the type and stage of the cancer.
Choices for mesothelioma are often limited. This is an aggressive, fast-moving cancer that is too often diagnosed in later stage. This means some treatment types are not options.
Typical treatment options include surgery, chemotherapy, and radiation therapy. A combination of two or more of these is typical. Some patients with more advanced cancer require more palliative care.
Palliative care is no longer just for hospice and end of life care. Palliative care providers can enrich and strengthen the care provided by your oncologist and surgeon. They are experts in pain and symptom management and can help support the patient and family unit make decisions that reflect the goals and values of each individual. Those with advanced cancers who are not eligible for surgery or chemotherapy may require more palliative care services.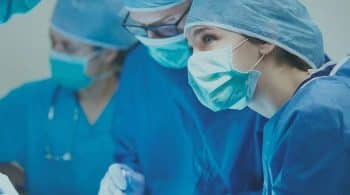 A goal of surgical treatment for mesothelioma is to remove as much of the cancerous tissue as possible. Treatment plans often combine surgery with chemotherapy and radiation to eliminate those cancer cells that the surgeon could not remove or to shrink tumors ahead of surgery.
Not all patients are eligible for surgery, but for those who are it may extend life expectancy. In rare cases it may be curative. For other patients, surgery can be used to relieve symptoms and as a part of palliative care.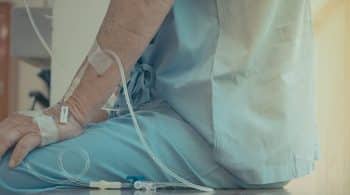 This is the most common treatment used for patients with mesothelioma. Chemotherapy uses drugs that target and destroy fast-growing cells and are usually administered intravenously.
A newer treatment for peritoneal mesothelioma uses a heated solution of chemotherapy drugs circulated in the abdominal cavity.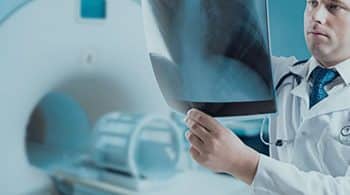 Radiation treatment uses high-energy beams of particles to destroy tumors and cancer cells. The traditional way of administering radiation is externally, by aiming the beam at the location of the tumor.
To minimize damage to healthy tissues and side effects, and to target tumors more directly, some patients may be able to undergo internal radiation therapy.
Some patients receive benefit from adding complementary treatments to their regimen. Examples may include: acupuncture, gentle massage, exercise, yoga, aromatherapy, and consultation from an oncology dietician. These may help reduce pain and anxiety while improving energy level and overall mood.
What is the Prognosis for Mesothelioma Patients?
A patient's prognosis depends on average life expectancy for each stage of the cancer. Typical life expectancies by stage come from statistics based on past patients.
Other factors that influence prognosis include:
Patients with early stage mesothelioma have a better prognosis than those in the later stages.
The type of mesothelioma (epithelioid or sarcomatoid) and also the location where the cancer originated. Those with peritoneal disease generally have better survival rates than pleural mesothelioma. Sarcomatoid subtype can be more aggressive compared to epithelioid mesothelioma.
Age and overall health. Younger, healthier patients have a better prognosis.
When surgery is still a treatment option, patients who choose it can expect a more positive prognosis.
How do I find the Best Doctor?
If you have troubling symptoms, see your general practitioner first to rule out more common illnesses. Don't be afraid to get a second opinion if you feel your doctor is not taking your concerns seriously, though, especially if you know you have been exposed to asbestos.
If you do get diagnosed with mesothelioma, find a specialist as soon as possible. This is a rare type of cancer and even an oncologist specializing in cancer may never have worked with a mesothelioma patient. A mesothelioma specialist can provide the best care and treatment options as part of a multi-disciplinary team.
How do I find the Best Treatment Facility?
Many specialists in mesothelioma work as part of multi-disciplinary teams at cancer treatment centers. These facilities include units or departments with teams that focus entirely on the diagnosis, treatment, and research of mesothelioma.
A good place to start your search is at the National Cancer Institute (NCI). The NCI has listed several facilities throughout the country as Designated Cancer Centers. Several of these employ mesothelioma specialists.
Find A Treatment Center Near You
Are there Clinical Trials for Mesothelioma?
Designated Cancer Centers and other mesothelioma specialty treatment facilities can usually provide patients with access to clinical trials. Trials are studies with patients and unapproved medications or other therapies. They are designed to test the effectiveness and safety of new treatments. For an aggressive cancer like mesothelioma, with no cure, clinical trials can be a ray of hope for patients. Your specialist can help you determine if you are eligible for any trials.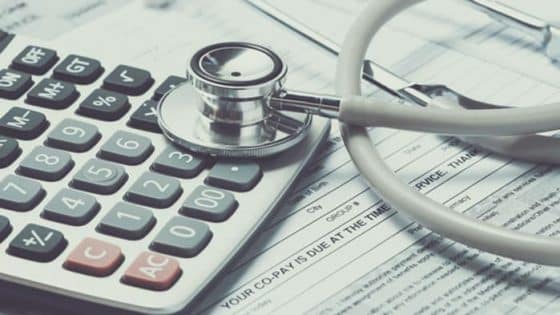 What are my options To Pay For Mesothelioma Treatment?
Treatment costs for mesothelioma can be very high. Take advantage of any resources available if you have been diagnosed. You may have both financial and legal actions you can take to get compensation.
If your health insurance coverage is limited, consider some other options:
Funding from nonprofit advocacy groups and charities
Disability or workers' compensation insurance
Veterans benefits
Lawsuits against companies that made asbestos products
Claims to trust funds set up by companies that exposed workers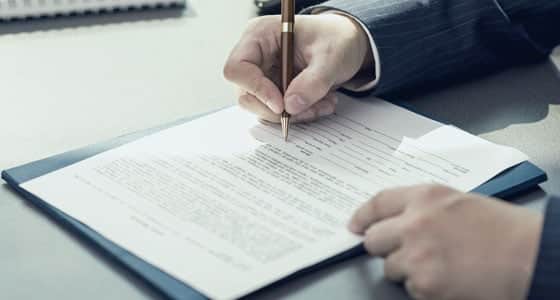 What is the Mesothelioma Trust Fund?
Mesothelioma or asbestos trust funds are financial resources for people who got sick after being exposed to asbestos on the job. These funds were established by companies that were responsible for asbestos injuries to their employees.
If you have been diagnosed with mesothelioma and are not sure where you may have been exposed, it was likely on the job. You may qualify for compensation from an established trust fund.
Getting Benefits for Veterans with Mesothelioma
Mesothelioma patients who experienced asbestos exposure while serving in the United States military are often eligible for compensation to cover treatment and other expenses.
Veterans are at the greatest risk of developing mesothelioma because of the heavy use of asbestos in barracks, equipment, vehicles, and ships. Asbestos use in the military peaked between 1935 and 1975. Asbestos was particularly heavily used the U.S. Navy.
Applying for VA benefits can be complicated and confusing. Rely on an experienced attorney for guidance. You may also be able to file a lawsuit against the manufacturers of the asbestos-containing materials you used during your time in the military.
Asbestos in the Navy
U.S. veterans have some of the highest rates of mesothelioma, but U.S. Navy veterans receive more asbestos-related diagnoses than any other group. Asbestos was used extensively on all types of ships in the navy for decades, beginning in the 1930s. Working around and living with asbestos materials, especially in the confined and poorly-ventilated spaces of ships put these veterans at the greatest risk of asbestos exposure and later illnesses.
Asbestos in the Marine Corps
Many Marine Corps veterans were exposed to asbestos through time spent on Navy ships. The U.S. Naval fleet has long supported and transported the men and women of the Marine Corps. These ships were made with asbestos in nearly every component, increasing exposure risks for this branch of the military. After serving their country, many Marine veterans were diagnosed with mesothelioma and other asbestos-related illnesses.
Asbestos in the Army
Veterans who served in the U.S. Army were put their lives on the line in many ways, but the risk of exposure to asbestos was preventable. These men and women spent time in military installations, bases, and vehicles that were constructed with asbestos. Some veterans even worked directly with asbestos and many were later diagnosed with mesothelioma.
Asbestos in the Air Force
Asbestos use in ships, airplanes, bases, vehicles, and all types of military buildings put all veterans at risk, including those that served in the Air Force. Engines and brake systems in planes contained asbestos to insulate and protect against friction and overheating. This use, as well as the use of asbestos in many other places, caused too many of these veterans to develop mesothelioma, asbestos, or lung cancer decades after serving their countries.
Asbestos in the Coast Guard
The use of asbestos in ships was common practice for many decades and Coast Guard ships were no exception. Asbestos in Coast Guard vessels, in the shipyards where they worked and repaired ships, and in buildings led to numerous cases of dangerous exposure. Many of these men and women who served in the Coast Guard were later diagnosed with mesothelioma and other asbestos illnesses.
How Do I Find the Best Mesothelioma Lawyer?
If you have been diagnosed with mesothelioma or another asbestos-related disease, immediate treatment is your top priority. But you may also need legal assistance.
You have a right to seek compensation through legal means if exposed to asbestos. A lawyer experienced with asbestos cases can help you determine your rights and what legal steps you can take to seek compensation.

Finding the right lawyer is important. Look for an attorney or law firm with experience handling asbestos cases and winning compensation for victims. Be sure you feel comfortable working with the lawyer you choose and that he or she will devote time and effort to your case.
Can't Afford a Lawyer?
Most people undergoing expensive mesothelioma treatments aren't able to pay attorney fees. This is why reputable, experienced lawyers in these kinds of cases never charge anything up front.
Instead, they work on a contingency basis. This means that you pay nothing at all until your lawyer wins your case. Then, your lawyer takes a certain percentage of your compensation.
Be sure to do your research on fees before retaining legal help. Lawyer fees vary, so make sure you understand exactly what an attorney charges before deciding on which one is right for you.
Will I Go to Trial?
Most mesothelioma lawsuits end in settlements rather than going to trial. Your attorney will investigate your case, provide proof of your injuries to the defense, and help negotiate a settlement amount on your behalf. Only if an agreement cannot be reached by both sides will your case go to trial.
It is rare to have to go to court for mesothelioma. However, if you are too ill your lawyer can make accommodations. For example, some plaintiffs have given their testimony via video from the comfort of their home. Most of the hard work in a trial is done by your legal team. They will make your case on your behalf in front of a jury.

Luis Argote-Greene is an internationally recognized thoracic surgeon. He has trained and worked with some of the most prominently known thoracic surgeons in the United States and Mexico, including pioneering mesothelioma surgeon Dr. David Sugarbaker. He is professionally affiliated with University Hospitals (UH). His areas of interest and expertise are mesothelioma, mediastinal tumors, thoracic malignancies, lung cancer, lung transplantation, esophageal cancer, experimental surgery, and lung volume reduction. Dr. Argote-Greene has also done pioneering work with video-assisted thoracoscopic surgery (VATS), as well as robotic assisted minimally invasive surgery. He has taught the procedures to other surgeons both nationally and internationally.