Filing a Mesothelioma Asbestos Lawsuit
If you have been exposed to asbestos and as a result you contracted a serious and deadly illness like mesothelioma, you have legal options. Contact a mesothelioma lawyer or asbestos lawyer immediately to find out what those options are and to decide on the next step to take. You may be able to take advantage of an asbestos trust fund, but an asbestos lawsuit may be a better choice for your situation. Only a trained and experienced lawyer who has worked on asbestos cases before can help you make the right decision that will give you the best chance of getting justice and getting compensation.
Asbestos and Illness
Asbestos is a natural mineral that produces airborne fibers that can be inhaled. Those fibers are carcinogenic, meaning they cause cancer. If you inhaled asbestos over years or decades, most likely at work, you are at risk for a number of related illnesses. The deadliest of these is mesothelioma, which is a rare and aggressive type of cancer that attacks the tissue surrounding the lungs.
You may also be at risk for lung cancer, which is not as rare as mesothelioma, but which can also be painful and deadly. Asbestosis is a painful and uncomfortable lung condition that is incurable, but not as deadly as cancer. It causes inflammation and scarring in the lungs that makes breathing difficult and painful. No treatments can reverse the damage.
Asbestos causes these illnesses when the fibers lodge in the tissues of the body. In some cases those fibers may migrate past the airways and cause mesothelioma in the lining of the abdominal organs, or more rarely around the heart or the testicles. Asbestos exposure is most common in the workplace and thousands of people were put at risk for decades before tighter regulations were placed on the use of asbestos and training for how to work with this dangerous mineral.
Starting an Asbestos Lawsuit
In order to file an asbestos lawsuit or a mesothelioma lawsuit you need to find an experienced lawyer to get you started. All lawsuits are time sensitive, so it is important that you get started on the process as soon as you find out you are ill because of asbestos. The statute of limitations varies by state, but your lawyer will know what those restrictions are and can help you file a lawsuit in time. The lawyer will do most of the work for you and will take several steps to make your case.
The first step in making a case in an asbestos lawsuit is to prepare all the needed information. Your lawyer will get to work figuring out who has responsibility for your illness and how workplace exposure to asbestos may have contributed it. Once the information is gathered and the lawsuit filed, the defendant will be able to respond to the claims you are making.
The discovery period is the next step during which both your legal team and the defendant's legal team will investigate and gather more information and evidence. This is done to build a case either to prove or disprove that you are ill because of asbestos exposure and that the defendant is responsible for causing you to be exposed.
At this point many lawsuits filed over asbestos and mesothelioma proceed to a settlement stage. Here your lawyer will represent you in trying to negotiate compensation from the defendant. Only if the settlement cannot be agreed upon will your case go to trial, where a judge and jury will hear your case and make a decision on compensation.
Wrongful Death Asbestos Lawsuits
If you have lost a loved one to asbestos related illness, you can file a wrongful death lawsuit. This is a claim that your loved one's death was caused by negligence on the part of a person or company, in this case likely an employer or manufacturer of materials containing asbestos. A wrongful death lawsuit can provide compensation that helps the family cover outstanding medical bills and funeral expenses, but that also provides for pain and suffering and loss of companionship.
Selecting an Asbestos Lawyer
The most important thing you can do in filing an asbestos lawsuit is to choose the right representation. You want to select a lawyer that has experience in settling and litigating cases related to asbestos and mesothelioma or other related health conditions. This is the person that has the expertise to give you the best chance of success in your lawsuit. A lawyer will also know about trust funds and if the company you are suing has already set up funds for people like you.
When you start looking for a lawyer, seek out those that specialize in asbestos. Make sure you ask about references and testimonials. You want to see that your lawyer not only has experience, but also a proven track record of winning cases for clients. You want a lawyer that other clients were satisfied with and that makes you feel comfortable about your chances.
Compensation from an Asbestos Lawsuit
The main reason that most people file this type of lawsuit is to get monetary compensation. Seeking justice and an acknowledgement from the person or company that made you sick is also important, but being ill with these serious conditions is expensive. Winning compensation means not needing to worry about money anymore and being able to focus on treatment and living the rest of your life.
If you are seeking compensation for an asbestos illness you can ask for money to cover your medical bills for treatment, any future medical bills you expect to have, and to cover the costs of ongoing care, including therapy and hospice care. You can also claim compensation for emotional suffering, physical pain and suffering, and other less tangible costs of being ill.
Examples of Asbestos Lawsuits
A large settlement was awarded in a jury-heard trial in Arizona in 2016 over a case of mesothelioma and asbestos exposure. A retire civilian worker in the U.S. Navy developed and died from mesothelioma after working I the Norfolk Naval Shipyard. In a trial, the plaintiff's lawyers showed that he worked on repair and maintenance of equipment like gaskets and valves that contained asbestos and that he died a year after being diagnosed with mesothelioma at the age of 73.
The jury in this case deliberated for just four hours before returning with a settlement of $17 million for the family of the deceased civilian Navy worker. The settlement included $9 million in compensation and $8 million in punitive damages. The responsibility for paying the settlement was split between the U.S. Navy and two manufacturing companies that made the asbestos-containing materials.
In Charleston, South Carolina, multiple plaintiffs are making a case against the Charleston Naval Shipyard, which ceased operations 20 years ago. Residents in the nearby area have higher rates of mesothelioma than the nationwide average because many of them worked in the shipyards and were exposed to asbestos. About 29 people per year there die because of asbestos exposure.
The number of cases there is so high that in 2006 a law was passed to allow for expedited hearings. This was supposed to ensure that more victims would get compensation sooner through lawsuits. Victims and their families are getting compensation, but there are still lags that delay payments by years. Many of the plaintiffs die before their cases are heard.
Filing an asbestos lawsuit is an important thing to do if you believe you are the victim of asbestos exposure. You can start that lawsuit at any time and the sooner you do it the better. With the guidance of an experienced legal team, you stand a good chance of making your case and receiving a settlement that represents justice and that will help you pay the costs of being terminally ill.
Get Help from the Top Mesothelioma Law Firms
Free Consultation
Brochures from Top Law Firms
Testimonials
FREE Case Value Calculator
For over 15 years, we've provided the best FREE resources to mesothelioma patients and loved ones. Our resources include information on the leading treatment options and best doctors in your area; lessons learned from survivors; claims and benefits specifically for Veterans; and how to access your share of billions of dollars in trust fund money.
FREE Mesothelioma Packet includes: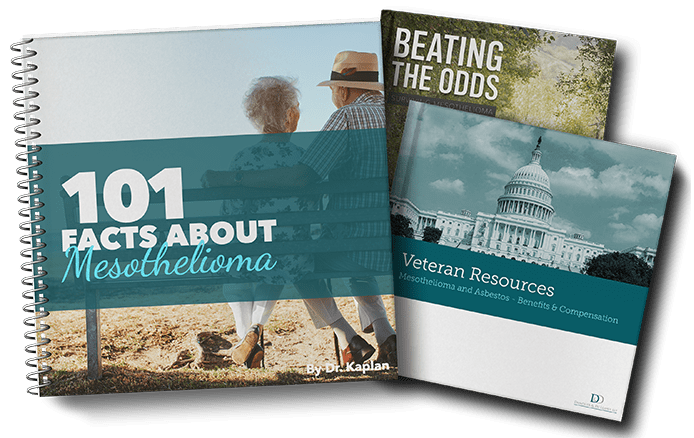 New Treatment Options
Veteran's Benefits & Claims
$30 Billion Asbestos Trust Fund Information
If you've been diagnosed with asbestos-related cancer, contact us at 1-800-692-8608 to find out if you are eligible to receive compensation. You can also fill out the form above to receive FREE information.