Atezolizumab Clinical Trials
This page has been fact checked by a Doctor of Pharmacy who specializes in Oncology. Sources of information are listed at the bottom of the article.
We make every attempt to keep our information accurate and up-to-date.
Free Mesothelioma Packet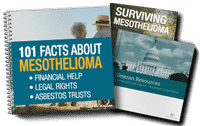 New treatment options
Learn from survivors
Veterans benefits & claims
File for your share of $30 billion in trust funds
Please Contact Us with any questions or comments.
Atezolizumab (Tecentriq) is an immunotherapy drug that is currently used to treat bladder, breast, and lung cancers.[1] At this time it is only available to mesothelioma patients through clinical trials. If you are interested in getting involved in a trial with atezolizumab, talk to your specialists to find out if you qualify.
What is Atezolizumab?
Atezolizumab is the generic name for a drug with the brand name Tecentriq®. It is an immunotherapy drug made by the biotech company Genentech. Atezolizumab was first approved by the U.S. Food and Drug Administration (FDA) to treat advanced and metastatic urothelial carcinoma, also known as bladder cancer.[2]
Free Mesothelioma Packet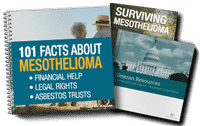 New treatment options
Learn from survivors
Veterans benefits & claims
File for your share of $30 billion in trust funds
The FDA gave accelerated approval of the drug for special cases of bladder cancer. These include patients who cannot be given platinum-based chemotherapy drugs or who were given chemotherapy but experienced progression of the tumors.[2] This kind of approval from the FDA requires that clinical trials keep going and can be rescinded if results don't show the expected benefits.
The FDA has granted full approval to atezolizumab for patients with non-small cell lung cancer in similar situations.[3] Those who see their disease progress after treatment with platinum chemotherapy drugs can be given atezolizumab. It's given to patients with this type of lung cancer along with carboplatin, paclitaxel, and another immunotherapy drug bevacizumab.
More recently, the FDA granted full approval for atezolizumab to be used as first-line treatment in extensive stage small cell lung cancer and accelerated approval for use in triple-negative breast cancer with the PD-L1 receptor positive.[4]
How Atezolizumab Works
Atezolizumab is an antibody that has been designed to target a specific protein on cancer cells. Immune system cells, known as T-cells, need to be able to recognize the tumor cells and distinguish them from healthy cells. Normal cells in the body have proteins on their surfaces known as immune checkpoints. When a T-cell binds to one of these it recognizes it as normal and not a threat.
Cancer cells have evolved to trick the immune system into thinking they are normal healthy cells. They express checkpoint proteins that signal to the immune cells the same way healthy cells do. Different types of tumors and individuals with cancer have cancer cells that may express different types of these checkpoint proteins.
Atezolizumab was developed to inhibit the interaction between immune T-cells and a specific checkpoint protein on cancer cells known as PD-L1. It works by binding to PD-L1 and preventing T-cells from binding there. In this way the drug unmasks the cancer cells and the immune system is able to recognize they are unhealthy and should be targets for destruction.[5]
Atezolizumab is specific to tumors whose cells express PD-L1. Some types of cancers express more of this protein than others, like bladder cancer, but there are also individual differences, so one person may have cancer with more PD-L1 and may benefit from this treatment more than another. Some cancers have been shown to respond to this treatment even though they may not express any PD-L1.
Clinical Trials for Mesothelioma
Mesothelioma tumors often overexpress PD-L1, making the cancer a good candidate for trials using atezolizumab. One clinical trial that is currently ongoing is testing the eighteen-week non-progression rate in participants being given atezolizumab. This means that the researchers are determining how many participants see no progression, or growth, in their tumors after eighteen weeks with the novel treatment. Halting progression is considered a success. The trial is currently in phase II with 477 patients participating. The researchers have focused on patients with prostate cancer or pleural mesothelioma who have failed to get results from other types of treatment.[6]
Another trial is a phase I that is focusing only on pleural mesothelioma and is recruiting patients diagnosed with the cancer in stages I, II, or III. The trial is using atezolizumab along with chemotherapy drugs cisplatin and pemetrexed. Patients are also undergoing surgery as part of treatment and may or may not be receiving radiation therapy. The hope is that the new drug along with chemotherapy drugs will shrink tumors, making surgery easier and more successful, and that continued dosing of atezolizumab after surgery will help the body clean up any remaining cancer cells.[7]
Potential Side Effects
Immunotherapy drugs typically cause milder and fewer side effects than chemotherapy because they are more targeted, but they can still have some undesirable consequences. The most common side effects and adverse events of atezolizumab include fatigue, constipation, nausea, loss of appetite, diarrhea, fever, and urinary tract infections, cough, or difficulty breathing.[2] Contact your doctor immediately if you have unusual cough or diarrhea, as these side effects can quickly become dangerous.
Atezolizumab is not yet approved for treatment in patients with mesothelioma, but it is accessible through clinical trials. Researchers are hoping that it can help shrink tumors or slow the growth of cancer in mesothelioma. Results are not yet available and trials are ongoing. To find out if you qualify for a clinical trial, talk to your medical team.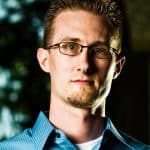 Kyle J. Becker, PharmD is certified by the Board of Pharmacy Specialties in Oncology Pharmacy. Dr. Becker earned his pharmacy degree from Shenandoah University and he currently serves as an oncology pharmacist at Parkview Cancer Institute.