This page has been fact checked by an experienced mesothelioma Patient Advocate. Sources of information are listed at the bottom of the article.
We make every attempt to keep our information accurate and up-to-date.
Please Contact Us with any questions or comments.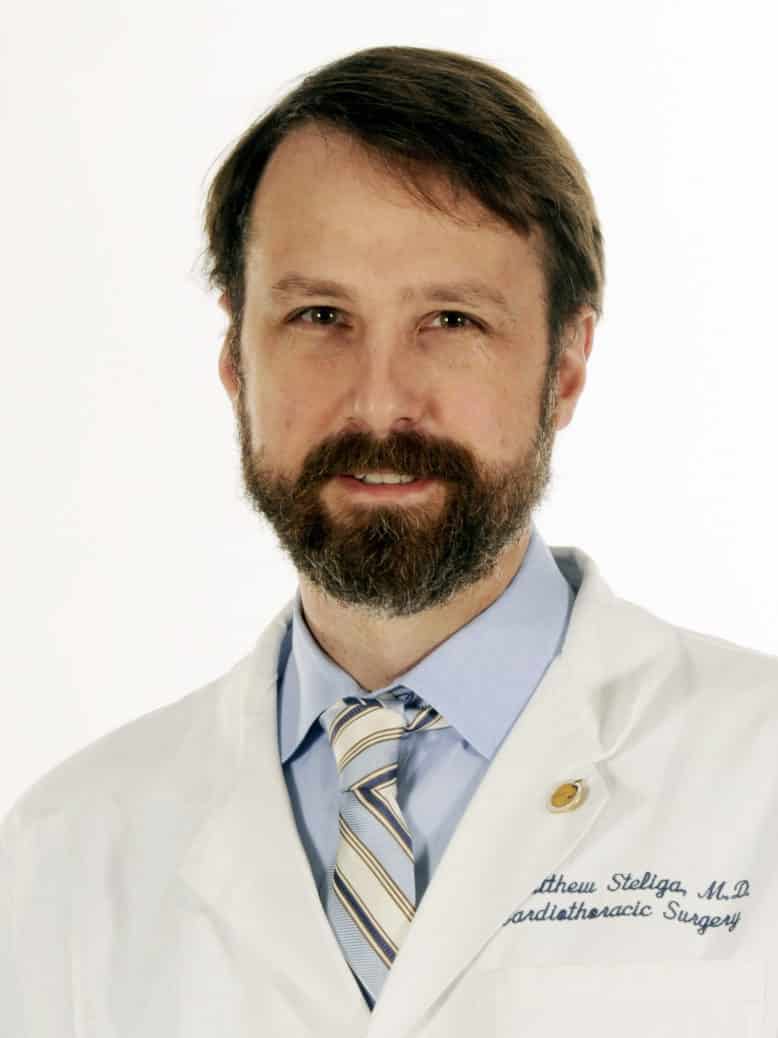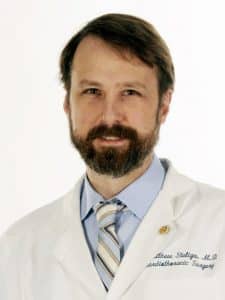 Matthew Steliga, M.D. is a thoracic surgeon specializing in thoracic oncology and minimally invasive treatments. He currently works with patients at the Winthrop P. Rockefeller Cancer Institute at the University of Arkansas for Medical Sciences.[1] Previously, Dr. Steliga worked at the MD Anderson Cancer Institute in Houston.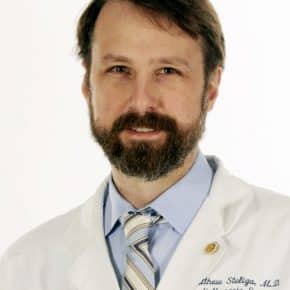 Early Education and Career
Dr. Steliga earned his medical degree at the Medical College of Wisconsin, a free-standing medical school in Milwaukee, Wisconsin. Afterward, he completed an internship and residency in general surgery at the University of Tennessee Health Sciences Center in Memphis.
Following his general surgery residency, Dr. Steliga completed two fellowships in thoracic surgery. During those fellowships, he chose to specialize in thoracic diseases, especially cancers.
These fellowships took place at Houston's MD Anderson Cancer Center and the Texas Heart Institute.[1] While at the Heart Institute, Dr. Steliga trained in cardiothoracic surgery. While at MD Anderson, he trained with experts in thoracic oncology surgery.
The MD Anderson Cancer Center is one of the original Comprehensive Cancer Centers in the United States. This means it is both an educational and research facility and a center for diagnosing and treating patients with cancer.
The Center's thoracic surgery division specializes in mesothelioma, and it was here that Dr. Steliga developed an interest in surgical treatment for the disease.
Thoracic Oncology, Mesothelioma, and Other Specialties
Through his work at MD Anderson, Dr. Steliga trained with some of the country's leading mesothelioma experts, including Dr. David Rice and Dr. Anne Tsao. After learning from these specialists, Dr. Steliga began working with them. At this time, he also taught residents and interns at MD Anderson.
Dr. Steliga specializes in thoracic oncology, including any type of chest surgery for lung cancer, mesothelioma, or esophageal cancer. He also specializes in minimally invasive surgery, using smaller incisions and tools to perform a surgery with as little harm to the patient as possible.
Unfortunately, minimally invasive surgery is not always possible with mesothelioma or lung cancer treatment; however, Dr. Steliga is also an expert in aggressive and radical surgical procedures. These procedures include pleurectomy/decortication and extrapleural pneumonectomy, which removes an entire lung to treat mesothelioma.
Current Position
After leaving MD Anderson, Dr. Steliga took a position at the University of Arkansas for Medical Sciences Winthrop P. Rockefeller Cancer Institute. Currently, he is an assistant professor of surgery, teaching and training the next generation of medical doctors.
Dr. Steliga is also a thoracic surgeon at the Cancer Institute in Little Rock, the only comprehensive cancer treatment facility in Arkansas.
As a surgeon at the Cancer Institute, Dr. Steliga provides treatment for patients with the most difficult types of cancers, including mesothelioma. He is best known for minimally invasive surgery but also offers a range of treatment options. Dr. Steliga also serves as part of a multidisciplinary team to provide patients with the best care from a range of experts.
Honors, Recognition, and Research
Dr. Steliga is certified through the American Board of Surgery. He is also a certified thoracic and cardiac surgeon through the American Board of Thoracic Surgery.
He holds active medical licenses in both Texas and Arkansas. Dr. Steliga is also a member of several professional organizations, including the Society of Thoracic Surgeons and the International Society for Minimally Invasive Cardiothoracic Surgery. He is an American Cancer Society fellow.[1]
Dr. Steliga has served in multiple research projects and published papers in several medical journals during his career. His research includes smoking cessation programs, lung cancer interventions, rare types of lung cancer, lung cancer screenings, and case studies of patients with cancer and successful surgical treatments.
Dr. Steliga is a leader in surgical treatment for thoracic oncology, including complicated surgeries for mesothelioma patients. He also uses minimally invasive procedures and works with other experts to provide patients with the best care. If you have been diagnosed with mesothelioma, you need to find a specialist in your area to get the best treatment options available.
Get Your FREE Mesothelioma Packet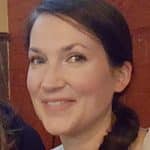 Mary Ellen Ellis has been the head writer for Mesothelioma.net since 2016. With hundreds of mesothelioma and asbestos articles to her credit, she is one of the most experienced writers on these topics. Her degrees and background in science and education help her explain complicated medical topics for a wider audience. Mary Ellen takes pride in providing her readers with the critical information they need following a diagnosis of an asbestos-related illness.
Get Your FREE Mesothelioma Packet
Page Edited by Patient Advocate Dave Foster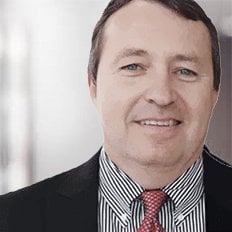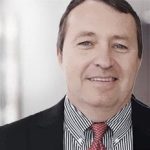 Dave has been a mesothelioma Patient Advocate for over 10 years. He consistently attends all major national and international mesothelioma meetings. In doing so, he is able to stay on top of the latest treatments, clinical trials, and research results. He also personally meets with mesothelioma patients and their families and connects them with the best medical specialists and legal representatives available.