FDA Approves New Cancer Medicine
Published on July 31, 2013
Page Last Modified: September 02, 2019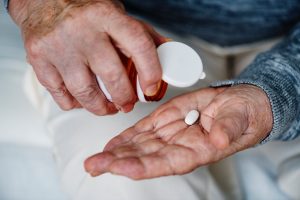 Afatinib, a new medication that has been raising hopes for those suffering from late-stage lung cancer, has recently been granted approval by the Food and Drug Administration (FDA). This is good news for mesothelioma patients.
The drug, which is sold under the brand name Gilotrif, blocks the activity on a gene known as EGFR (epidermal growth factor receptor) which is known to increase the speed at which a tumor grows.
The drug is being developed by the German pharmaceutical giant Boehringer Ingelheim, and was put on priority review status this past January.
The reason that the approval is important to mesothelioma patients is that EGFR receptors are found in many cases of mesothelioma tumors, specifically those found to be made up of epithelial cells. Epithelial mesothelioma is the most common form of the disease, and is found in approximately 50% of mesothelioma tumors.
Epithelial Cell Receptors
Although epithelial mesothelioma has been the most responsive to the various treatments available for the treatment of the disease, it is still considered fatal.
Mesothelioma is a disease that is caused by exposure to asbestos fibers or dust, and it is particularly difficult to treat because it is not generally discovered until the disease has progressed into later stages.
The cancer generally takes between 30 to 50 years after exposure to asbestos to present symptoms. Once it presents itself, it is often too far advanced for surgery to effectively remove the tumor. Stopping the growth of the tumor provides better quality of life and longer survival.
By blocking the growth of cancer cells, Afatinib has been able to make a marked difference in the progression of growth of tumors, and this has made a substantial difference in survival rates.
Where lung cancer patients receiving standard treatments have a 22 percent progression-free survival rate, those who have been treated with Afatinib have spent the same period of time with a 47 percent progression free survival rate.
New Medicine Offers Hope
Up until this point, the medication that has been most commonly used for mesothelioma patients whose mesothelioma cells have shown the presence of EGFR has been a combination of the chemotherapy drugs pemetrexed and cisplatin, but the effectiveness of this particular combination has been spotty.
Afatinib has not yet been tested on mesothelioma patients, but the similarity between the cell lines of mesothelioma patients and those suffering from late stage lung cancer is cause for optimism for the drug's effectiveness.