Landmark California Mesothelioma Ruling Grants Family Members Right to Sue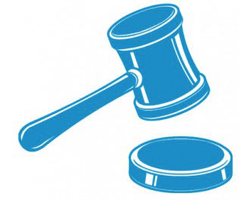 A landmark decision on the rights of mesothelioma victims to sue has been handed down by the California state Supreme Court. At issue was the question of whether companies could be held legally and financially responsible for sicknesses precipitated by a family member carrying asbestos home on their clothing, hair, or skin. The court unanimously decided against the companies and in favor of those who were sickened.
Writing on behalf of the court, Justice Goodwin Liu wrote, "Employers have a duty to take reasonable care" when it comes to protecting their workers from carrying home toxins. Over the years, mesothelioma scientists have proven that second hand exposure to asbestos carried home by asbestos workers was responsible for numerous illnesses and deaths of their family members, including wives who laundered their clothing or children who climbed onto their fathers' laps upon their return home from work.
The ruling is specific in its application: only those who live in a worker's household are eligible to sue. It precludes similar lawsuits from others who may have come into close contact with a worker or his asbestos-contaminated clothing, including those who may have carpooled with a worker, neighbors, or friends who may have visited with them after work. On this point, Liu wrote, "To be sure there are other persons who may have reason to believe they were exposed to significant quantities of asbestos by repeatedly spending time in an enclosed space with an asbestos worker – for example a regular carpool companion," but the court's ruling limits the protections to "an identifiable category of people … most likely to have suffered a legitimate, compensable harm."
Asbestos is a material that is found in nature. It has been mined for centuries and used in a variety of settings and applications because of its characteristic strength and ability to withstand and insulate against heat and flame. Despite its many benefits, asbestos has been found to cause a host of serious illnesses, including a rare and deadly form of cancer known as mesothelioma. When the material breaks down, its dust and particles are easily inhaled or ingested. Once it enters the body it has an insidious effect, at times causing scarring in the lungs and at other times mutating into cancerous tumors.
The court's ruling is in response to multiple lawsuits filed on behalf of family members of asbestos workers. If you or someone you love have been sickened as a result of working with asbestos or living in a household with someone who worked with asbestos, we can help. To learn how, contact Danziger & De Llano Legal Advocates today at 1-800-692-8608, or visit our website, https://mesothelioma.net/mesothelioma-attorneys/, for more information.
Get Your FREE Resources Sent Overnight
New treatment options
Veterans benefits & claims
$30 Billion asbestos trust fund information
For over 15 years, we've provided the best FREE resources to mesothelioma patients and loved ones. Our resources include information on the leading treatment options and best doctors in your area; lessons learned from survivors; claims and benefits specifically for Veterans; and how to access your share of billions of dollars in trust fund money.
Get Your FREE Resources Sent Overnight
New Treatment Options
Veteran's Benefits & Claims
$30 Billion Asbestos Trust Fund Information
If you've been diagnosed with asbestos-related cancer, contact us at 1-800-692-8608 to find out if you are eligible to receive compensation. You can also fill out the form above to receive FREE information.