Mesothelioma Researchers Announce Meaningful Improvement from Pembrolizumab Plus Chemotherapy Treatment
Published on March 16, 2023
Researchers from Merck, the pharmaceutical company behind the immunotherapy drug pembrolizumab (Keytruda), have announced that first-line treatment that combines their product with chemotherapy met the primary endpoint of a phase 2/3 trial, achieving clinically meaningful improvement in overall survival in patients diagnosed with unresectable advanced or metastatic malignant pleural mesothelioma.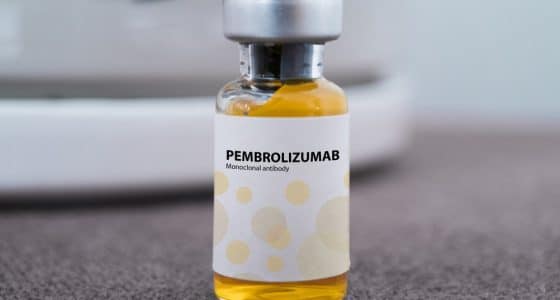 Mesothelioma Study Results to Be Presented at Upcoming Meeting
Though the specifics of the malignant mesothelioma study will not be released until an upcoming medical conference, Quincy Chu, MD, FRCP, the chair of the KEYNOTE-483 study, said, "The results from the trial have the potential to make a difference for patients with this disease who have had limited treatment options available to them."
Malignant pleural mesothelioma is a notoriously aggressive form of cancer, and the size or location of many patients' tumors severely limit the treatment options available to them. It was these patients, with histologically confirmed unresectable advanced and/or metastatic malignant pleural mesothelioma, who were included in the study combining Keytruda with chemotherapy.
Chemotherapy and Keytruda Combination Significantly Improved Overall Survival
The study admitted 440 participants diagnosed whose malignant pleural mesothelioma was deemed unresectable and who had not been treated previously with chemotherapy for advanced/metastatic disease, received neoadjuvant/adjuvant cisplatin-based systemic chemotherapy for at least 12 months, or been treated using prior targeted small molecule therapy, viral therapies, biologic therapies, or angiogenesis inhibitors for advanced/metastatic disease, or immunotherapy in any setting.
Speaking of their study's results, Senior Vice President and head of Global Clinical Development and chief medical officer at Merck Research Laboratories, Eliav Barr, MD released a statement saying, "Patients are in need of new treatments that can improve survival outcomes, and these positive results support the potential of [pembrolizumab] in combination with chemotherapy as a first-line treatment for patients with the most common form of malignant mesothelioma."
If you or someone you love has been diagnosed with malignant mesothelioma, innovative treatments offer hope for longer survival and better quality of life. For information on other resources, contact the Patient Advocates at Mesothelioma.net today at 1-800-692-8608.
FREE Mesothelioma Packet