Study Says Adding Immunotherapy to Chemotherapy Improves Outcomes for Malignant Pleural Mesothelioma
Published on September 08, 2023
Attendees at the 2023 Best of ASCO Seattle meeting were treated to exciting news from a recent Phase III mesothelioma study: presented revealed that patients with malignant pleural mesothelioma treated with a chemoimmunotherapy regimen experienced significantly improved overall survival compared to chemotherapy alone.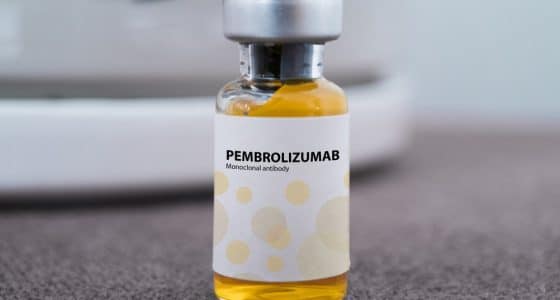 Phase III Trial Demonstrated Improved Mesothelioma Survival with Pembrolizumab
According to results reviewed by Christina S. Baik, MD, MPH of the Fred Hutch Cancer Center in Seattle and the University of Washington School of Medicine, combining the standard chemotherapy treatment of platinum/pemetrexed with pembrolizumab provided improvement in survival in pleural mesothelioma patients with bot PD-L1 positive and PD-L1 negative tumors.
The mesothelioma study was conducted as part of a collaboration among the Canadian Cancer Trials Group, the National Cancer Institute of Naples, and the French Cooperative Thoracic Intergroup.
Mesothelioma Study Followed FDA Approval of Immunotherapy with Chemotherapy
Dr. Baik explained that the CheckMate 743 trial had previously established that an immunotherapy combination of ipilimumab and nivolumab was effective in unresectable pleural mesothelioma, though less so in those with the epithelioid subtype than the nonepithelioid subtype. But toxicities seen in that trial prompted an investigation into how the treatment compared to chemotherapy alone.
To explore the differences between the two approaches to pleural mesothelioma, researchers assigned 440 patients with no previous treatment history to chemotherapy alone or chemotherapy combined with immunotherapy. Dr. Baik said, "This was a fairly simple study design. Patients who received chemoimmunotherapy did better They had improved overall survival compared with chemotherapy alone." Though 19% of patients reported adverse events, the most common was fatigue.
Dr. Baik said that other studies of chemoimmunotherapy combinations are being conducted, but in the meantime, "They're clearly better than chemotherapy alone, so patients should be offered an immunotherapy approach."
If you or someone you love has been diagnosed with malignant pleural mesothelioma, developments like these can make all the difference. For information on other breakthroughs in treatment, contact the Patient Advocates at Mesothelioma.net today at 1-800-692-8608.
FREE Mesothelioma Packet