Study Shows Lung Fluid Testing Has Limited Use For Diagnosing Mesothelioma
Published on July 02, 2018
Page Last Modified: September 22, 2019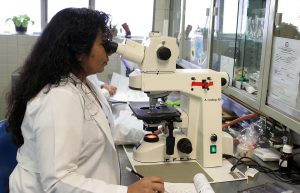 When people begin exhibiting symptoms suggesting lung cancer or mesothelioma, and particularly when they have pleural effusions, physicians often order that the fluid that is removed from their lungs be tested for the presence of cancer cells.
This methodology has proven to be highly accurate when it comes to diagnosing adenocarcinoma, which is the most common form of non-small cell lung cancer.
A recent study conducted by researchers at Australia's Royal Melbourne Hospital has shown that the test is far less accurate when it comes to diagnosing malignant mesothelioma.
Their findings suggest that physicians treating patients who have a known exposure to asbestos need to pursue additional diagnostic tests in order to be certain that they have a correct diagnosis. Failure to do so could result in delayed treatment and shorter survival times.
The mesothelioma study was published in the Internal Medicine Journal, and provides those treating patients suspected of having the asbestos-related disease with valuable guidance regarding the use of lung fluid testing.
According to lead researcher, Dr. Paula Loveland, "Cytology has good sensitivity and specificity for the diagnosis of adenocarcinoma, but if another tumor type is suspected, particularly mesothelioma, clinicians should be aware of the limitations."
The group's research showed that where the testing was almost 90 percent effective in its ability to identify adenocarcinoma cells in lung fluid samples, the same testing was only accurate in 45 percent of samples that included mesothelioma cells.
In light of this result, those physicians treating patients suspected of having mesothelioma are encouraged to move on to more accurate forms of testing, including tumor biopsies, blood tests and CT scans.
If you are at risk for malignant mesothelioma and are in the process of being tested for the disease or under treatment, it is essential that you have access to the most up-to-date information possible. The Patient Advocates at Mesothelioma.net are dedicated to providing those afflicted with this asbestos-related disease with timely information and valuable informational resources.
For more information, contact us today at 1-800-692-8608.