Court Denies Asbestos Company Appeal in Bank Manager's Mesothelioma Lawsuit
Published on July 09, 2018
Page Last Modified: September 22, 2019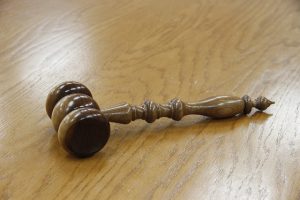 Malignant mesothelioma is a fatal disease that is caused by exposure to asbestos, a mineral that was widely used in the construction industry and in high-heat industrial environments.
Most people think of the rare form of cancer as an occupational disease whose victims are most likely to be construction workers and factory workers. Yet, but a recent mesothelioma lawsuit was filed by a bank management trainee whose mesothelioma diagnosis followed being in the wrong place at the wrong time.
Patrick Rossello was diagnosed with malignant mesothelioma in 2013, nearly 40 years after having been assigned to work at the Union Trust branch in 1974.
During the period that he worked there, the bank building was undergoing construction to add fourth and fifth floors, and he worked on the incomplete fourth floor in an area protected only by plastic sheets.
He recalled having to wipe his desk down constantly and his suits being covered with dust, and recalled that the contractor working with the asbestos-contaminated joint compound was Lloyd E. Mitchell, Inc.(LEM). He filed a mesothelioma lawsuit against the contractor, accusing them of negligence.
Though LEM defended themselves against the mesothelioma lawsuit, arguing that they had not been responsible for his illness, a jury decided in Mr. Rossello's favor, awarding him over $8 million.
The award was later reduced to just over $2 million in recognition of judgments that Mr. Rossello had received from other defendants. Despite that reduction the construction company appealed and tried to have the verdict overturned on a number of technical grounds.
Upon review, the Court of Special appeals of Maryland decided against the construction company, agreeing that the original court judge had acted within her authority in denying some last minute testimony that had arisen questionably close to the court date.
LEM was ordered to provide Mr. Rossello with compensation for his medical expenses, pain and suffering and other damages, as well as for the costs of litigating the appeal that LEM filed.
For many mesothelioma victims, being diagnosed with the disease represents a constant battle for health, for quality of life, and for justice. If you or someone you love has been diagnosed with this rare and fatal form of cancer and you need assistance, contact the Patient Advocates at Mesothelioma.net at 1-800-692-8608.