Study Shows the Right Mesothelioma Surgery is the One the Patient Can Best Tolerate
Published on August 10, 2022
Not every patient diagnosed with malignant pleural mesothelioma is eligible for surgery, but those who are surgical candidates face a significant dilemma. Should they opt for extrapleural pneumonectomy, an aggressive surgery that removes the pleural membrane, the most affected lung, and all evidence of cancer? Or should they choose the less invasive pleurectomy and decortication procedure, which has far fewer side effects but only removes the cancerous membrane? A new study out of MD Anderson Cancer Center may have the answer.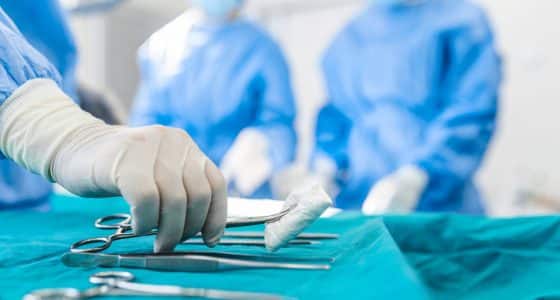 Controversy Over Best Mesothelioma Surgery Persists
Mesothelioma is a complex and frightening disease, and most patients asked about surgical preference will defer to medical expertise. But there is no consensus among mesothelioma surgeons as to which surgery provides the best outcomes. Doctors have their preferences, and cancer centers that do more of one type of surgery will tend to have better results with the procedure with which they're more practiced. That doesn't mean that the surgery is better. 
There is no question that the pleurectomy and decortication (P/D) surgery is easier on patients and that extrapleural pneumonectomy (E/P) carries greater risks. To address the question, a team from MD Anderson identified 282 pleural mesothelioma patients who had undergone the surgeries at their center between 2000 and 2019, 95 of whom had the less invasive surgery and 187 the more aggressive surgery. They then conducted propensity score matching and examined outcomes.
Study Concludes that Surgery Decision Must Be Based On the Individual Mesothelioma Patient
In examining their results, the team found that more mesothelioma patients died post-operatively following extrapleural pneumonectomy than pleurectomy and decortication, but they concluded that several factors come into play when choosing the right procedure for a particular patient. The most important factors are whether the tumors are completely removed, what subtype of mesothelioma a patient has, and whether they had radiation after their procedure.
Commenting on their findings, lead author Dr Nicolas Zhou wrote, "The goal of surgical cytoreduction should be macroscopic complete resection achieved by the safest operation a patient can tolerate," and indicated that what is most important is identifying the right procedure to suit the particular patient. "In a multimodality treatment setting, P/D and EPP had comparable long-term oncological outcomes."
If you or someone you love has been diagnosed with malignant pleural mesothelioma, it is important that you seek care from a cancer center familiar with the latest mesothelioma treatments. For information, contact the Patient Advocates at Mesothelioma.net today at 1-800-692-8608.
FREE Mesothelioma Packet