Mesothelioma.net is now offering qualifying college students the chance to win a $2000 scholarship for detailing their personal experiences either living with cancer or watching a loved one battle cancer. We hope to offer this financial assistance to help one deserving student meet his or her academic goals.
Who Should Apply?
Any student who has lived with and fought against any type of cancer, not limited to mesothelioma, is welcome to apply. We also encourage any students who have watched a family member or close friend go through the experience of fighting cancer.
Free Mesothelioma Packet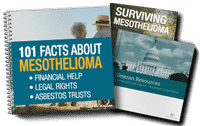 New treatment options
Learn from survivors
Veterans benefits & claims
File for your share of $30 billion in trust funds
We are now accepting applications for the 2020 fall semester with a deadline of August 15, 2020. We will award one scholarship in September 2020.
Students applying for this scholarship must be enrolled at a two-year, four-year, community, or junior college, or in a graduate degree program on a full-time basis. All college students in the United States are eligible, but must be in good academic standing at their institution with a grade point average of 3.0 or higher. Also qualifying are high school and gap-year students planning on attending any of the programs mentioned above.
What to Include in the Application
The main component of your application for this scholarship will be an essay, between 500 and 800 words, detailing your personal experiences with cancer. Tell us your story, how cancer has impacted your life, how you overcame adversity, how it shaped your future and goals, and how it has changed your outlook on life. Please also tell us why this scholarship is important for you.
Please include your name, email address, phone number, and university you attend or plan to attend.
Along with your thoughtful essay, we will also need:

An official letter proving full time enrollment at an appropriate institution

An academic transcript showing good academic standing
Two letters of recommendation that explain why you deserve a scholarship

A brief summary of any honors, awards, or volunteer work
How We Select the Scholarship Recipient
Please email your complete application to [email protected]
We will review each complete application packet and essay and will select the winner of the scholarship based on meeting the requirements and qualities demonstrated by the essay.
We will give the award to the student we feel most exemplifies strength in the face of hardship, a positive outlook on life, and devotion to helping others. We are also looking for the student who meets all these criteria and is dedicated to academics but has a financial need.