The Benefits of Art Therapy for Cancer Patients
Cancer is a physical illness, but it has an emotional impact. Many people living with cancer, going through treatment, and struggling to beat it experience some kind of psychological consequences, from mild anxiety to severe depression. Therapy can be an important way to talk about how it feels to have cancer, to express negative emotions, and to learn coping strategies. Art therapy is particularly useful for expressing emotions that are tough to verbalize. When led by a trained and professional art therapist, the creative process can be a healing process.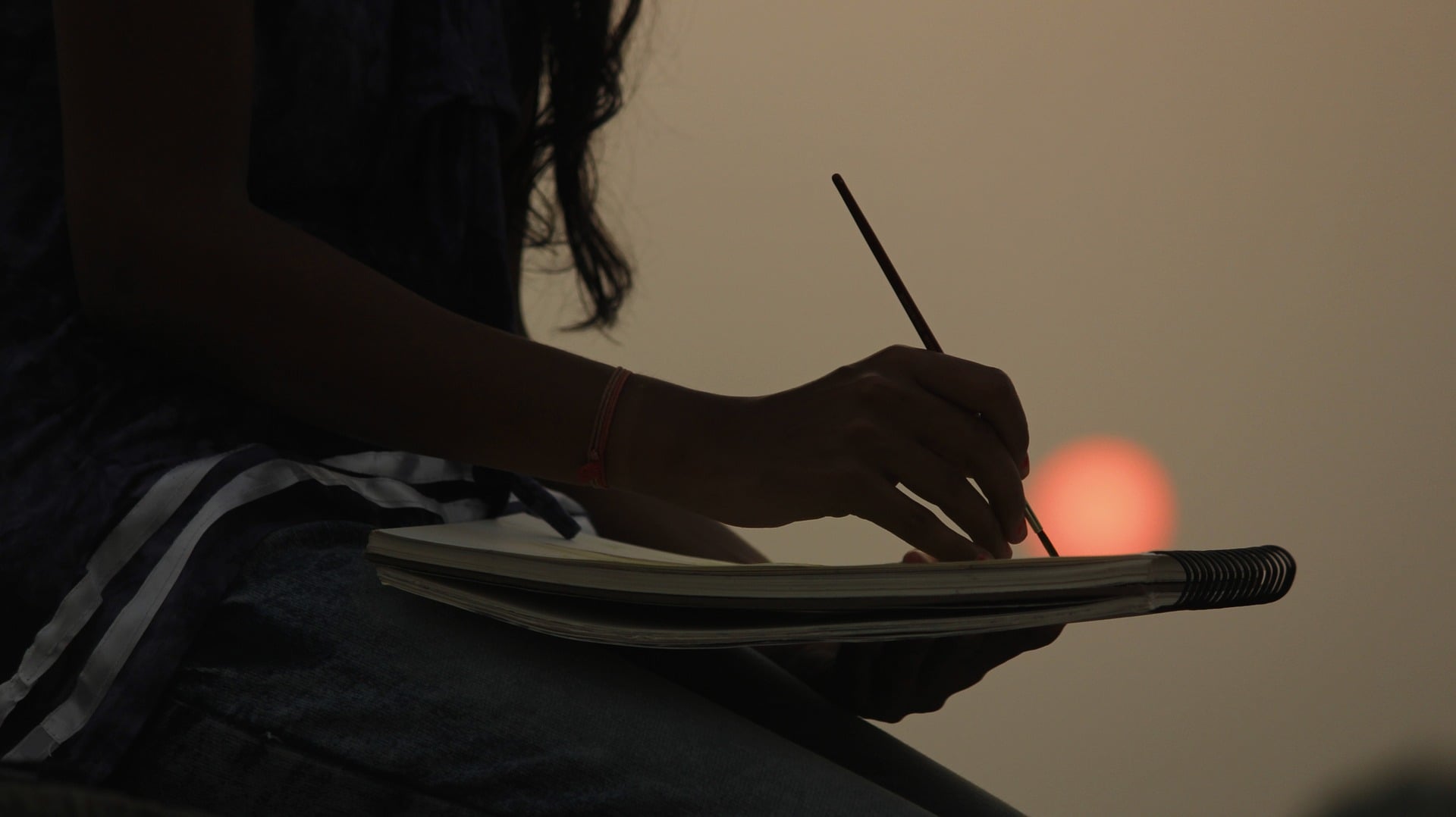 What is Art Therapy?
Art therapy is a type of mental health therapy guided by a therapist specifically trained in using art to help patients heal. The therapist uses art, creativity and the creative process, as well as the art that patients create to help them meet goals. These goals may be increasing self-esteem, managing anxiety, exploring and managing emotions, improving self-awareness, and even managing and changing behaviors and addictions. In general, the goals of art therapy for any patient are well-being and to improve quality of life and to improve overall functioning.
It is not necessary to be good at art to participate in this kind of therapy. Anyone can benefit from using, experiencing, and creating art to communicate and express feelings. Patients may come from all walks of life and have a variety of mental and medical health issues. Art therapy can be used with children, teenagers, adults, and seniors. It may be used as a one-on-one therapy or in group settings.
The Mental Health Consequences of Living with Cancer
Whether it is mesothelioma or another type of cancer, living with, fighting against, and dying from this terrible disease have big impacts on mental health. The psychological repercussions of having cancer include distress, anxiety, fear, and depression. Living with cancer can also lead to anger, lashing out at loved ones, social isolation, and difficulties in relationships.
Experiencing some degree of distress upon the diagnosis of cancer and throughout the fight against the disease and treatment is normal. However, many patients will experience much more severe and persistent emotional distress, even being diagnosed with an anxiety disorder or clinical depression. Even when the distress or fear is mild or normal, it can be disruptive and can significantly reduce quality of life. Some studies have even found that a significant amount of distress in a patient can lead to poorer outcomes from treatment. Art therapy can serve as an alternative treatment to reduce this distress and other negative emotions.
What Happens in Art Therapy
An art therapy session will look a little bit different for each patient. A trained therapist will tailor each session to the individual's needs. In general though, a typical art therapy session includes three parts: before any art is made, the process of actually making art, and then the post-art discussion. Especially for the first meeting between client and patient, the pre-art component is crucial. This allows the therapist to get to know and assess the patient. The therapist will talk to you and ask questions to find out more about you and what you need to get from an art therapy session. In subsequent sessions this period may be shorter but is still useful for the therapist to find out how you are doing and what your current needs are.
The second part is the actual creative process, or the making of a piece or pieces of art. Your therapist may teach you some art techniques, but the most important thing is to simply create something. The amount of guidance will depend on the therapist and patient, but you may be asked to use certain media, to express something specific, or to just create whatever feels right that day. The therapist may observe you as you work, but you are always free to speak up if this makes you uncomfortable. If it does, the therapist may create something alongside you to help you feel more comfortable.
In the third component of the art therapy session, the patient and therapist discuss the completed project. Expect to talk about your feelings, what led you to create what you did, how you felt while making the art and how you feel about it now that it is complete. You may talk about how your mood changed while creating, or if the process helped you discover anything new about your current situation or your battle against cancer, or if you experienced any memories.
Variations on the basic type of session include group therapy, in which everyone creates something and then discusses with the group what it expresses and how they feel. In these sessions each patient is encouraged to share but is never forced. Art therapy can also be done in a family group, allowing everyone to benefit from the creative process while coping with cancer in one of the family members.
Art Therapy is Beneficial for Cancer Patients
Studies have shown that creative endeavors and art therapy can help cancer patients feel better. In one published paper, for instance, researchers at the National Institutes of Health analyzed several studies of art therapy to determine how this kind of therapy affects cancer patients. The studies included over 1,500 participants and the results were clear: art therapy helped these patients reduce depression,anxiety, and even physical pain.
The art therapy sessions also improved general quality of life in most of the patients. The review indicated that the emotional benefits lasted as long as the therapy program but that the impact on pain actually extended well after the therapy had concluded. There are many more specific benefits of art therapy that vary by individual:
Increasing self-awareness
Building self-esteem during a difficult time
Decreasing stress and increasing relaxation
Providing comfort and a sense of camaraderie
Improving communication
Expressing emotions that are difficult to talk about or put into words
Building relationships with others

Color in Art Therapy
Art therapists may also work with patient using colors in a deliberate way to impact and improve mood or induce relaxation. Research has generally found that the ways in which colors affect people is highly individualized or cultural. This means there is not necessarily specific colors that help everyone relax or that boost everyone's mood. However, a good art therapist can use the individual preferences of a patient to work with colors in a way that helps the therapy progress.
An art therapist may also use colors to draw out conversations and emotions with a patient. Using color to represent a mood, a feeling, or a troubling event, for instance, can help a patient express those deeper emotions and challenges. Colors can be used as a starting point for discussing difficult topics between the therapist and patient.
There is also an alternative therapeutic practice based on color called chromotherapy, but there is little to no evidence that it has any positive effects. Chromotherapy involves using light of different colors to heal the body and mind. Because there are not likely to be any negative effects of chromotherapy, it may provide some comfort for those who wish to try.
Using the Creative Process at Home
Art therapy is a wonderful way for cancer patients to benefit from both the creative process and from working with a professional therapist. You can continue the creative process at home. If you do work with a therapist, he or she can give you guidance for projects to do at home, either by yourself or with family. Even if you don't work with an art therapist you can benefit from creativity by working on art and other projects on your own. Try keeping a journal, for instance, writing about your experiences and how you feel. You can also use any kind of art supplies, like pencils, paints, or even collage, to create something if it helps you express yourself and relaxes you.
Art therapy can be a powerful tool for healing from trauma and psychological disorders, but it also helps cancer patients cope with negative emotions. If you are living with mesothelioma or another type of cancer, talk to your medical team about therapy options. A creative type of therapy can be a great way to help you express your feelings and learn healthy ways to cope.
Page Edited by
Dave Foster
Get Your FREE Resources Sent Overnight
New treatment options
Veterans benefits & claims
$30 Billion asbestos trust fund information
For over 20 years we've provided the best FREE resources to mesothelioma patients and loved ones. Our resources include information on the leading treatment options and best doctors in your area; lessons learned from survivors; claims and benefits specifically for Veterans; and how to access your share of billions of dollars in trust fund money.
Get Your FREE Resources Sent Overnight
New Treatment Options
Veteran's Benefits & Claims
$30 Billion Asbestos Trust Fund Information