The Benefits of Pilates for Mesothelioma Patients
Pilates is a gentle but challenging type of exercise that is guided by a trained instructor and that focuses on building core strength, balancing muscles, and improving posture. There are numerous well-known benefits of practicing Pilates, but there is also evidence that this is a good type of exercise for mesothelioma and other cancer patients.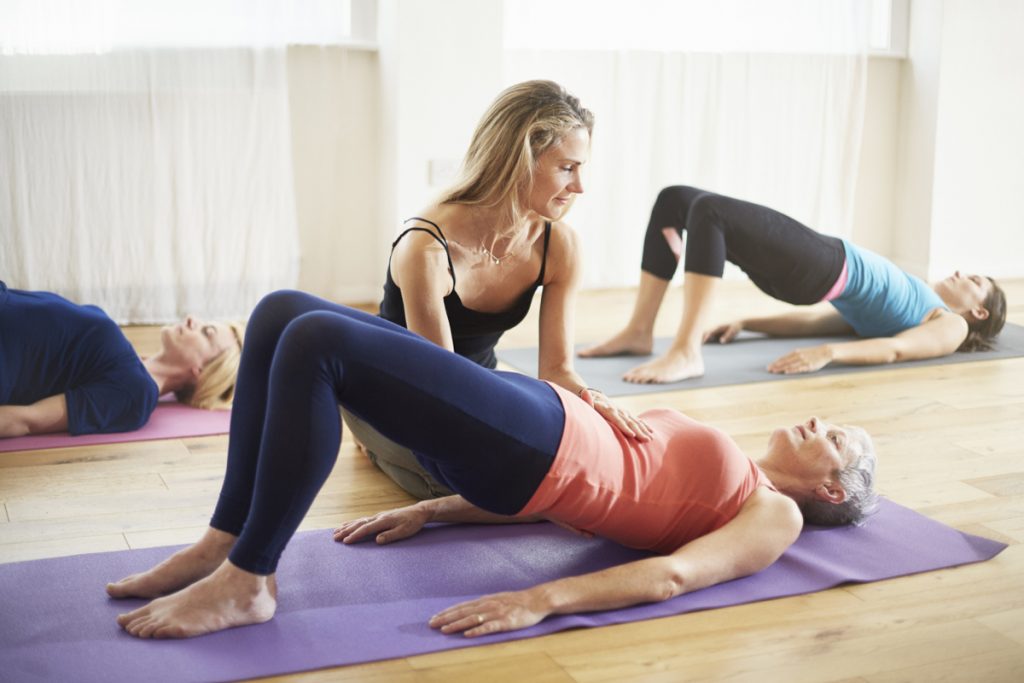 Pilates can be modified for patients or performed with less intensity to help patients regain strength. It can also help combat treatment side effects, boost mood and self-esteem, and reduce fatigue. There are many good reasons to try Pilates, but there may be one or more reasons to avoid it. Make sure you check with your medical team before starting this or any other type of new exercise program.
What is Pilates?
Pilates is a fitness method that was developed by Joseph Pilates in the 1920s. The exercise regime's namesake developed it to be a low-impact workout that would focus on increasing flexibility, strength, and endurance. He designed the method for injured dancers as a way to help them recover safely and return to dance. Pilates emphasizes development of core strength, good posture and spinal alignment, and symmetry and balance in muscle strength.
Pilates looks deceptively easy and simple. Most of the movements are static and require deep concentration and endurance, holding one position for an extended period of time. And yet Pilates does not work muscles to the point of exhaustion. It is a gentle type of exercise. Many moves can be done with no equipment, but others require Pilates machines, which many gyms are equipped with. You should have guidance with this type of exercise until proper form is developed.
The Health Benefits of Pilates
The benefits of regular Pilates practice have been outlined and studied and apply to everyone in general. People who are living with cancer as well as healthy people can get these benefits. The primary benefit is that Pilates is a type of exercise, and any exercise or physical activity is beneficial for health and overall well-being. Some of the physical fitness benefits of Pilates include:
Increased flexibility.
Increased muscle strength, especially in the core.
Improved muscle balance.
Improved posture.
Greater spine stabilization.
Improved muscle control.
Increased balance and coordination.
There are other benefits of Pilates as well, and these are benefits that come either directly or indirectly from the exercises used in this method. For instance, the specific strengthening of the core muscles of the body help to improve posture and spinal alignment, which in turn reduce back pain. Some of the other proven benefits of regularly practicing Pilates are:
Prevention of injuries.
Safe and gentle recovery from injuries.
Better performance in physical activities, including athletic activities.
Reduce pain.
Relaxation and stress reduction.
Benefits for Cancer Patients
Anyone can get the benefits from practicing Pilates, including cancer patients. While there was once a time when experts encouraged cancer patients to do nothing but rest, now it is recommended that they get some amount of physical activity. Pilates is a great choice because it can be scaled up or down for intensity and difficulty, it is gentle on the body and not too strenuous for the cardiovascular system and it is low-impact. These are some of the important cancer-specific benefits:
Improved quality of life. In a study of cancer patients who went through treatment, the women involved who participated in Pilates reported higher quality of life scores than those who did not. This may be from improved fitness, social opportunities, reduced pain, a sense of control over the body, and other factors.
Reducing treatment side effects. Side effects from chemotherapy and other treatments can be very uncomfortable, but exercise of any type has been proven to reduce these, including fatigue and loss of appetite.
Reducing pain. Exercise for cancer patients has been shown to reduce neuropathy, serious nerve pain that can be debilitating. Pilates has been shown to help manage pain, especially in the back and in joints.
Boosting mood. Living with cancer can trigger understandable feelings of depression, anxiety, stress, and fear. Many cancer patients struggle with depression that is hard to shake. Exercise, including Pilates is known to be a natural mood booster, and when taken in a class setting provides a social support system, which can also improve mood.
Improving energy. Another important benefit of any type of exercise is reducing fatigue. This is a benefit for all types of people, but for cancer patients who really struggle with lack of energy it can be a major boost that impacts all other areas of life.
When Not to Try Pilates
Always talk to your doctors first, but most people can do Pilates safely.  A few reasons you may not be a good candidate for this workout is if you have a risk of developing blood clots. If you have certain other conditions, like a herniated disk or other spinal problems, if you have severe osteoporosis, or if you have unstable blood pressure, you can still benefit from Pilates, but you will need to work with an experienced instructor who can make modifications to keep you safe. There may be additional reasons that your medical team can explain why you should not do Pilates, so always check before beginning any type of new exercise program.
How to Try Pilates as a Cancer Patient
Again, if you want to try Pilates, check with your doctors first. But, if you are told that it is safe to try, make sure you work with a trained and certified instructor. Also look for a Pilates instructor who has experience working with cancer patients, special needs patients, or any people with physical limitations. If you can find someone who has worked with cancer patients before, that is ideal. In fact, you may want to look to your medical center for an instructor or class that is designed just for patients. Talk to your instructor before starting to be sure he or she knows what your limitations are and can keep you safe.
Pilates is a great way to get a good workout without putting a lot of impact or stress on the joints or body. This makes it a nearly ideal type of exercise for cancer patients. With so many benefits, it makes sense for any patient who is up to exercise to give it a try. Just be sure to find the right instructor and to keep your medical team in the loop about your changing exercise routines.
Page Edited by
Dave Foster
Get Your FREE Resources Sent Overnight
New treatment options
Veterans benefits & claims
$30 Billion asbestos trust fund information
For over 20 years we've provided the best FREE resources to mesothelioma patients and loved ones. Our resources include information on the leading treatment options and best doctors in your area; lessons learned from survivors; claims and benefits specifically for Veterans; and how to access your share of billions of dollars in trust fund money.
Get Your FREE Resources Sent Overnight
New Treatment Options
Veteran's Benefits & Claims
$30 Billion Asbestos Trust Fund Information