This page has been fact checked by an experienced mesothelioma Patient Advocate. Sources of information are listed at the bottom of the article.
We make every attempt to keep our information accurate and up-to-date.
Please Contact Us with any questions or comments.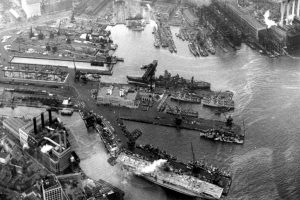 New York's Brooklyn Navy Yard made and repaired numerous vessels over many decades. Although it was one of the largest and most productive shipyards on the East Coast, the shipyard's use of asbestos exposed many workers and put them at risk of developing serious illnesses.
Brooklyn Navy Yard History
Established in 1801, Brooklyn Navy Yard started out making wooden vessels for the Navy but eventually began producing steel ships after the Civil War. When World War II started, 70,000 people worked at the shipyard.[1] It had expanded to cover more than 356 acres by that time.[2]
The first U.S. steamship, called The Fulton, was built at the shipyard, as well as the "Tennessee" naval vessel; furthermore, the Brooklyn Navy Yard built the USS Connecticut, which served as President Theodore Roosevelt's "flagship of the Great White Fleet," according to the shipyard's official site.[1]
Among numerous other vessels, the Brooklyn Navy Yard produced "three battleships, two floating workshops, eight tank landing ships, five aircraft carriers [and] countless barges and lighters," according to a report by the National Park Service.[2]
Along with six dry docks, Brooklyn Navy Yard also housed the Brooklyn Navy Hospital until 1948. It also had a large living facility known as Admiral's Row, where officers lived.
Production at the shipyard sharply dropped after World War II but picked up again, albeit temporarily, when the Korean War started. Around this time, the shipyard began retrofitting aircraft carriers, such as the USS Antietam. The Antietam was the nation's first angled-deck aircraft carrier, according to the U.S. Navy.[3]
As time went on and newer vessels were built by other, more technologically advanced shipyards, workflow slowed significantly at the Brooklyn Navy Yard. The newer ships were so big that many could not pass under the Manhattan and Brooklyn Bridges and could not get to the shipyard.
When the Yard closed in 1966, it employed more than 9,000 people. It was the longest, continuously operating industrial plant in New York state.[1]
How Was Asbestos Used at Brooklyn Navy Yard?
Although Brooklyn Navy Yard had already started using asbestos before the war, during World War II, asbestos use reached its peak. The shipyard used many products with asbestos, such as:[4]
Machinery and equipment
Gaskets
Valves
Packing
Boilers
Fireproof materials
Construction components
Protective clothing
Insulation
Who Was Exposed to Asbestos at Brooklyn Navy Yard?
Insulation installers and boiler workers were at the highest risk of developing an asbestos illness, like mesothelioma. Many other workers were also at risk since asbestos was used in more than nineteen trades at the shipyard, putting thousands of workers in danger.
In addition to insulators and boiler workers, some of the roles that put workers at the highest risk for asbestos exposure included:
Pipefitters
Welders
Electricians
Plumbers
Machine operators
Repair workers
Demolition workers
Ironworkers
Laborers
Attempts to Protect Brooklyn Navy Yard Workers from Asbestos
In 1938, the U.S. Public Health Service issued a list of recommendations to help keep workers safe, such as limiting asbestos in the air.[5] Workers were also provided goggles and other safety gear and had plenty of water to wash off dust and asbestos.
However, it wasn't enough to stop asbestos fibers from damaging many people. Day after day, thousands of workers were exposed to harmful asbestos. They unknowingly inhaled or swallowed microscopic, colorless asbestos fibers.
Once asbestos fibers are lodged in the body, it's impossible to get rid of them all. Diseases such as mesothelioma and asbestos-related lung cancer can follow decades later.
Legal Actions Over Asbestos at Brooklyn Navy Yard
Many workers and Navy veterans exposed to asbestos at Brooklyn Navy Yard and who got sick decades later have taken legal action. While they cannot sue the Navy, these victims can hold accountable the asbestos companies that supplied the Yard.
Hundreds of Brooklyn Navy Yard Asbestos Cases Settled
In 1990, judges in New York were able to help settle about 200 asbestos cases related to exposure at the Brooklyn Navy Yard. The goal was to prevent the cases from going to costly and lengthy trials while also ensuring victims would be compensated.[6]
$22 Million Asbestos Lawsuit Verdict
On November 5, 2004, the New York State Supreme Court upheld a $22 million asbestos verdict on behalf of two former Brooklyn Navy Yard workers, Bernard Mayer and Noah Pride, whose administrator, Margaret Marshall, acted on his behalf when he passed away.[7]
Mayer worked at the shipyard from 1943 until 1945 and developed an asbestos illness after working as an apprentice electrician with John Crane products. John Crane was one of the manufacturers that shipped asbestos-containing products to the shipyard; therefore, it was named in the lawsuit.
Pride was also exposed to asbestos via John Crane products. He worked as a seaman in the Navy and Merchant Marines for numerous decades. Years later, he was diagnosed with mesothelioma.
John Crane's lawyers tried to overturn the $22 million verdict during post-trial motions but ultimately failed.
How to Take Legal Action After Brooklyn Navy Yard Asbestos Exposure
If you have a diagnosis of an asbestos illness and worked at Brooklyn Navy Yard, you could be eligible for compensation. An asbestos law firm can discuss your options and determine which companies were responsible for your exposure.
One option might be to file a lawsuit against companies that supplied asbestos to the Yard. Another option is to file a claim for compensation with an established asbestos trust fund.
Brooklyn Navy Yard Closes, Then Reopens
Brooklyn Navy Yard closed down in 1966 but opened again a few years later after receiving $10 million from the government to help convert it into an industrial park.[1]
Today, around 200 businesses operate at the shipyard, including Brooklyn Grange Rooftop Farms and Steiner Studios. The former shipyard also has a museum dedicated to Brooklyn Navy Yard's history as a vessel builder and repair business.[1]
If you or a loved one worked at Brooklyn Navy Yard and now have mesothelioma, contact a lawyer to help you get justice.
Get Your FREE Mesothelioma Packet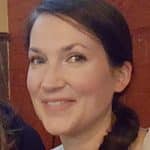 Mary Ellen Ellis has been the head writer for Mesothelioma.net since 2016. With hundreds of mesothelioma and asbestos articles to her credit, she is one of the most experienced writers on these topics. Her degrees and background in science and education help her explain complicated medical topics for a wider audience. Mary Ellen takes pride in providing her readers with the critical information they need following a diagnosis of an asbestos-related illness.
Get Your FREE Mesothelioma Packet
Page Edited by Patient Advocate Dave Foster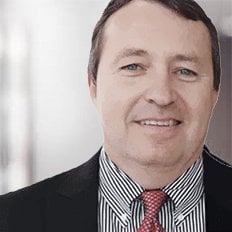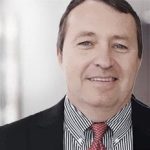 Dave has been a mesothelioma Patient Advocate for over 10 years. He consistently attends all major national and international mesothelioma meetings. In doing so, he is able to stay on top of the latest treatments, clinical trials, and research results. He also personally meets with mesothelioma patients and their families and connects them with the best medical specialists and legal representatives available.