Chiropractic Care for Mesothelioma Patients
Chiropractic care is a type of complementary and alternative medicine that treats the musculoskeletal system through physical manipulation and without the use of drugs or surgery. Many people with various complaints turn to chiropractors for relief, most often from back or neck pain. All kinds of patients can benefit from chiropractic adjustments, including mesothelioma patients. While chiropractic care cannot be a stand-alone treatment for cancer, it can provide relief from symptoms and a better quality of life.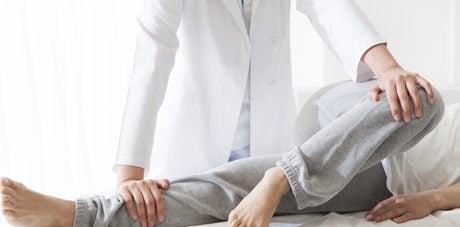 What is Chiropractic Care?
A chiropractor is someone who has special training in examining, diagnosing, and treating patients for complaints related to the musculoskeletal system. These health care professionals advocate for treatment of symptoms without using surgery or drugs. Instead, they use physical manipulation of the body. The most common type of treatment that chiropractors perform is spinal manipulation. This involves applying controlled forces to the spine to make joints more mobile, to realign the spine, and to reduce pain and increase mobility.
What Chiropractic Treats
Chiropractors focus on the musculoskeletal system, but that does not limit what they treat. The manipulation of joints, bones, and muscles, can have far-reaching effects on the body. Some of the most common things that chiropractic practitioners treat include lower back pain, neck pain, and headaches. They also treat digestion issues, pain associated with pregnancy, and even high blood pressure.
Benefits for Mesothelioma Patients
Most cancer patients, including those being treated for mesothelioma, experience uncomfortable symptoms and side effects. Some of these are caused by the cancer, while others are a result of treatments being used to fight the cancer. Pain, stress, tension, impaired mobility, and headaches are all possible consequences of living with mesothelioma, and these symptoms can degrade quality of life. There are several ways in which chiropractic care can bring relief and give patients a better quality of life:
Reduce pain. Chiropractic care is well known for being effective at relieving pain. Mesothelioma patients may experience a variety of types of pain, and while chiropractic adjustments may not treat all of them, they can relieve pain associated with the back, neck, and headaches.
Improve mobility. For someone in great pain, mobility naturally becomes an issue. If moving causes pain or worsens pain, then a patient can become immobile and unable to participate in many activities. By reducing pain through chiropractic care, a cancer patient can regain some of that mobility.
Battle nausea and indigestion. Chiropractic care has been shown to affect the nervous system, which in turn impacts the digestive tract. Getting good chiropractic care can fight the side effects of chemotherapy that make patients feel nauseated, reduce appetite, and cause indigestion.
Improve nutrition. Many chiropractors are trained in counseling patients on healthy lifestyle habits, including nutrition. Mesothelioma patients may struggle to get adequate nutrition and regular visits with a chiropractor can help.
Fight stress and anxiety. Chiropractic adjustments can help patients reduce tension in the neck and spine, which in turn helps them feel more relaxed. This is a great way to reduce the stress and anxiety that comes with being a cancer patient.
Use fewer pain medications. One study into the use of chiropractic care for cancer patients found that the reduction of pain was significant enough to reduce the use of narcotic painkillers. These painkillers cause their own side effects and are habit-forming, so being able to reduce their use is beneficial in multiple ways.
Improve quality of life. For many mesothelioma patients, pain has become a way of life. Any treatment that can reduce that pain naturally improves quality of life. Studies have shown chiropractic care raised the overall quality of life and enjoyment of life in real cancer patients.
Therapeutic Massage
Chiropractors often work with licensed massage therapists, sometimes in the same office as a professional partnership. The two treatments go hand-in-hand: while the chiropractor manipulates joints and bones, the massage therapist manipulates muscles. Therapeutic massage has a lot of similar benefits to chiropractic care, for all kinds of people, not just cancer patients, including pain relief.
Research has shown that specialized massage for cancer patients can improve the quality of life for these patients in several ways: Massage reduces pain, relieves anxiety and stress, improves the quality of sleep, fights fatigue, improves digestion and reduces nausea, and may even improve the function of the immune system. Together with chiropractic care, therapeutic massage can be a great tool for mesothelioma patients looking for a better quality of life.
Paying for Chiropractic Care
Chiropractic medicine is considered a legitimate form of health care and is most often covered under health insurance plans. If you have health insurance, check with your plan to see if this kind of care is included. It may be necessary to get a referral from your primary doctor in order to get an appointment with a chiropractor that is covered under your plan. Your doctor's recommendation helps to show that the care is medically necessary.
Chiropractic care has many benefits for patients with mesothelioma. If you are interested in trying it, start with talking to your doctor and oncologist. They can recommend a trained professional, someone with experience working with cancer patients. This kind of care should never be a substitute for medical treatment, but as a complementary treatment it can make a huge impact on quality of life.
Page edited by Dave Foster
Dave has been a mesothelioma Patient Advocate for over 10 years. He consistently attends all major national and international mesothelioma meetings. In doing so, he is able to stay on top of the latest treatments, clinical trials, and research results. He also personally meets with mesothelioma patients and their families and connects them with the best medical specialists and legal representatives available.
Get Your FREE Resources Sent Overnight
New treatment options
Veterans benefits & claims
$30 Billion asbestos trust fund information
For over 15 years, we've provided the best FREE resources to mesothelioma patients and loved ones. Our resources include information on the leading treatment options and best doctors in your area; lessons learned from survivors; claims and benefits specifically for Veterans; and how to access your share of billions of dollars in trust fund money.
Get Your FREE Resources Sent Overnight
New Treatment Options
Veteran's Benefits & Claims
$30 Billion Asbestos Trust Fund Information