Depression and Mesothelioma
People who suffer from mesothelioma, as well as their loved ones, face a higher risk of depression. Depression is more serious than simple sadness. As a medical condition, depression must be diagnosed and treated by a professional. Depression affects nearly one quarter of cancer patients. A perfectly reasonable response to fear following diagnosis, mesothelioma patients may suffer from symptoms of depression. Fear of death, the stress of making critical decisions, financial crisis, and even changes in body image following surgery can cause a feeling of grief. Depression can even interfere with eating or sleeping and cause overwhelming worry.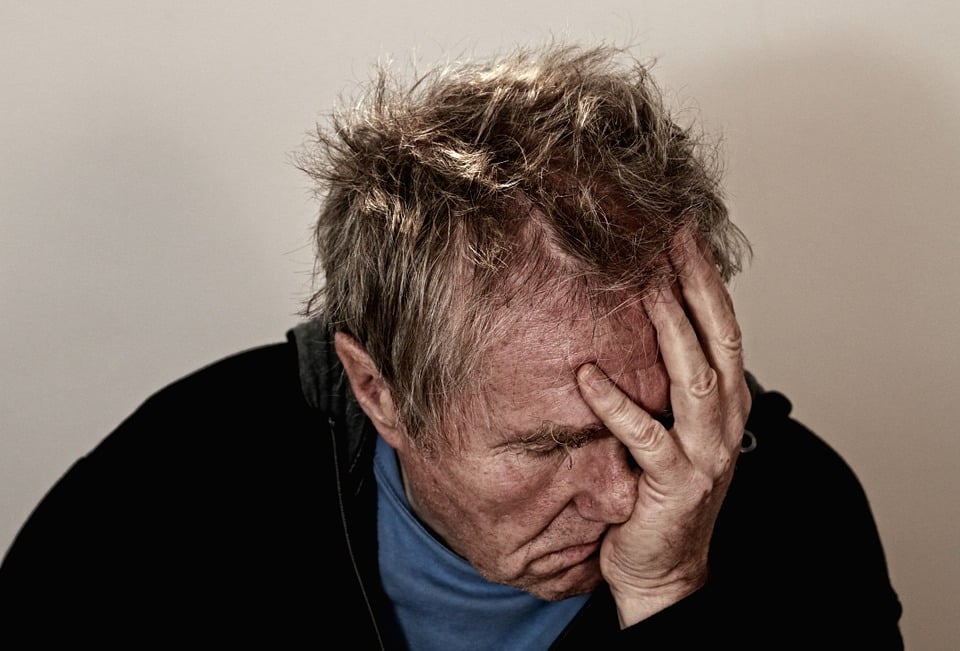 What is Depression?
Depression, or major depressive disorder, is a mental health condition characterized by persistent feelings of sadness, hopelessness, and a lack of interest in life. Everyone feels sad from time to time. However, most individuals recover from these feelings without professional help. Even under the stress of a cancer diagnosis, many people recover quickly from non-clinical depression. Clinical or major depression, however, does not pass quickly.
When feelings of depression persist for weeks or months, or when they interfere with life, it is likely to be major depressive disorder. A mental health professional can diagnose depression and offer treatment options. Mesothelioma patients who suffer with depression often work with therapists or psychologists who coordinate with their cancer care team.
Patient Risk Factors for Depression
Certain mesothelioma patients are at a high risk for depression. Depression prior to diagnosis, pain, being diagnosed at an advanced stage, and weakness caused by cancer are factors increasing the risk of depression. A family history of depression, alcoholism, or drug abuse also increase your risk, as do some prescription medications taken as part of your treatment. Therefore, it is important to discuss our feelings with your doctor. Mesothelioma doctors know the side effects of medicines and treatments, and are willing to help with more than just your cancer.
A patient's anxiety and depression usually arises from concerns about the illness, its symptoms, concern for loved ones, and overall belief about death. Patients often do not want to burden loved ones. They may also worry about what will happen to them after they die. Other patients may find themselves feeling depressed if they do not have a strong support system.
Caregivers and family members of mesothelioma patients also have a high risk of depression. Therefore, it is critical for everybody within a patient's circle to understand the symptoms of depression.
Signs of Depression
Depression that requires treatment is more than a short-term feeling of sadness. Depression is persistent, making it impossible to simply cheer up or get over it. Someone with depression may not even realize they are suffering from it. As a cancer patient, or the loved one of someone diagnosed with mesothelioma, it is important to understand the signs of depression. You should talk to your doctor if you notice them:
Loss of interest in normal activities
Feelings of sadness, hopelessness, guilt, emptiness, and worthlessness
Changes in appetite or weight, either eating more or less and gaining or losing weight
Changes in sleeping patterns
Lack of energy
Irritability, frustration, or angry outbursts
Difficulty thinking, concentrating, or remembering things
Suicidal thoughts
Anxiety or agitation
Physical pain that cannot be explained, such as headaches or backaches
Treating Depression
Antidepressant medications are the most effective treatment for depression and are usually prescribed by a doctor. Your mesothelioma physician will know which medications will work in combination with your treatment and won't interfere with other medications you may be taking. Though antidepressants usually take a few weeks to take effect, many find relief more quickly.
Keep in mind these medications vary in effectiveness for different people. Your doctor may need to adjust dosage or prescribe another before finding the one that restores your state of mind. Make sure that your physician is aware of any side effects you experience. Do not stop taking a drug without consulting your doctor, even if you don't like the way it makes you feel. A lower dosage or a substitute drug may offer relief.
Therapy
Mesothelioma patients have limited time. Waiting weeks for a medication to work is not always practical. There are also effective therapies that can help someone with depression. Cognitive behavioral therapy is a common technique therapists use to help patients recognize and change patterns of negative thinking. This and other types of psychotherapy help patients struggling with depression learn to cope with their illness.
How Mesothelioma May Trigger Depression
Being diagnosed with mesothelioma can trigger depression for a number of reasons. The most obvious is facing death and coming to terms with a terminal illness.
As cancer progresses, other aspects of mesothelioma can trigger depression. Pain, inability to work, changing relationships, and change in physical appearance can all trigger persistent feelings of sadness.
As a patient with mesothelioma reaches the end of life, when the cancer has advanced and the patient is forced to make important decisions about death and dying, they experience deep depression.  Coping with the emotional and physical pain associated with the end of life is difficult.
The Importance of Social Support
For anyone with depression, strong social support is vital. Having people who love and care for you will help with feelings of hopelessness. However, social support is not enough to treat depression by itself. You still may need medical help to deal with depression.
Good social support can actually prevent depression in mesothelioma patients. A strong support network helps patients cope with their illness. Therefore, patients should consider joining a cancer support group.
Depression in Caregivers and Family
When someone is diagnosed with mesothelioma, many people suffer. It is not just the patient who is vulnerable to depression. A cancer diagnosis strikes a terrible blow to the entire family. The risk is greater for family members caring directly for the patient. The burden of care can take a huge toll on mental health.
Depression is a serious mental health condition and should not be taken lightly. Cancer patients and their families should know the signs of depression. Supporting one another and seeking professional support as needed is the best way to overcome depression.
Page Edited by
Dave Foster
Get Your FREE Resources Sent Overnight
New treatment options
Veterans benefits & claims
$30 Billion asbestos trust fund information
For over 20 years we've provided the best FREE resources to mesothelioma patients and loved ones. Our resources include information on the leading treatment options and best doctors in your area; lessons learned from survivors; claims and benefits specifically for Veterans; and how to access your share of billions of dollars in trust fund money.
Get Your FREE Resources Sent Overnight
New Treatment Options
Veteran's Benefits & Claims
$30 Billion Asbestos Trust Fund Information