Drama Therapy for Cancer Patients
People living with cancer can benefit greatly from drama therapy. Both patients with cancer and those recovering from the illness may suffer from physical pain or emotions like depression, fear, anxiety, and social isolation. Trained drama therapists work with these patients, addressing individual goals and improving overall wellness.
Drama therapy commonly uses role playing, games, and improvisation to reduce pain and anxiety. Participants also benefit from social interaction and an increased feeling of control. If you are interested in drama therapy, find a trained and licensed drama therapist experienced in working with cancer patients.
What is Drama Therapy?
Drama therapy is a therapeutic strategy that uses theater, storytelling, role playing, drama, comedy and play to facilitate healing and overall wellness. This unique therapy approach can also help patients meet specific goals, particularly for mental health. Drama therapy is led by a trained therapist who has studied theater and drama. Useful for individuals, drama therapy is most often done in a group setting, including hospitals, prisons, mental health facilities, and schools.
A drama therapy session can take many forms depending on the participants and their goals. It is often active, requiring the participant to move and engage. Though most particpants will act in some way, no talent or previous acting experience is necessary.
Why Drama Therapy for Cancer Patients?
Patients living with mesothelioma can benefit from a range of alternative therapies. Patients in treatment, as well as those in recovery, often struggle with overwhelming emotions, like fear and anxiety. They also may suffer side effects like pain and fatigue from the cancer and treatment. All of this means cancer patient can easily feel socially isolated.
These emotional issues can be addressed through various types of therapy, including drama therapy. Patients may choose drama therapy for several reasons. First, drama therapy is an activity that can help a patient move and get some gentle exercise. Drama therapy is also usually performed in a group setting, allowing patients to socialize with others. Another benefit is the sense of escape from pain and anxiety a drama therapy session can provide for a patient.
Creative Expression Improves Mental Health
Drama therapy can boost the mental health of cancer patients. Cancer may be a physical illness, but it has a huge impact on mental and emotional health, often triggering depression, fear, and anxiety. Most cancer patients struggle with the loss of power or control over their bodies and health. Drama therapy can help restore that sense of control, allowing patients to become more active participants in their own healing.
It is typical for cancer patients to experience both pain and anxiety. Also, there is a link between anxiety and increased pain levels. Drama therapy has proven to improve both. Research reveals that anxiety is significantly reduced in drama therapy participants when compared to control groups.
Drama therapy is also good for overall emotional wellness. It lets patients express difficult emotions in indirect ways that are easier to approach. This can be powerful for emotional wellness and healing and is often easier than talking directly about emotions and personal challenges.
Theater as Therapeutic Play
Therapy is often approached as something very serious. However, drama therapy can be playful and fun, providing participants with benefits they won't get from standard therapy. In drama therapy sessions, there is often room for play, which has been proven to help individuals be more flexible in their thinking. Play also helps people connect with one another and enjoy life more.
Reducing Stress before Procedures
Drama therapy may help patients psychologically prepare for treatments and procedures, especially those that are frightening or stressful. A study of children with cancer split participants into two groups. The first group included patients who participated in drama therapy. The second group was comprised of individuals who did not. The children who participated in drama therapy had lower blood pressure, heart rate, and other indicators of fear or stress before their cancer procedures.
While this study was conducted with children, there is reason to believe it can be extrapolated to adults undergoing surgery or other therapies. Specific drama therapy may reduce fear and anxiety, helping the patient psychologically prepare for what is about to happen.
Drama Therapy in Support Groups
Social support is a powerful tool for wellness. However, patients living with or recovering from cancer support can seriously benefit from a support group. Simply sitting with a group of people who know what you are going through is helpful. Some researchers have added drama therapy to cancer support groups, making them even more productive.
A support group for cancer patients is a great vehicle for drama therapy. However, drama therapy works best when guided by a trained therapist.One study found drama therapy in this setting helped participants gain insight into their cancer struggles, learn new ways to cope with challenges, and find expression and validation for feelings and experiences. The study also found the approach was useful for participants because it was flexible and allowed a safe space for exploring and expressing emotions.
Drama therapy is a great tool for people living with mesothelioma and other types of cancer. It is important to find a trained and experienced drama therapist to ensure a positive experience. You can expect to find a safe way to express your feelings, be distracted from your pain, and engage with others. Drama therapy can also teach healthy ways to cope with your cancer, as well as a number of other benefits.
Page Edited by
Dave Foster
FREE Mesothelioma Packet
New treatment options
Veterans benefits & claims
$30 Billion asbestos trust fund information
For over 20 years we've provided the best FREE resources to mesothelioma patients and loved ones. Our resources include information on the leading treatment options and best doctors in your area; lessons learned from survivors; claims and benefits specifically for Veterans; and how to access your share of billions of dollars in trust fund money.
Get Your FREE Resources Sent Overnight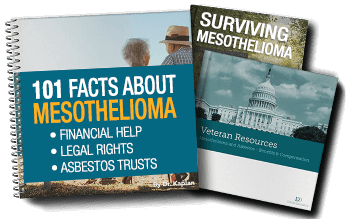 New Treatment Options
Veteran's Benefits & Claims
$30 Billion Asbestos Trust Fund Information