Fashion and Feeling Good about Your Body after Chemotherapy
Being treated for mesothelioma and other types of cancer is draining and tiring. It will sap your energy and leave you struggling to do the things you normally do, like putting on makeup, picking out clothes, or doing your hair. Your body changes during cancer treatment, especially after chemotherapy, and that means that you look and feel different.
Chemotherapy often causes hair loss, and that can be one of the biggest side effects that women and men grapple with during and after treatment, but it isn't the only one. It can be difficult to take back control of your appearance and how you feel about yourself, but with fashion, self-expression, and products designed specifically for cancer patients, you can do it.
How Chemotherapy Changes Your Body
Chemotherapy can be a life-saving treatment. It can shrink tumors and slow their growth, slowing or stopping the progression of cancer. Even when it is not curative, chemotherapy can extend a patient's survival time. For mesothelioma, most patients can expect to see at least some benefit and extended life from undergoing chemotherapy treatments.
While it helps in so many ways, chemotherapy is also damaging to the body. The drugs used are toxic to all cells that grow and divide rapidly, which includes cancer cells and many types of healthy cells. This is why the treatment can cause so many side effects like hair loss. In addition to hair loss, chemotherapy may cause other changes to appearance, like weight gain or weight loss, changes in skin color, rashes, peeling skin on the hands or feet, and nail damage and discoloration.
Wigs and Scarves for Hair Loss
For many women, and men as well, losing hair is the most shocking effect of chemotherapy and one of the most difficult changes to cope with in terms of how they feel about their new bodies. A great way to cope with hair loss is to embrace it as a chance to play with fashion and styling. High-quality wigs are available, as are many different scarves, which can be styled in a variety of ways. Choosing a new hairstyle, styling wigs, using multiple wigs, and using scarves can all help you take back control of your appearance after cancer treatment has left you feeling unlike yourself.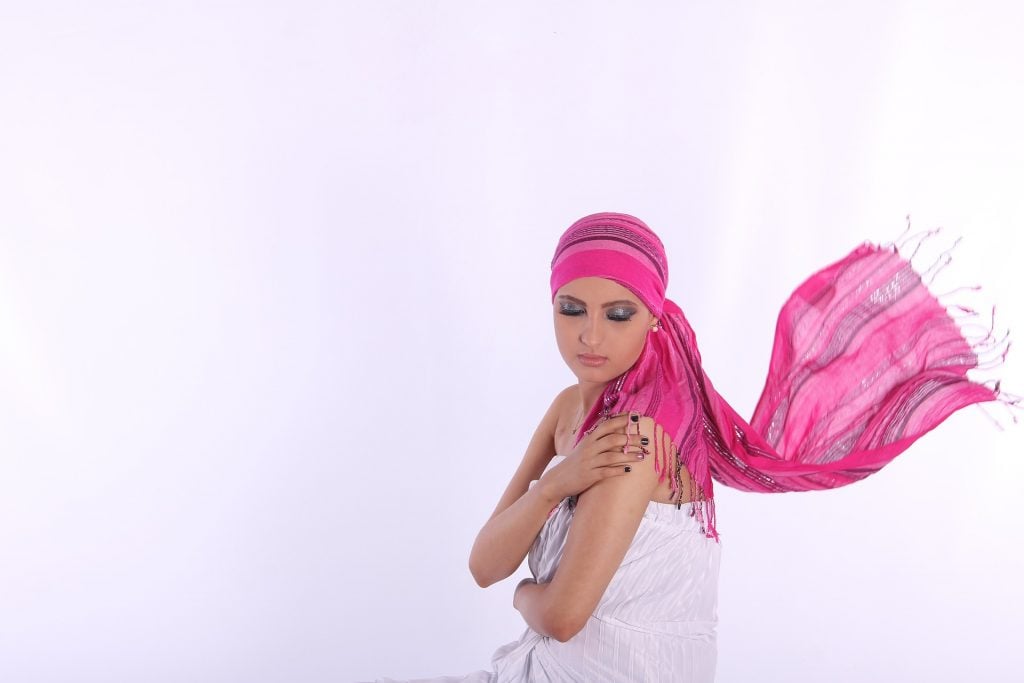 Most insurance plans will cover the cost of one wig, but it can be fun to have more than one and to change up your appearance. Women who have gone through chemotherapy often donate their wigs so that other women can get them for free. Support groups may also have wig exchanges, sharing and enjoying the camaraderie with other women. The American Cancer Society has a program through which men and women can get one free scarf or wig.
For scarves, hats, and other types of head coverings, the options are nearly unlimited. You can find what you need through any company that sells hats and scarves, but there are also brands that are designed just for cancer patients. These companies provide attractive coverings, a wide variety, and coverings that are comfortable and soft to avoid irritating sensitive skin. They also often provide products for men, who are often left out of the hair loss discussion.
Beauty Tips for Cancer Patients
Hair loss isn't the only challenge patient face during and after chemotherapy. In addition to hair loss on the head, people also lose their eyebrows and eyelashes, and there are the nail and skin changes. For eyebrows, a professional makeup artist can teach you how to draw them in with a good eyebrow makeup kit. For nails, some women like to use nail polish to cover up damage and discoloration. Just be sure to avoid the manicurist unless he or she has experience working with chemotherapy patients, and also look for nail polish that is free of toluene, formaldehyde, and other harsh chemicals.
For skin, look for moisturizers and lotions that can restore some softness without irritating your skin further. Look for products without fragrance, alcohol, sulfates, and exfoliants, as all of these can irritate skin. Natural makeups, like mineral powder makeup, can help you cover up any skin discoloration caused by chemotherapy. Again, avoid harsh chemicals, especially makeup with fragrance added.
Fitness, Diet, and Weight
Many patients going through chemotherapy will lose or gain weight, a body change that can have a serious impact on self-esteem. Cancer patients can and should add physical fitness to their routines to help mitigate these changes. Just check with your medical team first and choose activities that are reasonable for your energy level. Gentle exercises like walking or yoga are great options.
You may also want to work with a nutritionist to make sure you are eating well. A healthy diet can keep your overall health and strength up, while also helping you maintain a good weight. Eating a good diet and getting exercise can help you be healthier, but will also improve your self-esteem and help you feel better about your changing body.
The Fashion Industry Takes Notice
Women and men going through chemotherapy have long tried to blend in and hide their hair loss and other appearance changes. Now, more are embracing their new bodies and new looks, and fashion is taking notice. Legendary fashion magazine Vogue even ran a photo series on women who had been through cancer treatment and embraced the fashion and style opportunities of hair loss. The pictures show how these cancer survivors used wigs, scarves, and other accessories to have fun with transforming their looks.
Iconic New York Fashion Week has also gotten involved in the movement to help men and women feel good about themselves while fighting cancer. The world-renowned fashion show hosted an event for women, and one brave man, to walk the runway after being outfitted in glamorous outfits, wigs, full on makeup and expensive jewelry. The Saturday night event gave cancer patients the chance to feel beautiful and to escape the normal routine of chemotherapy for the night.
Changes to your body as you go through chemotherapy are not easy to see or to live with, but there are ways you can accept and embrace them. Whether you use fashion and beauty to help hide the effects of cancer treatment or to help you stand out, embracing style and fashion can be a positive way to cope with the changes brought on by cancer treatment.
Get Your FREE Resources Sent Overnight
New treatment options
Veterans benefits & claims
$30 Billion asbestos trust fund information
For over 15 years, we've provided the best FREE resources to mesothelioma patients and loved ones. Our resources include information on the leading treatment options and best doctors in your area; lessons learned from survivors; claims and benefits specifically for Veterans; and how to access your share of billions of dollars in trust fund money.
Get Your FREE Resources Sent Overnight
New Treatment Options
Veteran's Benefits & Claims
$30 Billion Asbestos Trust Fund Information
If you've been diagnosed with asbestos-related cancer, contact us at 1-800-692-8608 to find out if you are eligible to receive compensation. You can also fill out the form above to receive FREE information.